The Big Four
Over the past two months, the "big four" oil services stocks to include Schlumberger (NYSE:SLB), Halliburton (NYSE:HAL), Baker Hughes (BHI) and Weatherford International (NYSE:WFT) have pulled back as much as 15% from their 52-week highs.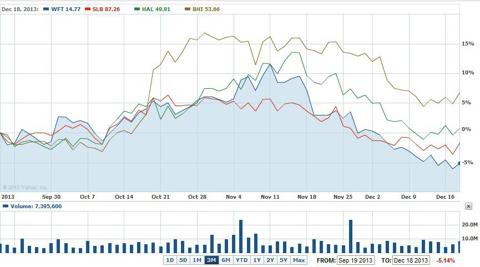 | | | | |
| --- | --- | --- | --- |
| Stock | 52-Week High - Date | 18 Dec 2013 Close | % Down from 52 Week |
| WFT | 17.38 - 11 Nov 2013 | 14.77 | 15% |
| HAL | 56.52 - 15 Nov 2013 | 49.91 | 12% |
| BHI | 58.80 - 30 Oct 2013 | 53.66 | 9% |
| SLB | 94.91 - 21 Oct 2013 | 87.26 | 8% |
All have broken through their respective 50-Day EMA with WFT currently trying to hold above its 200-Day. The oil services sector has lost some momentum lately with natural gas reserves near record levels, oil prices fluctuating, Fed Taper talks, and overall market uncertainty. While further correction may be imminent in the short term, I see several catalysts that could cause a surge in service demand.
Fossil Fuels here to stay
According to the Wall Street Journal, the United States is soon to overtake Russia as the number one oil and gas producer in the world. With global energy needs growing by leaps and bounds, to include increased worldwide demands in the automotive industry, oil and gas continues to be the world's #1 energy source for the foreseeable future. How we produce energy and how we fuel our cars is definitely on the verge of change.
Natural Gas is the Future
What was once considered resources unattainable have been unlocked by new technologies like Hydraulic fracturing or "fracking." Vast quantities of natural gas across the United States have literally changed the game. While the United States digest this surge in natural gas resources, energy companies have become pro-active and begun development or expanded development of exporting plants on land and on water.
Cheniere Energy, Inc. (NYSEMKT:LNG) is developing a Liquefaction plant in Cameron Parish, LA to allow them to export natural gas to more profitable markets where they could sell for up to 10 times the U.S. price. Freeport LNG Liquefaction Expansion in Freeport, Texas has been approved and is expected to commence construction in Q2 of 2014. Three offshore LNG plants have been approved and will further the expansion and U.S. exporting capability. These current plants are just the beginning of a Natural Gas export boom with as many as twenty-three export terminals being proposed.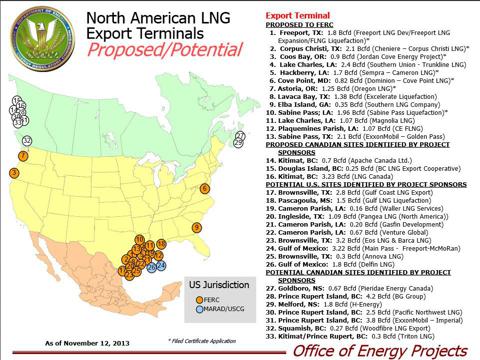 With the likes of T. Boone Pickens, Chesapeake Energy (NYSE:CHK), Clean Energy Fuels Corp. (NASDAQ:CLNE) and many independent alternative fuel firms the pioneering of a much needed CNG infrastructure has begun. An estimated 15% of each barrel of oil consumed is used by 18-wheelers transporting goods in the U.S. This estimate doesn't factor in shipping companies like United Parcel Service (NYSE:UPS), FedEx Corporation (NYSE:FDX), and many other industries that could use Compressed Natural Gas capable cargo vans. With the massive network of transportation vehicles traveling in this country Natural Gas could soon become the number one fuel source for these vehicles and even our daily drivers. Experts estimate that truckers save as much as $1.50 a gallon and environmentally speaking natural gas burns cleaner. One could only speculate the costs savings and increased profit margins, which in turn could promote economic growth and an expansion in the job market.
U.S.-Mexico Transboundary Hydrocarbons Agreement
An impending budget deal by our United States government has one hidden jewel for the Oil & Gas industry, new land or in this case water and lots of it. 1.5 million acres could be available for exploration in an area known as the 'Western Gap' in the Gulf of Mexico. If the bill is passed, a joint partnership with Mexico's state owned oil company Pemex would spark the beginning of further expansion into Mexico.
Service Companies and what does this all mean for them
Drilling offshore has seen increasing strength since the U.S. government lifted its drilling moratorium in 2010. With future expansion and joint ventures with Mexico, service company demand will also increase.
As exporting natural gas increases, regional and national production will also have to increase. A demand increase in natural gas means an increase in drilling, increased interests in bypassed fields, an increase in re-working plug and abandoned wells, increase in completing/producing existing wells that have ignored gas zones, etc. With a bright future of natural gas slowly replacing conventional power production methods, supplementing and possibly replacing conventional fueling methods I expect the oil & gas industry to thrive.
Service companies and many other direct and indirect oil & gas related companies will see continued growth. Technological advances and refining current services to reduce costs and service times will continue to help service companies maximize profits.
The Trade
While each company has its strengths and weaknesses the final decision is yours. SLB is the largest of the four service companies with a current market cap 114B and as noted has lost the least since its 52-week high. While WFT is in the making of a great turnaround story with plans to reduce $5 billion in debt over the next two years and has had a share price increase of over 59% since its low of $8.84 on 12 Nov 2012.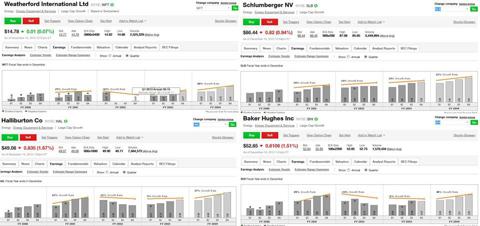 I like to reference the growth charts above as a metric to help me make my decision but ultimately it comes down to your risk factor. All four companies offer different levels of risk vs. reward but overall I expect the sector as a whole to see continued growth and demand as the United States evolves into the Energy King.
Disclosure: I am long WFT. I wrote this article myself, and it expresses my own opinions. I am not receiving compensation for it (other than from Seeking Alpha). I have no business relationship with any company whose stock is mentioned in this article.