By Allen Good
Given its improving key operating and financial metrics compared with Chevron (NYSE:CVX), we think Exxon (NYSE:XOM) is the better play.
Chevron's superior upstream operating metrics and greater returns on capital -- thanks in large part to increasing oil prices -- have resulted in its shares outperforming Exxon's over the past four years. However, oil prices are likely to stagnate over the next five years, taking some of the wind out of Chevron's sails. At the same time, its elevated capital budget is likely to weigh on future returns and reduce free cash flow. In contrast, we expect Exxon to improve its upstream operating metrics, increase free cash flow, and recapture the lead in returns as new project startups add oil production and shift its production mix back toward liquids.
Exxon Is Poised to Narrow Chevron's Lead in Earnings per Barrel
Over the past three and a half years, Chevron's earnings per barrel have exceeded Exxon's, but we think Exxon is poised to narrow the gap over the next five years. The divergence between the two companies is largely attributable to Exxon's acquisition of XTO, which increased its average U.S. gas exposure from 5.5% before the acquisition in 2010 to 15% in 2012 during the same period that domestic natural gas prices fell as supply outweighed demand. Meanwhile, average international oil prices increased 45%, benefiting Chevron, whose average liquids exposure was 69% over this period compared with Exxon's 52%.
However, we think the tailwind of rising oil prices has run its course. Meanwhile, Exxon should see its production mix begin to shift back toward liquids production thanks to the startup of new liquids projects and reduced investment in U.S. natural gas drilling. Exxon also benefits from our long-term U.S. natural gas price assumption of $5.40 per million cubic feet. Assuming natural gas prices of $4.50, Exxon's earnings per barrel in 2017 would be $1 lower at $19 compared with Chevron's, which would remain relatively unchanged at $20.
In addition to the mix shift toward natural gas, Exxon's management has also highlighted how poor fiscal terms, most notably in Iraq, have contributed to the lagging profitability. Exxon's ability to renegotiate fiscal terms or divest itself of those types of assets could result in more improvement than our forecast suggests. To its credit, Chevron has largely avoided these lower-value deals and probably has less opportunity to realize improvement this way.
Exxon Will Deliver Superior Capital Efficiency as Chevron's Spending Remains Elevated
Both Chevron and Exxon are experiencing deteriorating capital efficiency as capital spending increases relative to the amount of production and cash flow it generates. Neither company is immune to this trend, but Chevron should feel the effects more than Exxon during the next five years. With an estimated budget of $40.4 billion for 2013 (about 90% for upstream), Chevron's capital spending will nearly equal Exxon's ($41 billion, about 85% for upstream) despite producing only 2.6 million barrels of oil equivalent a day compared with Exxon's 4.2 mmboe/d.
Yearly Upstream Capital Spending Per Barrel of Production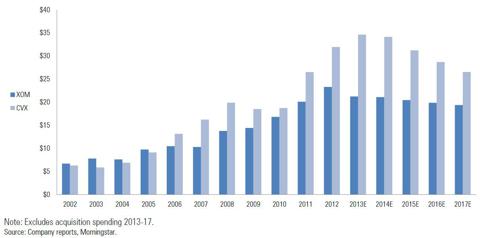 Chevron's capital spending per barrel of production has outpaced Exxon's for several years, and the gap will widen during the next several years. The increased spending will lead to greater production growth rates for Chevron. However, while Chevron's major growth initiatives should be producing by 2017, its capital spending per barrel does not fully revert to historical levels as would be anticipated, given our expectation for ongoing heavy investment.
Admittedly, isolating spending levels in a five-year time frame can be misleading. This is particularly true for Chevron because increased investment levels are largely a result of projects that will deliver plateau levels of production for decades (liquefied natural gas, for example), but whose large initial capital outlays and long construction periods lead to higher levels of nonproductive capital than in the past. That said, we think two things are worth keeping in mind: (1) Where a given firm is in the investment cycle often affects its near-term stock price performance and (2) Chevron's spending is not set to drop significantly after the completion of those projects. Management has suggested that only a "flattening" of capital spending will occur over the next five years. Exxon is further along in the investment cycle, resulting in improving capital efficiency and leaving it better positioned for the next few years.
Exxon Set to Recapture Lead on Returns on Capital
Chevron's higher capital spending levels will result in lower returns on capital. This marks a reversal of the past few years, where Chevron's improving returns on capital relative to Exxon's coincided with its share price outperformance. Chevron's oil exposure--admittedly the result of more prudent capital allocation--propelled its upstream return on average capital employed past Exxon the past two years. Meanwhile, restructuring and asset sales helped Chevron improve its downstream returns and narrow the historical gap between it and Exxon in this segment.
We think the narrowing in ROACE is coming to an end, however. Chevron's spending is increasing, and oil prices are likely to remain at or near current levels. With Exxon's capital spending set to remain flat and upstream performance improving, we expect Exxon to widen its lead in ROACE over the next five years.
Using our preferred return metric, return on invested capital, Chevron's firmwide returns actually surpassed Exxon's in 2010-12. However, given the aforementioned dynamics, we expect Exxon to recapture the lead in ROIC, albeit at lower levels than in past years. (ROIC and ROACE are very similar calculations, but ROIC includes reserves for post-retirement employee benefit plans and an adjustment for capitalized leases in invested capital. Capital employed in the ROACE formula is defined more narrowly as stockholders' equity, total debt, and noncontrolling interests.)
Continued Dividend Growth and Current Share-Repurchase Programs Not at Risk
Chevron's increased spending will also result in negative free cash flow until 2016. In contrast, Exxon should deliver growth in free cash flow. Still, Exxon's free cash flow will fail to cover its current share-repurchase run rate of $3 billion per quarter in 2014-15. In 2013, it has already reduced its quarterly repurchase amount twice, probably contributing to the poor stock performance, and taken on debt to cover the shortfall and avoid further reductions. However, we think the current repurchase rate appears safe. Over the next two years, barring a commodity price decline, Exxon will probably continue to expand its balance sheet to support the $3 billion repurchase program. By doing so, Exxon's net debt/capital ratio would rise to 10%, still very low.
Exxon could also use asset sale proceeds to fund the repurchase plan. During the past 10 years, divestitures have averaged about $5 billion annually but have totaled less than $1 billion year to date. Were Exxon to generate asset sale proceeds on par with this historical average during 2013-15, it would keep from having to increase debt levels to fund repurchases. Alternatively, it could still increase debt and use the proceeds to increase the current program.
Chevron's current shareholder return program--repurchases of approximately $1 billion per quarter and dividend growth of about 10% per year--appears safe as well. Its large cash balance and low debt load provide adequate ability to continue increasing the dividend annually. Maintaining the quarterly share repurchases at the current level would require additional leverage, however. We estimate funding its $1 billion per quarter rate through 2017 would result in net debt/capital only increasing to 4%, still likely leaving it with the strongest balance sheet among its peers.
Even though we don't view cash flow outlook as a material differentiator, we think Exxon has the edge in this area. For the oil majors, increasing near-term free cash flows tends to lead to share price outperformance within the peer group.
Improving Operations Suggests Exxon Is the Better Play
We see Exxon's improvement in operating performance, free cash flow, and returns relative to Chevron as a tailwind that should drive stock outperformance just as it did for Chevron over the past four years. Based on current earnings and cash flow multiples, Exxon appears a bit more expensive, but we don't think so in light of its higher returns.
Reviewing each company's earnings and cash flow multiples, the gap between Exxon and Chevron is set to contract despite Exxon's improving returns and key operating metrics. This seems odd given that when Chevron recently delivered higher returns, the market did not award it a higher multiple. Yet, as Exxon increased its returns relative to Chevron, its premium multiple is eroding. Given the unresponsiveness to differences between multiples over the past four years to changes in returns, we think it's unlikely there should be a response now. As a result, we believe Exxon is likely to maintain its premium multiple.
Chanos vs. Buffett: We Side With Chanos
Exxon became the subject of an indirect debate between famed investors Warren Buffett and Jim Chanos when they took opposing positions in the stock. Buffett recently purchased 40.1 million Exxon shares worth $3.45 billion. Chanos has been short the stock for some time. Buffett hasn't made any public comments about his interest in Exxon, but he probably invested in the company for many of the reasons we've described. Exxon also has a long record of delivering excess returns on capital, evidence of its economic moat, an attribute Buffett looks for and values. Additionally, he probably sees value in Exxon after five years of dramatically underperforming the broader market. Chanos argues that Exxon is a value trap, as finding and development costs are rising and returns are falling.
Despite the case we've made for Exxon, we side with Chanos here. Our preference for Exxon is really only relative to Chevron. Chanos' view reflects our own long-held thesis and is the primary reason we believe Exxon and all the supermajor oil companies have negative moat trends. We do, however, think Exxon deserves a wide moat rating. Even though Exxon's returns are falling, we expect them to remain above the firm's cost of capital. Buffett probably agrees, considering his purchase. However, compared with other opportunities in the energy industry, we don't think Exxon's valuation is very attractive, placing us more in Chanos' camp.