Intel (NASDAQ:INTC) needs to realize that its 95% market share in the server market is now under threat from several companies eager to steal clients from the world's biggest chipmaker. Intel's superior design and leadership in providing the best x86 Xeon and Atom server processors since 2007 is the reason why Advanced Micro Devices (NASDAQ:AMD) saw its 2006 24% market share go down to just around 4.5% today.
Instead of trying hard to win the tablet processor market, Intel should put more of its efforts on defending its server market leadership. The data center business is Intel's best division with consistent year over year revenue growth despite the decline in overall PC sales. Intel's server processor group generated $2.9 billion for the third quarter of this year, a 12% increase from Q3 2012. However, this upward trend may no longer hold true starting next year.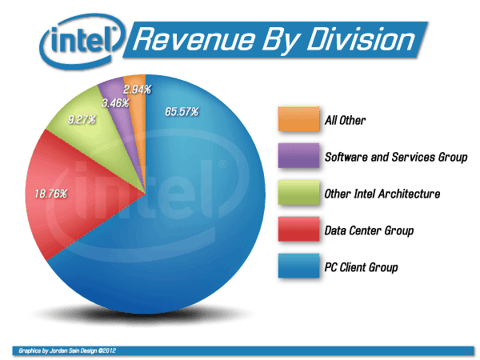 The fact that Google (NASDAQ:GOOG) is planning to make its own ARM-based processor for its massive server farms should convince Intel that the threat of ARMv8-based 64-bit server-grade chip offers more pain than losing the smartphone chip war. Facebook (NASDAQ:FB) is also currently working on making its vast server system ARM-compliant which is another worrying development. These two tech giants account for a large part of Intel's server chip sales. The new Cortex-A53 and Cortex-A57 specifications from ARM Holdings calls for super energy efficient server processors without sacrificing processing power. The AMD "Seattle" processor scheduled for release next year is a great example of this design.
The highly competitive cloud compute business means thin profit margins. Intel's legendary Xeon line of server products may no longer be the package of choice in the future. Data center companies are now shifting to cheaper micro server racks with low-power processors. In order to save money, data center heavy users like Google and Facebook will ultimately go for the best energy-efficient processors in their server farms.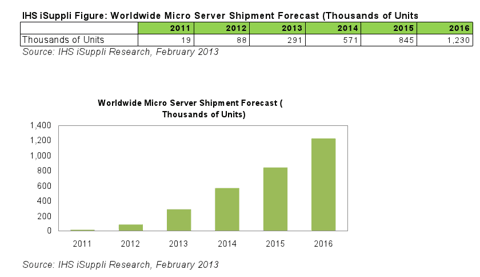 The Atom C2000-Series May Not Be Enough
Despite the impressive specs of the low-power Atom C2000-Series of processors which Intel plans to sell as energy-efficient processors for data centers, will compete with several ARMv8-based 64-bit server chips from AMD, Applied Micro, and Qualcomm (NASDAQ:QCOM).
Qualcomm, whose market valuation is now almost equal to Intel, already announced its first 64-bit Cortex A-53 processor, the Snapdragon 410. While this product is targeted for the smartphone market, it won't be long before Qualcomm starts producing server-grade processors too. It will be a serious blow to Intel if Qualcomm enters the micro server market. The beating it got from the smartphone market enabled Qualcomm's rapid rise to riches.
Intel needs to come up with better versions of its low-power Atom C2000 series CPU to help convince data center companies that an x86-based micro server is still more cost-efficient than ARMv8-based products.
Offer Semi-Custom or Full-Custom Processor
Intel needs to focus on dissuading Facebook and Google from leaving the comfort of the x86 server platform. If these two companies, or any data center enterprise for that matter, wants custom server chips, Intel should do what they want and offer competitive pricing to retain them as customers.
It should no longer rely on its traditional line up of server products like Xeon and Atom C2000. It may have a solid plan for low-power processor architecture but it is no longer adequate in the face of 5W TDP ARMv8 server-grade chips.
AMD is already offering semi-custom service to satisfy its clients' requirements for custom processors. It is about time that Intel starts doing the same. Intel should go one step further by offering full 100% custom CPU design and fabrication.
Should Google demand new x86 low-power CPU build for its own use only, Intel should do it. Full-custom server CPU design and fabrication is a very strong reason for Google and Facebook to continue relying on Intel for their processor needs.
Furthermore, if Google decides to use an ARM-based design, Intel should also not hesitate to offer its manufacturing prowess. Intel has the facilities to fab ARM processors. Intel's server market must be protected at all cost.
Conclusion
Intel has to provide enough resources in building a defensive line around its server market business. It is very important for the company to retain its 95% grip on the lucrative x86 server market. It should not waste more money on trying to enter the smartphone chip market for the next few years.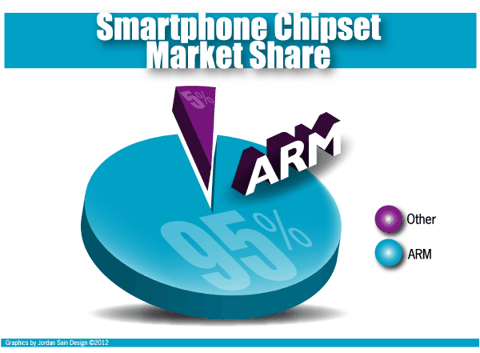 The intense competition for tablet PC chip sales offers very slim profit margins too. Instead of offering discounts to tablet OEM manufacturers, it should use the money to develop new low-power server chips that has better power/performance rating than ARMv8-based products.
Intel should not allow its long-time nemesis AMD to win back its former 24% share of the server business. Semi-custom and full-custom CPU design is a sure fire method to keep old important clients like Google and Facebook on Intel's side.
Disclosure: I have no positions in any stocks mentioned, and no plans to initiate any positions within the next 72 hours. I wrote this article myself, and it expresses my own opinions. I am not receiving compensation for it (other than from Seeking Alpha). I have no business relationship with any company whose stock is mentioned in this article.