Editors' Note: This article covers a stock trading at less than $1 per share and/or with less than a $100 million market cap. Please be aware of the risks associated with these stocks.
*Envivio (NASDAQ:ENVI) is my top stock for 2014.
Envivio's software solutions for cable operators help to power TV on any device. I believe the company has passed an inflection point in the business and is poised to deliver big gains for investors. 2014 will be the break out year for multi-screen video. Comcast/NBC (who will broadcast the Olympics) has told investors for months that the 2014 Winter Olympics will be the biggest event for multi screen video ever. Comcast is clearly building up their TV anywhere delivery systems, as they became one of Envivio's largest customers in calendar Q2 and Q3 of 2013 buying $3.5mm and $1.52mm of software in each quarter. Envivio's technology will be on full display as the Nation tunes into Sochi on their iPads, iPhones, and Androids.
The multi screen TV market is still very young. Remember that the first iPhone was released in June 2007 and iPad not until April 2010. In that same time period MSOs went from near zero ability to broadcast to devices to quickly having to head off full blown attacks from the over the top (OTT) providers and satellite companies. The fear of customer churn spurred hundreds of millions of investment by cable operators into multi screen capabilities. These investments included both hardware and software solutions from the likes of Seachange (NASDAQ:SEAC), Arris (NASDAQ:ARRS), Cisco (NASDAQ:CSCO), Harmonic (NASDAQ:HLIT), and Envivio.
Envivio rode the wave of multi screen video investment to an IPO in April 2012. The deal was completed by a group lead by Goldman, Deutsche Bank, and Stifel Nicolaus. In the months after the IPO the cable industry drastically cut back investment in multi screen video as the MSOs felt like they had done enough to stave off the customer churn attacks from OTT and satellite. The industry needed to digest the capacity added during the initial cycle and reevaluate the practicality of hardware solutions. Envivio's revenue declined nearly 50% but the drop was exacerbated by the company's own missteps within its sales organization.
The company spent the end of 2012 and the beginning of 2013 cutting cost, but at the same time strengthening the sales organization in North America. Two key hires were made of sales executives who had previously worked hand in hand with the top cable companies in the US. This investment in sales paid off when Comcast (NASDAQ:CMCSA) made their first purchase of Envivio software in calendar Q2 2013 (Time Warner (TWC) and BSkyB were also major customers). In calendar Q3 2013 Verizon joined Comcast on the list of new major North American customers.
Envivio sells their solutions as a one-time license with follow on recurring service revenue. Each channel to be broadcast needs to have its own license for each device to be broadcast to. For example: If Comcast is going to give access to the Discovery Channel via iPad, Android, and Windows, Envivio has 3 revenue opportunities. The licenses are based on usage.
The major tipping point for software-based solutions occurred when server technology caught up with the industry. Envivio's software can now be deployed on operators existing servers, drastically reducing the costs of deployment. Previously multi screen video offerings from other companies had required dedicated hardware and software. The benefits to a straight software solution are obvious. The rate of change for consumer devices make software the only solution going forward for its ability to quickly adapt to the latest technology seamlessly. Envivio is the leader in software solutions for multi screen video.
The company currently trades at about .68x revenue to EV based on analyst expectations for 2014 of $51 million in revenue (the company has $50mm in cash and a market cap of $85mm). The gross margins are 65%-70% depending on product mix. About 20% of the companies revenue is recurring and about 90% of total revenue comes from existing customers. I believe in the most conservative scenario this company should receive a multiple of 2x revenue to EV but a take over would likely be 3x revenue or slightly higher. Conservatively that yields a price of $5.62 and a take over price of $7.50.
I think there may be upside to these numbers as momentum has been building in the business. The company's current quarter is seasonally the strongest of the year as cable operators spend the last remainders of their yearly budgets. Management has been conservative to analysts and investors but I think this stems from their post-IPO humbling. Analysts have the company to be up $200k sequentially over Q3, which may prove to be significantly too low. Analyst and management have reason to be conservative to regain credibility but the tailwinds to the business have accelerated.
The company released a new product in the summer of 2013 called Halo Experience. This processor sits at the edge of the video delivery system to verify the users credentials, determine their device, insert ads, enforce blackouts, and deliver the content. Halo Experience also allows the cable companies to personalize the content to each individual user. This opens up many new revenue opportunities for the cable companies to start to greater monetize the multi screen video experience. The ability to generate significant new revenue will continue to drive the greater rollout of TV anywhere as it changes from a cost center to a profit generator.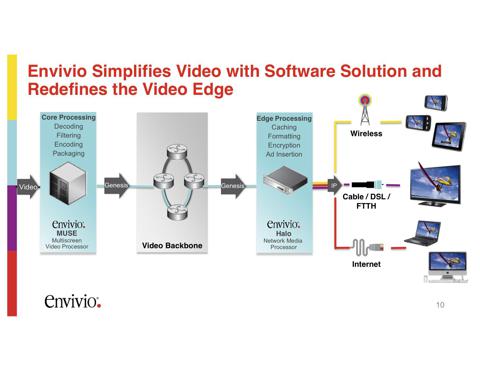 Halo Experience was given the highest score of 4.5 Stars by Broadband Technology Report, an industry periodical, on October 10th of 2013. The BTR holds an annual ranking for the industries top products. The judges for the review come from the top cable and internet providers in North America- Bright House, Buckeye, Comcast, Mediacom, Rogers, Suddenlink, and Time Warner Cable. The judges included the following comments about Halo Experience:
"One judge remarked, "The Halo Experience Server offers MSOs a solution for enabling new multi-screen applications including network DVR and targeted advertising to generate additional revenue streams. The solution can be installed with minimal impact to the existing infrastructure in a short timeframe, making it all the more attractive to operators."
Another reviewer liked its content personalization capabilities, saying, "When looking to add the functionality of the Halo network media processor to add in great features like trick plays to live streams or to record programs and transfer them to mobile units and then to add in the capabilities for sending instant video clips to friends and building custom TV channels with a la carte content, [these features] make the Halo Experience server a game changer."
The addition of the Halo Experience into the company's solution is key to accelerating revenue growth. With this product receiving such high marks within the industry I am confident that its adoption is happening now. This product will add significant new revenue to the company in 2014. This combined with overall more spending will likely push 2014's revenue to and above company breakeven at about $56mm for the year.
I think Envivio is very much in play as a takeover candidate for one of many, much larger competitors. The company's niche products would provide high margin software solutions into the acquirer's toolbox. The most likely suitors would be Seachange or Harmonic. Seachange already has working relationship with Envivio as Envivio is apart of some of Seachange's overall solutions for MSOs. Seachange itself may likely be acquired, only adding to the interest to a pure play multi screen video solution provider.
I believe that Envivio is in the early innings of a massive growth story. Envivio's stock is set deliver-outsized returns to investors.
#1- The industry is accelerating investment in multi screen video
#2- The company's sales organization is restructured and delivering tier-1 customers
#3- Envivio products are receiving the highest industry acclaim
#4- Software based solutions are the only choice for the future of multi screen video
#5- Financials are sequentially improving and headed toward breakeven
#6- Industry consolidation may make Envivio an acquisition target
Disclosure: I am long ENVI. I wrote this article myself, and it expresses my own opinions. I am not receiving compensation for it (other than from Seeking Alpha). I have no business relationship with any company whose stock is mentioned in this article.