By Sumit Roy
Natural gas inventories fell by 285 bcf.
Natural gas was last trading up by nearly 4 percent to $4.41/mmbtu after the Energy Information Administration reported that operators withdrew a record-breaking 285 billion cubic feet from storage last week. That was above most analyst estimates, which ranged from 260 to 275 bcf.
The withdrawal was well above last year's draw of 82 bcf and the five-year average draw of 135 bcf.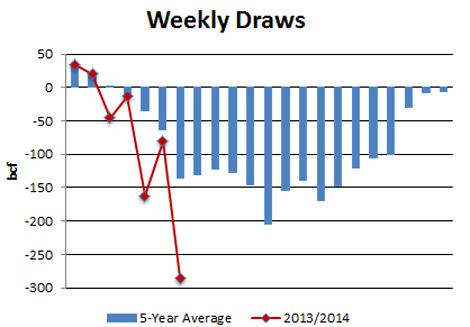 In turn, inventories now stand at 3,248 bcf, which is 476 bcf below the year-ago level and 280 bcf below the five-year average (calculated using a slightly different methodology than the EIA).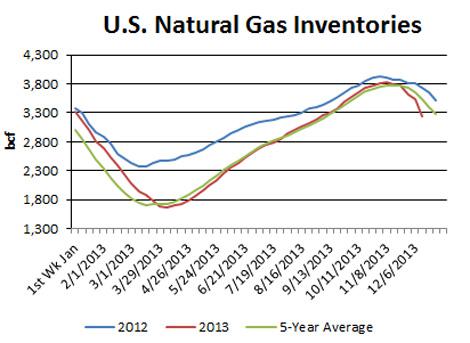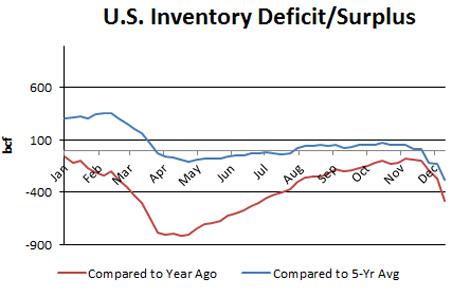 The weather last week was much colder than seasonal norms.
According to the Edison Electric Institute, utilities generated 85,633 GWh in the week ending Dec. 14, which was 11.6 percent above the same week a year ago.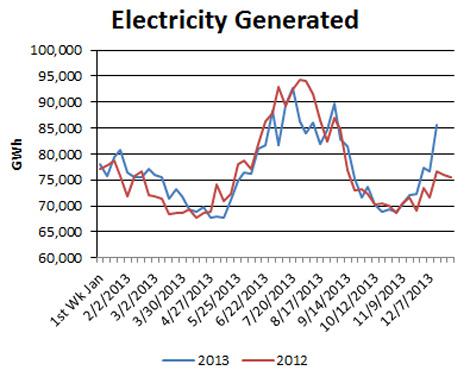 Looking ahead, the NOAA's 6- to 10-day outlook calls for colder-than-normal temperatures over the key Midwest and Northeast regions.
NOAA 6- TO 10-DAY OUTLOOK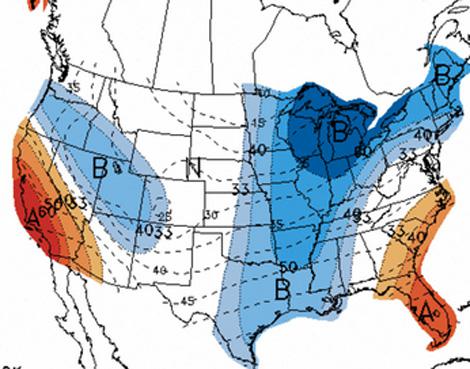 Meanwhile, the number of rigs drilling for natural gas in the U.S. fell by six to 369 last week.
Natural Gas Rig Count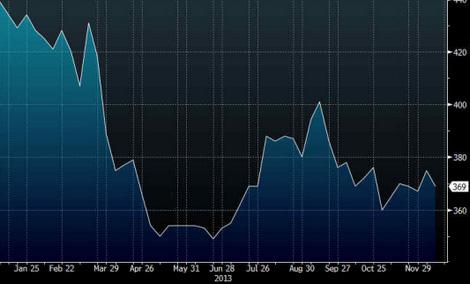 Natural Gas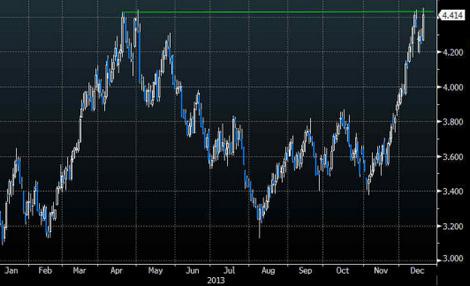 Bottom line: The latest inventory data from the EIA were bullish, as the inventory deficit against the five-year average widened from 130 to 280 bcf.
Though the weather last week was cold, it wasn't the coldest week on record. In fact, we've seen many weeks where the weather was colder - most recently in 2011, 2010 and 2008. Yet none of those weeks produced a withdrawal of this magnitude. The previous record draw took place in January 2008 at 274 bcf.
Clearly, the supply and demand balance for natural gas is much more constructive now. Non-weather-related demand is higher and production growth is much slower. That has put the market in a vulnerable position during periods of intense cold.
Inventories are already in an enormous hole compared with normal levels, yet the coldest temperatures typically come in January and February. We expect the deficit to widen again significantly in next week's report and to end December between 350 and 400 bcf.
If colder-than-normal temperatures continue into next month, as forecasts suggest they might, that deficit could continue widening to 500 bcf, 600 bcf or more. That will send prices skyrocketing over $5/mmbtu.
Currently prices are back above $4.40, testing the highs from last week and the highs from April to May. We expect a breakout, which will push natural gas to the highest level in nearly 2 ½ years.