Introduction
In this article, I'll have a closer look at Euronav (EONVF), which is a Belgian shipping company focused on oil transports with its 36 vessels. I will start with a background of the company and explain why Euronav might be a hidden gem to bet on the recovery of the oil tanker market based on its financial statements and the company's balance sheet.
Thereafter, I will explain what Overseas Shipholding Group (OTCQB:OSGIQ) (a US shipping company currently in a Chapter 11 procedure) has to do with Euronav and why the outcome of this Chapter 11 procedure will be extremely important for both companies. As the company has recently announced it is investigating a dual listing on the New York Stock Exchange, I will also explain why this would be an excellent move for the company. This will result in my investment thesis at the end of this article.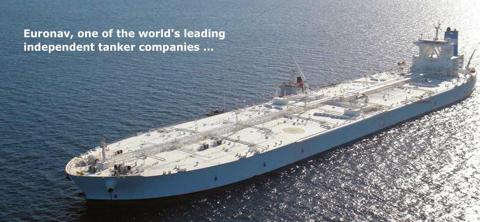 As trading in Euronav is very limited on the US exchanges (as the company is currently listed on the OTC before moving up to the NYSE), I'd highly recommend to trade in shares of Euronav through the facilities of Euronext Brussels, where the company is listed with ticker symbol EURN.
Executive Summary
In this article, I'll explain why I think Antwerp-based Euronav is an excellent investment to bet on a recovering tanker market. I will prove in my article that despite showing a net loss on the income statement, Euronav is actually free cash flow positive and generates $55M in free cash flow per year.
I will also explain why I think the company has an excellent chance of surviving this downturn, as according to my calculations the free cash flow generation and the value of the vessels are more than sufficient to pay off the entire $1.05B in debt, which is due within five years from now.
On top of that, there are several potentially positive catalysts in 2014, of which the most important one will probably be the uplisting to the NYSE to attract more awareness and attention from analysts and potential investors, and I am convinced this will cause the share price to increase considerably. A second important catalyst will be the outcome of the Chapter 11 procedure of Overseas Shipholding Group, which is a direct and indirect joint venture partner of Euronav. Thirdly, this is the first year in more than a decade that there's a net outflow of tankers, which reduces the oversupply in the worldwide tanker fleet. This will result in a more fair price setting as the supply/demand balance gets restored.
Long story short, Euronav is my favorite stock to bet on a recovery in the oil tanker market.
The background of Euronav
Euronav is an Antwerp-based vertically integrated owner operator and manager able to provide complete shipping services in addition to its fleet of modern large tankers. The company owns just over 30 vessels and besides these vessels it is able to charter vessels from other owners and sub-lease them to Euronav-customers. This allows the company to be extremely flexible and makes the huge cyclical movements manageable and bearable.
The company's main headquarters is located in Antwerp, Belgium, but Euronav also has regional offices in France and Greece. All of its ships are flying the Belgian, French or Greek flag, so the company stays far away from the 'cheaper' Liberia flags, which have a negative connotation. Euronav mainly flies the 'decent' flags because it wants to distinguish itself from other shipping companies as Euronav wants to be the 'premium shipper' amongst its peers.
Digging deeper than just the income statement: the company is free cash flow positive
Looking at the financial statements of the company, Euronav generated a revenue of $202M, which is a 12% decline from the same period last year. As the company incurred almost $120M in operating expenses and had to depreciate its vessels by $83M, Euronav reported a net loss of $39.3M in the first half of this year.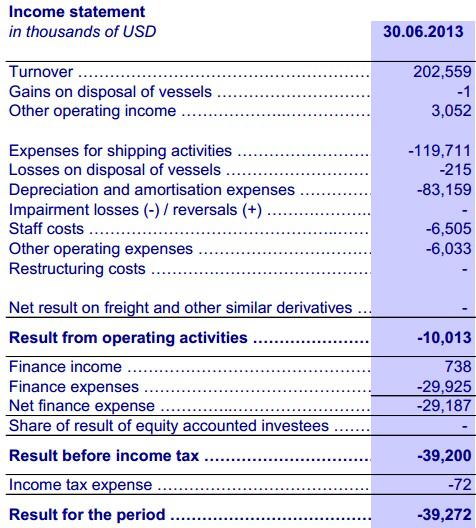 If investors would stop after reading this, they might think Euronav is one of the so many weak oil tanker companies out there. But as most of my readers know, I always have a look at the cash flow statements as well, as I'm convinced the CF statements give a better indication of the quality of the underlying business.
So when we move over the cash flow statements, we see the company is actually free cash flow positive, as it reported an operating cash flow of $29.1M and an outflow of $1.5M in investing activities. This means that Euronav had a positive cash flow of $27.6M in the first half of this year, which was used to pay down debt. And the good news doesn't end here, as $1.3M of the $1.5M in capex was non-recurring, which means that the company had a recurring free cash flow of $28.9M in the first half of the year.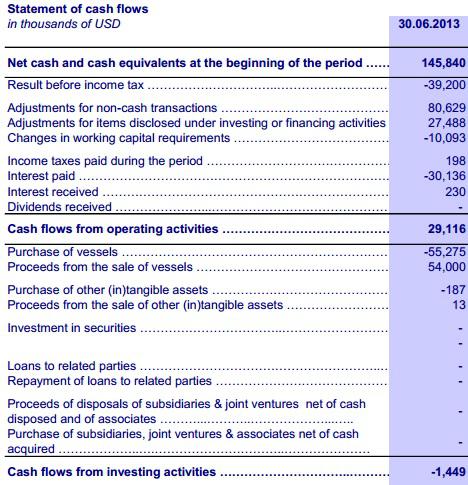 On top of that, the third quarter of this year was also better than expected, as the company lost 'just' $27M, thanks to the higher revenues of its Suezmax fleet. Euronav was able to price its spot fleet at a price of $17,000 per day, which is substantially higher than what most analysts were expecting ($13-14,000/day). According to the CFO of Euronav, this shows that the company isn't a 'weak operator' and that 'if the customer wants to charter quality vessels for its transport, it will have to pay a premium price'. This lower than expected loss in Q3 is excellent, because the second and third quarter are usually the weakest quarters for oil transportation. This is caused by the fact that it's summertime in the northern hemisphere, which contains the largest users of oil. So typically the Q4 and Q1 financial results are much better than the quarters in the middle of the year, so I'm already looking forward to seeing the Q4 results, even though Q4 started relatively bad with a daily rate of just $8100/day for its Suezmax vessels.
The situation of the balance sheet
Now that we established that Euronav is essentially a free cash flow positive company, let's now move over to the balance sheet.
At first glance, the balance sheet seems to be relatively okay, as 38% of the total assets are backed by equity, and 'just' 62% consists of debt. The main hurdle will be to pay off this debt when it's due, as the majority of the debt ($1.16B or $1.03B if you think the convertible debt will be paid off with shares) is due within 5 years. This means that at the current rate of generating free cash flow ($55M per year), Euronav will have a problem to pay back almost $1.2B in debt. Fortunately, the company also has $215M in current assets and has just raised $150M in convertible perpetual preferred debt, which will obviously help to reduce any liquidity constraints. This means that Euronav has direct access to $365M and will generate another $275M within 5 years for a total cash position of $640M, which covers in excess of half of the debt due within those years.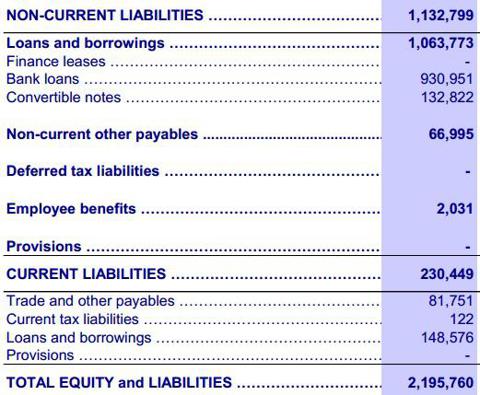 Is this a reason to panic? Absolutely not, as I'm convinced Euronav will be able to roll over a part of its debt to a later maturity date. I would also expect the company to raise an additional $100M when it lists on the NYSE (see a later paragraph), which would make the balance sheet even stronger.
However, I also wouldn't be surprised if Euronav would use the $150M from its perpetual debt issue to expand and rejuvenate its fleet, as there are some bargains on the oil tankers market whereby companies with a strong cash position and cash flow can buy some vessels from distressed companies.
But let's now look at the worst-case scenario. The $1.16B in debt can actually be fully paid off by internally generated cash flow, the current cash position and the scrap value of the vessels. This means that if the operating costs and charter revenues remain constant from here on, Euronav would be able to meet all of its obligations, as the scrap value of its vessels would cover the remaining debt. So to keep it simple, the following equation is the result of this calculation exercise:
(Expected free cash flow over the next 5 years) + (current cash position) + (scrap value of the fleet) > Total Debt
And that's an equation a lot of competitors can only dream of.
Why Overseas Shipholding Group holds the key + an introduction to the Tankers International Pool
Whilst Euronav deploys approximately half of its Suezmax vessels at spot rate and the remaining half under time charters, Euronav has also added six of its VLCC vessels (A fourth vessel part of the Tankers International Pool was sold earlier this year) to the Tankers International Pool. The TIP is actually a consortium of vessel owners who own and operate oil tankers. By creating a 'cartel', the TIP is able to get better rates for its vessels, as obviously a consortium of 27 oil tankers stands stronger than a shipping company with just one or two oil tankers.
The main other participants in the Tankers International Pool are US-listed Overseas Shipholding Group and DHT Holdings (NYSE:DHT), which is incorporated in the Bahamas. As most people know, OSGIQ has entered a Chapter 11 bankruptcy procedure approximately a year ago to search protection against its creditors to buy some time to turn the ship around (pun intended). As Overseas Shipholding operates not less than six vessels in the TIP, every participant of the consortium is anxiously awaiting the final outcome of this bankruptcy procedure.
The worst case scenario would be if OSGIQ steps out of the TIP, which would immediately remove eight vessels from the fleet of the consortium, which would reduce the amount of oil tankers in the pool by 30%. This would obviously have a big impact on the strength of the consortium, as the less vessels are submitted to the pool, the less pricing power the consortium has. So it is of utmost importance to keep Overseas Shipholding Group's tankers in the pool.
So investors in Euronav should make sure to stay up to date on the developments in the OSGIQ Chapter 11 procedure as it's extremely important for the tankers pool to keep its largest contributor in the game.
On top of that, OSG is also the direct partner of Euronav in its two FSOs (Floating Storage and Offloading) which both have the capacity to hold up to 2.8 million barrels of oil, and are deployed near Qatar right now. The FSOs process crude oil extracted from a reservoir below the sea floor through a single point mooring system. Oil and water fluids are transferred through an underwater pipeline to the FSO where the oil and water are heated, accelerating the separation of the two organic compounds. Once separated, oil is transferred to separate storage cargo tanks and then offloaded to export vessels. This is booming business for Euronav, as both vessels are actually the largest FSOs in the entire world and thus enjoy a huge benefit over competing vessels.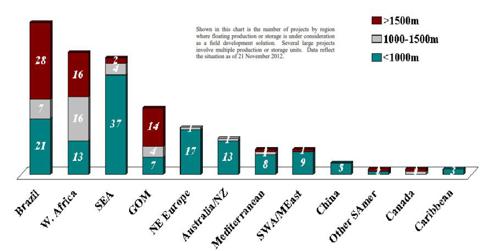 More than 235 floater projects are worldwide in the pipeline, and the demand for FSOs doesn't seem to be slowing down.
The Oil Tanker Sector - a waiting game and the most important economic theory ever.
At this moment, there's an oversupply of oil tankers (of approximately 70 vessels) and there's some kind of waiting game going on in the market. The strategy is mainly to see which vessel owners are chickening out and selling their vessels for scrap to at least have some sort of income to pay down debt.
If we look at an analysis of the tanker market in 2012 (see next image) we see there are quite a few relatively old vessels, which could easily be scrapped because it's too inefficient to continue operating those oil tankers in the current price environment.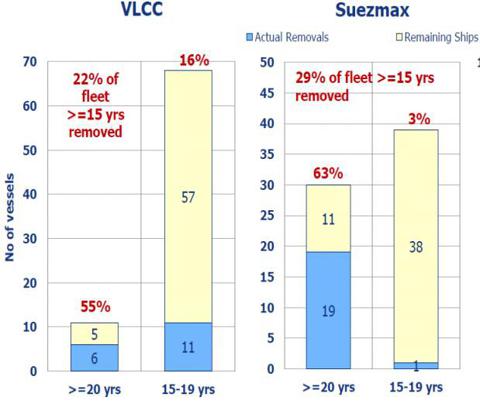 So at this point in time, there are 62 VLCCs, which are more than 15 years old, and 49 Suezmax vessels exceeding the age of 15 years. All of these ships could (and eventually will- be scrapped, and the least fuel efficient ships will be taken out of service first. This means that if just a few shipping companies blink their eyes and decide to scrap the tankers older than 20 years, 16 vessels will immediately be removed from the oceans. As Euronav also has 4 vessels which are approximately 15 years old, I can imagine the company might consider scrapping at least one of those vessels as well.
The waiting game actually evolves towards the theory of the equilibrium price. If the demand stays at a stable level, but the supply decreases (more ships will be scrapped so less vessels will be available to transport the oil), the price will increase because a new equilibrium price will be found. According to the CFO of Euronav, the total supply of tonnage decreased by 2.1% in 2013 (so far) and this is the first time in over a decade that there's a net decrease in tonnage supply, so this bodes well for the future.
On our way to a consolidation in the tanker market?
I think we're getting ready to see a wave of consolidations in the oil tanker market, as it makes a lot of sense to bundle the forces in order to attract better prices for the transportation of oil. This thought really gained traction as General Maritime is gearing up to make an offer to buy some VLCCs from Maersk shipping, which would put GenMar in a much stronger position to negotiate better prices.
As Euronav is free cash flow positive and operates 33 vessels and owns 2 FSOs in a joint venture with OSG, the company might also be an attractive merger partner for another company. It's even not out of the question that OSG and Euronav combine forces and merge, as such a transaction would be beneficial to both companies and simplify the joint venture structure at the FSOs.
An additional catalyst; a listing on the New York Stock Exchange
Just last week, Euronav announced it is investigating to get listed on the New York Stock Exchange to improve awareness of the company. I can only applaud this move by the management team as it's trying to create additional shareholder value. There are only two major exchanges in this world where shipping companies receive special attention; either Oslo or New York are the most respected stock exchanges for shippers (it's not a coincidence that all those Greek shipping companies are listed in New York as well).
This means there might be an additional advantage in investing in Euronav right now. If the company would be successful in its application to list on the NYSE, the additional visibility of the company might propel its share price higher as soon as it starts trading in the US. The additional coverage of the stock will create a lot more awareness and will very likely make it easier for Euronav to tap the debt markets to roll over some of its debt position.
Investment Thesis
Even though Euronav has debt, I think the situation is definitely manageable as the company will generate enough cash flow from its operating activities and could even scrap its vessels to pay the entire debt position.
There are also a lot of positive potential catalysts. As Euronav currently has a working capital position of $135M at this moment (considering $148M in short-term debt) it might take advantage of the situation on the tanker market and acquire one or two new tankers to expand and rejuvenate its fleet.
On top of that, the company is seriously considering a secondary listing on the NYSE, this might have a very positive impact on the share price, as a listing on a renowned market for shipping companies should result in more coverage, more new investors and a better access to new and more capital.
Because of all these reasons, I strongly believe Euronav is perfectly positioned to benefit from the recovery of the oil tanker market, as its balance sheet allows the company to sit back and wait for better times.
Disclosure: I have no positions in any stocks mentioned, and no plans to initiate any positions within the next 72 hours. I wrote this article myself, and it expresses my own opinions. I am not receiving compensation for it (other than from Seeking Alpha). I have no business relationship with any company whose stock is mentioned in this article.
Additional disclosure: I have no position in Euronav right now, but might dip my toes in the water on a pullback.