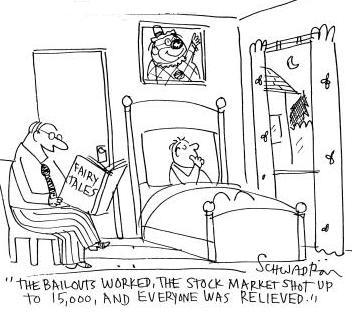 Outlook: Mostly a positive spin for the economic numbers this week with a few important clunkers: better GDP, steady rise in Chicago Purchasing Managers, promise of near zero interest rates and an EU pledge to support Greece. Economic ballast included plunging housing sales and a bleak employment outlook. Investors likely to experience a flip back to the "fear trade" early next week.
CEF Weekly Review: The 13 closed-end fund (CEF) types on average posted a 1.3% increase for the week ending 2/26/10. On an aggregate, unweighted basis, the weekly average price change for the 500 CEFs was up 0.9%.
The weighted 49 CEFs comprising the Claymore CEF Index registered an advance of 0.7% for the week and further pared its YTD loss to 2.6%. The S&P 500 decreased 0.4% for the week; down 1.0% YTD.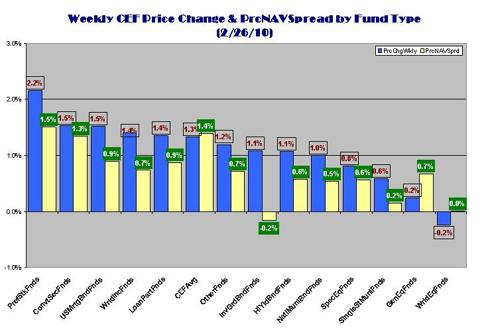 (Click Here for YTD CEF Performance. The table is based on a smaller CEF sample size as all the data fields are not available for the CEF universe.)
The Eqcome CEF Fear Index eased with price advancing 0.9% and NAV advancing 0.4% for the week.
The CBOE Volatility Index (VIX), which typically moves inversely with the stock market, continued to drift lower during the week posting a 2.6% decline. This continued a three week pattern of easing after spiking in early February.
The S&P 500 average daily trading volume was 4.194 billion shares and continues to remain on the low side advancing only 3.8% over the holiday shortened previous week.
CEF Weekly Fund Type Performance: There was interesting array of fund type performance for the week. While there was a definite tilt towards fixed-income, with equities in retreat, fixed-income fund types didn't bunch together and were more evenly distributed. Both national and state muni funds are subject to the problems facing state budgets. High yield bonds (a/k/a junk bonds) have stalled after their marvelous '09 performance.
The PrcNAVSprds[1], which typically move in the direction of the stock prices, played out pretty much as expected; the most visible exception being InvGrdBndFnds. InvGrdBndFnds experienced a strong price advance while being accompanied with a decline in the related NAV. A higher than expected CPI number may have caused NAV's to be subdued.
For the most part, changes in average fund type price were accompanied by similar changes in NAV. This may suggest a more realistic and less emotional investor appraisal of underlying investment sector returns.
CEF Winners and Losers: One of the CEFs with the greatest positive PrcNAVSprd for the week was Delaware Investments Global Dividend Fund (NYSE:DGF). DGF share price increased 6.6% for the week while its NAV was flat generating a positive PrcNAVSprd of 6.6%. DGF experienced a significant stock price advance at the end of the week.
DGF is a small, thinly traded stock with an average 3 months' daily trading volume of 13,801 shares. It is trading around par and its annualized monthly distribution is 9.7%. Approximately half the distribution is a return of capital.
This week's CEF with the greatest negative PrcNAVSprd was Gabelli Utility Trust (NYSE:GUT). GUT saw its price decline 8.4% versus a NAV decline of 1.4%; this generated a negative PrcNAVSprd of 7.0%. GUT, a CEF with one of the highest premiums in the CEF market sector, was the subject of self-confession when its investment manager, the famed Mario Gabelli, in a Wall Street Journal article remarked that he thought the premium was "unsustainable".
Economic & Earnings Outlook: (Click here for next week's economic calendar; click here for earnings announcements and estimates.)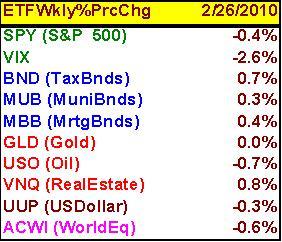 ETFs: (Click Here for ETF YTD sector performance.)
Insider Trading: Insider transactions for the final week in February were again dominated by the Horejsi Group (Horejsi).
Horejsi was again a consistent buyer of shares of Boulder Growth & Income Fund (NYSE:BIF). Horejsi added an additional 105,491 shares at $6.06 for a capital expenditure of $639,139. This brings the total stock value purchased for the month of February to $2,448,111. Horejsi holdings now represent 8.1 million shares or approximately 31.7% of the company according to SEC filings.
Horejsi also continued its insider buying of Denali Fund (DNY) where its stake is now at 76% (3,181,000 shares) of the outstanding shares. Horejsi acquired an additional 12,260 shares at $14.83 per share in the last week of February for the total monthly capital outlay of $508,310.
There were a number of single filings of insider transactions for the week. Richard Peteka, CFO of Apollo Investment Corp (NASDAQ:AINV) acquired 7,500 shares at a price of $11.59 for a total capital expenditure of $86,924. This increases his holdings to 17,500 shares. Interest in private equity exit strategies seems to be picking up. Earlier in the month, a Wells Fargo analyst had up-graded AINV.
William R. Hutchinson, a director of both Western Assets Emerging Markets Debt Fund (NYSE:ESD) and Western Asset Municipal High Income Fund (NYSE:MHF) added to his position in both. Elliot Rosen of ING Prime Rate Trust (NYSE:PPR) appeared to be liquidating his position through partial sales of his holdings.
There was other de minimis (thanks, "closedendtrader") insider buying. (Click here for a hyperlink to the Joe Eqcome CEF Weekly Insider Report.)
CEF Distribution Announcements This Week: The following is a link to a table of CEF distribution announcements this week as well as the previous week's with yet expired ex-dividend dates. The list is not intended to be inclusive. (Click Here for Weekly CEF Distribution Announcements.)
Significant CEF Corporate Events: The India Fund's (NYSE:IFN) semi-annual repurchase offer, adopted by shareholders' vote in 2003 to repurchase between 5% and 25% of its outstanding shares, commenced February 19th and will terminate on March 12, 2010. The Board has authorized the fund to repurchase up to 5% of the outstanding common stock for this semi-annual period.
Cohen & Steers Infrastructure Fund (NYSE:UTF) (formerly Cohen & Steers Select Utility Fund) announced that shareholders approved the fund's merger with Cohen & Steers REIT and Utility Income Fund (RTU) at a special shareholder meeting February 26th. The merger is expected to be completed after the close of business on March 12, 2010.
PowerShares launched the first closed-end, fund-of-funds ETF, PowerShares CEF Income Composite Portfolio (NYSEARCA:PCEF). The ETF will invest at least 80% of its funds in the S-Network Composite Closed-End Fund Index Closed-End Fund Index [Symbol: CEFX].
The underlying index to be used by PCEF currently includes 71 closed-end funds that are primarily focused on taxable-fixed income and option writing strategies. The total annual fund operating expenses are initially 1.81% of AUM. Ouch.
The keys to the success of the fund as viable vehicle for the purpose of trading and hedging is twofold: whether it attracts enough capital (liquidity) and the management of its tracking error.
One of the potential collateral beneficiaries of this move may be Cohen & Steers Closed End Opportunity Fund (NYSE:FOF). This is a fund-of-fund of CEFs; however, its wrapper is a closed-end fund. Trading at an 8.7% discount, the success of PCEF could convince the manager to convert it to an active ETF which would close the discount and possibly increase the amount of money AUM. Unlike PCEF, FOF includes equity CEFs.
There will be a fuller analysis on PCEP in the not too distant future.
CEFs Focus for the Week: Cornerstone Total Return Fund (NYSEMKT:CRF). While the closed-end fund market segment is full of abnormalities and quirks, one of the strangest for a relative newcomer is the three Cornerstone funds (CFP, CLM and CRF).
All trade at vast premiums to their respective NAV and all are unsupported by a shred of investment analytics. No one has made an audible case for their fundamental value and many are suspicious that the stocks are being manipulated either by major shareholders or by traders having discovered an algorithm surrounding the return-of-capital distributions.
While I have been critical of Cornerstone Progressive Return Fund (NYSEMKT:CFP), which I adequately documented elsewhere, I was unprepared for the analytical brain-damage of CRF.
Here is a closed-end fund that has a measly $20 million in assets that is dissipated every time it makes a return-of-capital distribution, its NAV has been in a death spiral since the turn of the century and its stock has dropped almost like a stone since 2007. Over the past 5 years it's generated a negative annualized total return of 6.2% with a negative NAV return of 1.5% versus a negative 0.8% and a positive 0.1% for its peer group, respectively.
An Investment Mystery: Its portfolio is made up of essentially large cap stocks that an investor could more easily purchase through vast array of large cap ETFs and it is thinly traded (less than 20,000 shares daily): yet, it is trading at a 42% premium. Based on sheer fundamentals and this world's investment physics, this should be trading at a significant discount rather than a premium.
When a mutual fund sponsor has a bad fund that's losing assets and/or it has seriously underperformed, it typically likes to bury it within its other funds through a tax-free merger. Maybe, CRF will merge into CFP or CLM, or all three will merge together.
With that thought in mind, I'm reminded of the advertisement for the kitchen trash compacter: "An appliance that turns 20 lbs of garbage into 20 lbs of garbage."
[1] A positive PrcNAVSprd can be interpreted as negative because it typically signals a share price movement less favorable than the NAV. All things being equal, price and NAV should move in tandem. A price movement greater than the NAV may indicate the stock is overvalued relative to its NAV which in theory is the stock's intrinsic value. The opposite would be true for a negative PrcNAVSprd.
Disclosure: Owns a diverse portfolio of CEFs that include BIF and has absolutely no interest in the Cornerstone funds.