BlackBerry (BBRY) reported results for the third quarter yesterday and they were everything but pretty. Here are the most noteworthy takeaways from BlackBerry's third quarter (the description Q3 2014 relates to the third quarter for fiscal year 2014):
Q3 2014 revenues declined 24% to $1.2 billion compared to the previous quarter ($1.6 billion) and plunged 56% compared to Q3 2013, when revenues stood at $2.7 billion.

BlackBerry recognized sales on approximately 1.9 million smartphones in the third quarter compared to 3.7 million in the second quarter.

BlackBerry's GAAP loss from continuing operations amounted to $4.4 billion or $8.37 per diluted share and clearly surprised the market.

BlackBerry took a $2.7 billion non-cash, pre-tax impairment charge against long-lived assets, a primarily non-cash, pre-tax charge of $1.6 billion against inventory and supply commitments as well as a $266 million restructuring charge. Q2 2014 delivered a GAAP loss from continuing operations of $965 million ($1.84 per diluted share) and GAAP income of $14 million ($0.03 per diluted share) in Q3 2013.

BlackBerry's adjusted loss from continuing operations for Q3 2014 stood at $354 million or $0.67 per diluted share compared to a Q2 2014 loss of $248 million and or $0.47 per diluted share. A reconciliation table adjusting for non-recurring impairment charges is provided below:
(Source: BlackBerry Financial Information)

BlackBerry's gross margin also declined notably: The Q3 2014 gross margin came in at ($1.3) billion compared to ($374) million in Q2 2014 and $830 million in Q3 2013. For the first nine month of fiscal 2014

BlackBerry lost $596 million in gross margin compared to $2,360 million for the same period last year.

BlackBerry reported diluted EPS of ($8.37) for the most recent third quarter vs. ($1.84) in Q2 2014 and $0.02 in Q3 2013.

BlackBerry's operating cash flow for the first nine month of fiscal 2014 stood at $405 million compared to $2,093 million for the first nine month of fiscal 2013 (down 81%).
Clearly those results are nasty. Many investors (those that haven't thrown in the towel already) did expect that BlackBerry's turnaround is imminent and progress will be shown in BlackBerry's financial results. Instead, BlackBerry delivered a massive sequential loss that even dwarfed the $1 billion loss of the second quarter of fiscal 2014.
Third quarter results also confirmed once more that the hardware segment continues to drag down BlackBerry's financial performance. The revenue mix table below shows that BlackBerry is still heavily reliant on the hardware segment. 40% of BlackBerry's third quarter revenues and 59% of nine month revenues came from its hardware business.
Foxconn partnership
BlackBerry will need to come up with sustainable solutions for its ailing device unit. While a sale of a loss-making hardware segment is difficult, past transactions have shown that deficient businesses can be sold: For instance, Microsoft (NASDAQ:MSFT) acquired Nokia's (NYSE:NOK) controversial and loss-making device unit back in September for $7.2 billion. Shares ultimately took off as a huge burden was lift off of Nokia's shoulders and investors suddenly changed their perception of Nokia and its transforming business.
Due to the current absence of a strategic buyer, BlackBerry needs to create catalysts for itself. Consequently, BlackBerry's management stepped up and announced yesterday a five-year strategic partnership with Foxconn. Foxconn is the world's largest manufacturer of electronic products. The company is a large-scale manufacturer in China and counts Apple (NASDAQ:AAPL), among others, as its customer. The partnership will focus on a joint development and manufacturing of BlackBerry devices and Foxconn will also manage the associated inventory (a cause of headache for BlackBerry in the past). The companies also intend to bring a smartphone model to Indonesia and other emerging markets at the beginning of 2014.
Foxconn's involvement is likely to reduce manufacturing costs and increase supply efficiency. BlackBerry, on the other hand, will concentrate on the development of its market-leading encryption technologies and messaging services:
BlackBerry will focus heavily, via internal development, on market segments where its continuous innovations in secure hardware, software and services remain critical and integral to enterprise and government customers. BlackBerry also intends to drive adoption of its multi-platform BBM, deliver real-time, reliable and secure messaging through its Network Operations Center, and grow its enterprise mobility and mobile device management business through on-premise and cloud-based solutions for cross-platform devices as well as its own.
Share performance
After dissemination of quarterly results, BlackBerry shares shot up 15.52% to $7.22. Clearly, shareholders are used to bad news from the BlackBerry front. Colossal losses in the past, failed buyout-attempts and declining market share have all helped to decimate the shareholder base as well as the share price. After all, BlackBerry has lost nearly 34% over the last year.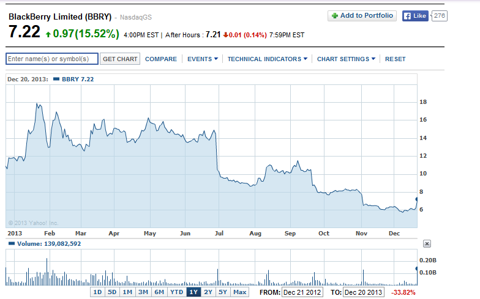 Conclusion
The losses presented this quarter highlight what has already been known by the market: BlackBerry goes through a deep-cutting business transformation as it was outsmarted by Apple and Samsung in terms of smartphone appeal. Both companies have increased smartphone market share substantially over the last three years while BlackBerry sales faltered. BlackBerry's device unit will ultimately have to be separated from its Enterprise Services and Messaging businesses and I stand by my assertion that BlackBerry has an intrinsic value of core assets of $14-18 per share.
I think investors who have the stomach for volatility will get a decent bargain with BlackBerry at current prices. I also think that the collapse of the Fairfax transaction was a good thing for shareholders. Prem Watsa's offer to buy BlackBerry for $9 per share substantially undervalued the company. Fairfax Financial's intention to take the company private would have materially short-changed investors and deprived them of meaningful valuation upside. I believe investors are still too caught up in the headlines and will eventually look back with amusement on today's basement prices. Alcatel-Lucent (ALU) or Nokia are other examples of loss-making tech businesses that ultimately surged because pessimism ruled the price-setting mechanism.
Turnarounds take time and investors are unlikely to see massive improvements q-o-q. It is much better for BlackBerry to clean up the house, adjust its inventory position, restructure its business mix and find a solution for its hardware business even it means forking over a couple hundred million in extra cash for a potential buyer. But when news of either a turnaround or a sale at the device unit hits the headlines, BlackBerry could easily be a double. Long-term BUY for investors who can deal with headline risk and a couple more bumpy quarters.
Disclosure: I am long BBRY, ALU. I wrote this article myself, and it expresses my own opinions. I am not receiving compensation for it (other than from Seeking Alpha). I have no business relationship with any company whose stock is mentioned in this article.