Over time technology became more and more sophisticated and has transformed the audio entertainment industry. Players in the radio broadcasting industry are using different technologies such as satellites, internet and traditional radio signals to reach customers.
In my two previous articles on Sirius XM (NASDAQ:SIRI), I highlighted its future prospects and presented its financial forecast and stock valuation. In this article I have decided to scrutinize its competitive position and long-term strategy. So without further ado let us analyze Sirius XM's position in the framework of porter five forces.
Threat of New Entrants
Sirius XM is the only company operating in the satellite radio industry. Therefore, it is fairly easy to conclude that the company faces low threat from new entrants primarily because of two main reasons: (i) New entrants have to dedicate large amount of capital for setting up a satellite infrastructure and (ii) they are subject to government regulations.
Threats from Substitutes or Alternatives
Technically there is no direct substitute for Sirius XM as the other players in the audio entertainment industry do not use satellites as a medium to broadcast their content. However, portable music players and downloadable content on other portable devices can be considered a substitute as consumers generally buy these devices once, download their favorite content and can listen it on the go.
Moreover, there is a low to no switching cost from Sirius radio enabled devices to Wi-Fi or FM radio enabled devices but Sirius's content and other services can clearly be differentiated from what these substitutes can offer.
This company has taken numerous steps to mitigate these threats such as introducing a radio application that runs on smartphones and other internet-enabled devices. In addition to this, Sirius XM plays live as well as exclusive content and that is good enough to lure listeners into subscribing to its services.

In addition to the things discussed previously, the chart presented above shows that Sirius is still more popular than internet radio in terms of radio listening hours. Moreover, the company is clearly ahead of two leading radio broadcasters: Pandora (an internet radio company) and Cumulus (a traditional radio broadcaster). Pandora is still unprofitable while Cumulus earns marginal profit compared to Sirius. Although internet radio in growing I seriously doubt its ability to outperform services offered by Sirius XM.
Bargaining Power of Customers
Looking at the business model of Sirius XM we can easily identify that there are two types of customers: B2B and B2C.
In B2C commerce, the end user of Sirius XM'S devices and services has a higher bargaining power mainly because of the availability of substitutes, low or no cost of switching and leverage of the listener to choose the length of subscription or even the liberty to decide whether to opt for services.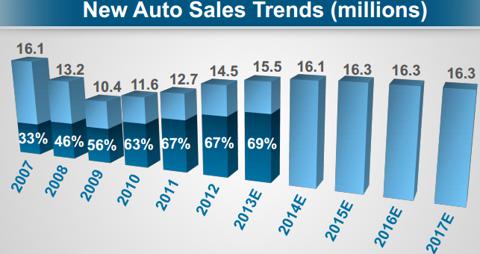 On the B2B side, customers of Sirius XM are auto manufacturers. The company has built strong ties with these auto manufacturers to include Sirius devices as a built-in feature in the vehicles. Approximately 70% of the new cars sold in the US have a built-in Sirius XM radio. In this business style the company has more bargaining power mainly because of its monopoly in the satellite radio industry. However, I think the availability of internet connections in these vehicles will affect the bargaining power to a certain extent.
I think there is just one way for Sirius XM to decrease the bargaining power of its customers and that is to properly differentiate its products and services. The company has committed a large amount of capital to the production of unique content and to build its capability in the field of connected vehicles which will offer a lead over competitors.
Bargaining Power of Suppliers
Sirius XM has several suppliers ranging from electronic component providers to the content developers and most importantly the celebrities. After the merger of Sirius and XM, the bargaining power of manufacturers decreased as the combined company now has the ability to push material prices down. On the other hand I think celebrities like Howard Stern, Oprah Winfrey and other popular radio stars still have a higher bargaining position.
Regulatory Advantage
Because of the Digital Millennium Copyright Act, most streaming music service providers like Pandora and Spotify pay approximately 50 percent of their revenue to the agency called SoundExchange to license songs on a per-performance basis. Sirius XM only pays 8 percent of its revenue for song licensing. Moreover the company has signed a deal with regulators that will allow the company to purchase the license for not more than 11% of their revenues till 2017. In comparison to internet and satellite based radio, traditional radio services do not pay anything to SoundExchange.
Conclusion
After applying the lens of Porter's five forces, we can conclude that Sirius XM has a low threat of new entrants mainly due to the high setup costs of a satellite infrastructure. The company faces the large threat of substitutes from other industries but the steps it has taken will help the company to sustain and grow in coming periods and its collaboration with suppliers and auto manufacturers will help to expand the current distribution network.
Moreover, in my previous article I highlighted the fact that the company's future prospects are bright. Number crunching also supported the conclusion as it was revealed that the stock is currently undervalued. Therefore, considering all the facts, I recommend buying stocks in Sirius.
Disclosure: I have no positions in any stocks mentioned, and no plans to initiate any positions within the next 72 hours.
Business relationship disclosure: The article has been written by a Blackstone Equity Research research analyst. Blackstone Equity Research is not receiving compensation for it (other than from Seeking Alpha). Blackstone Equity Research has no business relationship with any company whose stock is mentioned in this article.