One of the ways I plan on investing in 2014 is through the many facets of the housing market.
As we start to head towards the end of 2013, a year that produced an amazing bull run across the board, we start to look at what sectors are going to provide substantial returns in the year to come. While this year, the banking recovery and auto recovery were two enormous headlines, 2014 is likely to be a significant year for the housing market.
All over the U.S. it's being reported that homes owned by banks are starting to sell with greater momentum than in past months. Headlines about the housing markets continued recovery from 2012 through 2013 have been of prominence.
The steps to housing recovery continue to take place. Namely, home prices and the banking system are now starting to once again create a foundation that can build jobs and contribute to the economy.
Buy REITs as the Housing Market Continues to Recover
One of the investments I'm likely to take advantage of heading into 2014 is through REITs. Admittedly, REITs were never a vehicle that I had invested in, but as I'm confident the housing market recovery will be in full swing in the coming year, making up a small part of my portfolio with REITs seems like a safe way to put myself in a position for some respectable returns.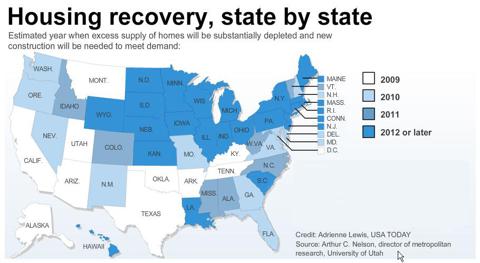 REITs have the appeal of generally paying very attractive dividends - usually upwards of 3% annually. As asset back trusts, this makes them much more appealing than other "conservative" dividend paying routes like bonds. Additionally, REITs have lagged throughout 2013.
The first half of the year, REITs were yielding nice returns. When the Fed came out in May and announced potential plans for an early taper, REITs got clipped to the tune of almost 14% in the next five weeks.
I'm brushing off concerns about possible interest rate hikes in 2014 being an adverse factor to REIT performance and arguing that the housing recovery can provide lucrative yields through these channels.
What I'm Looking For in 2014
One of the first items that caught my eye towards the end of this year was the continued reporting that banks were benefiting from housing prices rising.
CNBC.com reported just last Friday:
Sales of bank-owned (REO) homes accounted for 10 percent of all residential property sales in November, according to RealtyTrac. That is up from 9.1 percent in October and accounted for the third consecutive month of increases in REO sales.

"Lenders are taking advantage of this environment to unload more of their bank-owned inventory and in-foreclosure inventory at the foreclosure auction," said RealtyTrac's Daren Blomquist in a release.
It's become consensus between analysts that housing prices will continue to rise in 2014 - but the question is at what pace? Although I'm not expecting a run on housing prices, I am still expecting a "normal" healthy increase. Additionally, I expect rent rates to also continue to rise across the board.
With regards to interest rates - one of the most oft touted potential bears to the real estate market, we don't really have an idea what is coming in 2014. The pragmatic guess would be that rates will remain very low in the grand scheme of things, but will likely inch upward.
Regardless, I wouldn't let the fear of interest rates preclude you from making a potential investment in the sector.
Best of luck to those who decide to invest in this sector in the coming year.
How You Can Invest in the Recovery
REITS
Mortgage Heavy Banks
Supplemental Housing Related
Disclosure: I have no positions in any stocks mentioned, and no plans to initiate any positions within the next 72 hours. I wrote this article myself, and it expresses my own opinions. I am not receiving compensation for it (other than from Seeking Alpha). I have no business relationship with any company whose stock is mentioned in this article.