The stock market has had a spectacular year - the S&P 500 is up over 21% while the NASDAQ is up 29%. Now it's that time of year when institutional managers make trades to round out their performance numbers for the year, manage tax liability, and take profits where applicable. The Fed has strongly suggested that the long awaited taper is finally near, and investors are making predictions about what sectors will outperform for next year, and which will suffer.
In the midst of the end of year chaos is where investors can find bargains - if you know where to look. Take the restaurant sector - a mixed bag of fast food and casual diners in an era of improving health consciousness. A study done by AlixPartners revealed that Americans planned to dine out less frequently in 2014, citing health reasons along with budgetary concerns. But since the impending Fed taper suggests an improving economy, the latter reason may not apply next year, leading to higher-than-expected consumption.
In any industry though, there are some companies with a business model unique enough to place them outside of the box, allowing them to shrug off many negative opinions. We looked at two service stocks that may not fall in line with more traditional restaurants, but think their niche offerings could help them capitalize on an improving economy in 2014.
CEC Entertainment (CEC), better known as Chuck E. Cheese, is a $738 million novelty restaurant that almost every parent is familiar with. The company has revamped its image to appeal better to kids and the results are slowly starting to come in. Same store sales slumped in the 3rd quarter by 2.1% after rising in first and second quarters by 1.6% and 2.9%.
But this was expected for a few reasons, one of which was the political and economic uncertainty regarding the government shutdown. And competition from kids' movies is a particularly sore spot for CEC Entertainment. The industry has grown 65% to $320 million compared to the same quarter last year - with many parents choosing to take their kids to the movies instead of more interactive (and exhausting) experiences like Chuck E. Cheese. But looking to 2014, management expects to open 12 to 15 new stores, perhaps anticipating an increase in demand.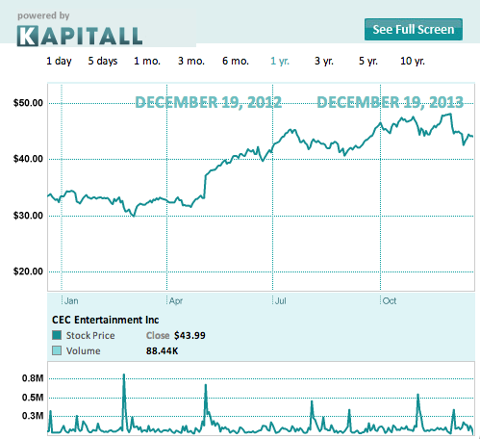 (Click to enlarge. Sourced from Zacks Investment Research.)
CEC Entertainment trades at just under 16 times earnings and pays a dividend of 2.5%. EPS growth of 17% is predicted for next year making this stock discounted by around 18% at current prices. In addition to the dividend, management has approved a share buyback plan of $128.9 million to use on "an opportunist basis."
The other service stock we're considering is ironically on the other extreme of entertainment-themed dining, Rick's Cabaret International (NASDAQ:RICK). Hovering just above $100 million in market cap, Rick's caters to adults-only as a gentleman's club restaurant. With 50 clubs currently owned by Rick's, management has plans to expand to around 500 through consolidation. Unlike most restaurants, it enjoys high margins due to the fact that 40% of its revenues come from alcohol sales, making it a recession-proof sin stock.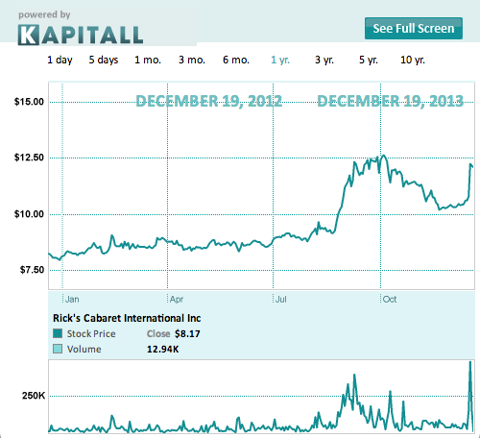 (Click to enlarge. Sourced from Zacks Investment Research.)
The stock trades at just 11 times earnings with EPS growth over the next 5 years expected to be around 40% giving it an attractive PEG ratio of 0.28. Even a conservative estimate places this stock at $15 a share - a discount of 42%. One thing to watch for is the debt load carried by Rick's. While it's mostly due to the fact that the company owns its real estate, it's worth watching how a rising rate environment will be met by management.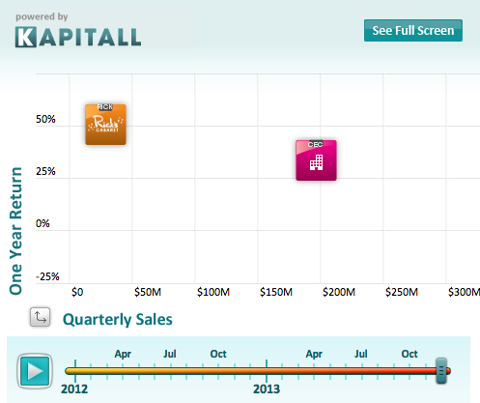 (Click to enlarge. Sourced from Zacks Investment Research.)
Disclosure: I have no positions in any stocks mentioned, and no plans to initiate any positions within the next 72 hours.
Business relationship disclosure: Kapitall is a team of analysts. This article was written by Daniel Cross, one of our writers. We did not receive compensation for this article (other than from Seeking Alpha), and we have no business relationship with any company whose stock is mentioned in this article.