While many of the investors are focused on emerging markets, some brave and sophisticated investors are looking beyond the horizon and venturing into frontier markets. Some examples of frontier markets are Saudi Arabia, Kuwait, Morocco, Algeria, Lebanon, Colombia, Vietnam, and more.
The prevailing low interest rates in many countries around the world and the rising demand for commodities are two of the reasons that are advantageous to frontier markets. For example, rising crude oil and natural gas prices are benefiting Kazakhstan. Saudi Arabia, Qatar, Nigeria, Oman and Kuwait are profiting from higher crude oil prices.
The performance of a select few frontier markets as well as India and China are shown in the following chart: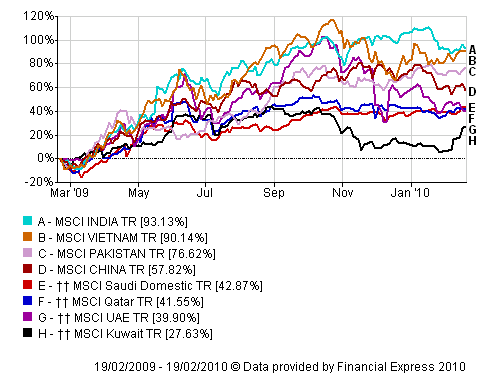 A recent research report noted:
"Mark Mobius, executive chairman of Templeton Asset Management believes frontier markets represent some of the best contrarian investments at the moment.

Mobius, who manages a number of emerging markets portfolios at Franklin Templeton, considers countries such as Vietnam, Pakistan, Bangladesh and Romania as ones to watch this year. He says he currently favors commodity and consumer orientated stocks. Qatar, Kazakhstan and Nigeria are being watched because of their natural resources."
A huge bubble is forming in the emerging markets of India and China, especially in the real estate sector. This does not portend well for the future. The real estate bubble in the US led to the credit crisis, bringing the global economy to its knees. Hence it may be time to explore some of the frontier markets. However frontier markets are not for the faint-hearted. Extreme caution is needed before jumping into any of these markets. Equities in frontier markets may be highly illiquid and information may not be readily available to evaluate companies.
Some of the Frontier Market ETFs include:
Claymore/BNY Mellon Frontier Markets ETF (NYSEARCA:FRN)
Market Vectors Gulf States ETF (NYSEARCA:MES)
Market Vectors Africa ETF (NYSEARCA:AFK)
Market Vectors Vietnam ETF (NYSEARCA:VNM)
WisdomTree Middle East Dividend Fund (NASDAQ:GULF)
SPDR S&P Emerging Middle East & Africa ETF (NYSEARCA:GAF)