Samsung (OTC:SSNLF) is planning on releasing its own mobile operating system, and it is called Tizen. In the past, the company's internally created operating system, Bada, was partly what led to Samsung's own downfall. Well to be more specific, with the release of the original iPhone, Apple (NASDAQ:AAPL) forced every R&D team in the world to rethink their strategy. Technology companies began forming partnerships and of them the most notable and well recited shift in mobile was Android (NASDAQ:GOOG).
So we now fast forward by around five years from the original release of the iPhone. Samsung has caught up to Apple's profitability and sells three times the number of phones. In terms of scale, Samsung is the reigning champion, but the question comes down to whether consumers are loyal to Samsung or Android. To be more specific, if Samsung decides to switch the operating system of its phones will it have a negative impact on sales?
Tizen in its beginning stages
Tizen is currently developed by Linux Foundation, Tizen Association, Samsung, and Intel. It uses the Linux operating system, and its performance is fairly comparable to other operating systems when it comes to web browser speeds based on HTML 5 tests. The operating system is open-source, and runs on PCs, tablets, smartphones, and even televisions.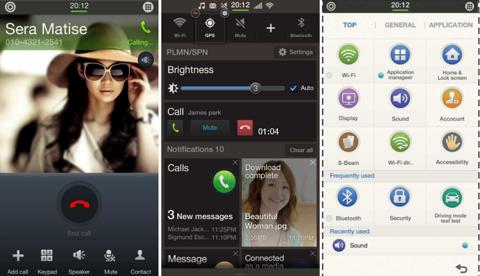 Source: DroidLife
The above picture is a leak of the upcoming Samsung Galaxy S5 handset. Deep down I have to admit that it looks like a really nice interface. Many have complained about how the Samsung Galaxy S3 and S4 feel a little buggy. I'm not exactly sure if Samsung has been able to fix this problem by building its own operating system, but if it has, that would be an excellent start for getting its brand back on track, especially after how it poorly managed its PR.
It's likely that the upcoming handset will be a little new for users to get used to. The application ecosystem will be limited when compared to Android, iOS, and Windows. This is what has me a little worried as I am a huge fan of holistic product development, but not if it's at the expense of practicality from both a business and consumer standpoint.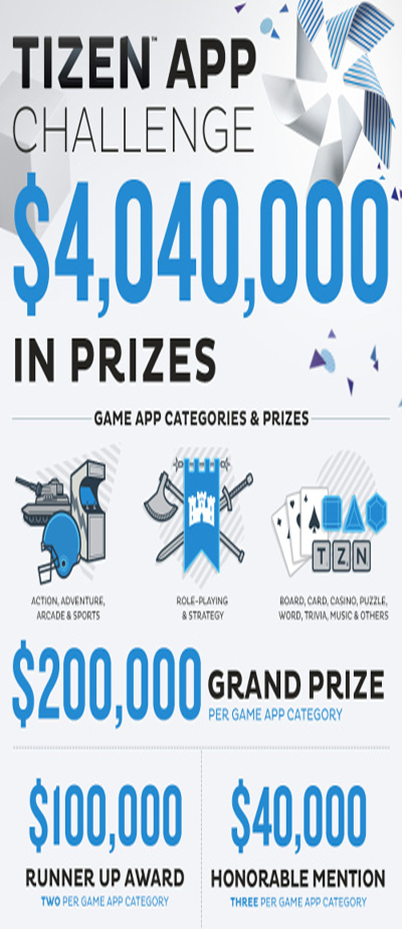 Source: Tizen
To address the weakness in its application ecosystem, Tizen is currently giving out $4 million in prizes. Its primary concern is game development; because part of what makes a smartphone fun is the type of games you have available to you right out of the box.
Designing fun games is hard and every now and then you get lucky and land yourself on a Candy Crush, or Angry Birds. Game developer are being heavily subsidized to develop games for Tizen OS as the install base of Tizen is non-existent, making it impossible for game studios to recoup costs. In other words, none of the games made will earn a profit from the actual sales, but from the cash prizes the developers get for creating a game.
Besides the weakness in the application ecosystem, I'm concerned with the privacy and security of the device. Hopefully we don't see malicious code spread from one device to the next or else we'll wake up to another Samsung PR nightmare. So, I'm going to assume that security will be made a huge priority; and if it isn't, something bad will happen.
Has Samsung built enough scale?
Currently, Samsung has the most significant market share in the smartphone space. This makes it a little easier for the company to throw some weight around in the technology space.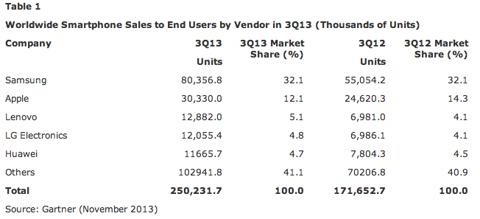 Currently, Samsung has 32.1% market share in the global smartphone market. It's not hard to imagine at all as to why this is the case. The company sells phones from every form factor and prices itself so that it captures every dollar available in the space.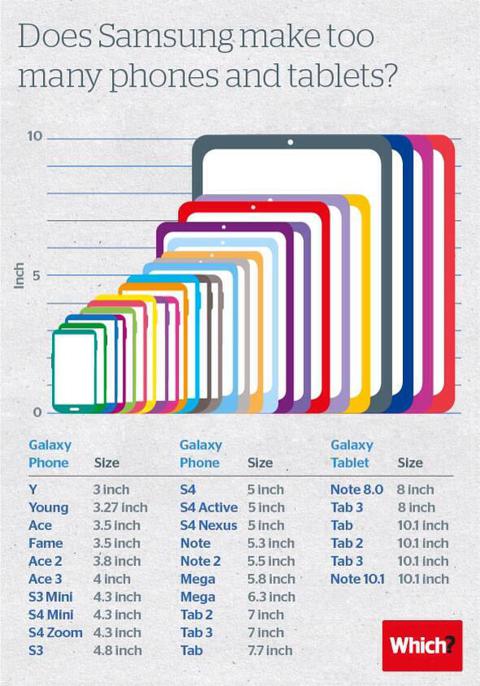 Source: BGR
Perhaps Samsung gains its market share by having an absolutely breathtaking selection of devices to choose from. The sheer complexity of managing the supply chain of all these devices is unbelievable and probably expensive too.
I think Samsung's position in the smartphone space is already tenuous as is. It technically can't release any other smartphone in any other form factor to generate more in sales. Following Apple's release of the iPad Mini, Samsung decided to go through the full size spectrum of 3, 4, 5, 6, 7, 8, and 10 inch devices. I'm almost surprised they don't have a Samsung Galaxy Note that's also a 9 inch variation. It's almost astounding that Samsung will depend so much on form factor to drive sales.
Apple has plans of releasing larger phones in its next refresh cycle. This is going to hurt Samsung as Samsung can no longer build a larger device to compete with Apple on size. So Samsung really has no choice but to innovate.
Conclusion
Samsung's response to innovation has been to design its own operating system. This has the chance of turning away buyers of the next Samsung Galaxy S5 reasserting my belief that Samsung's next device could indeed flop. I make this claim because an incomplete operating system with a partial ecosystem will not stand a chance against the other major platforms. That alone may give some mobile consumers a reason to go with a Nokia, Apple, or Sony handset instead.
Just a slight miss on guidance could really hurt the value of the stock. So I'm not going to take any chances here. I would avoid Samsung for 2014.
Disclosure: I have no positions in any stocks mentioned, and no plans to initiate any positions within the next 72 hours. I wrote this article myself, and it expresses my own opinions. I am not receiving compensation for it (other than from Seeking Alpha). I have no business relationship with any company whose stock is mentioned in this article.