Over the past year, shares of AT&T (NYSE:T) have performed quite poorly relative to the Dow Jones Industrial Index. There are four reasons why I expect T to be one of the worst performing Dow stocks for 2014.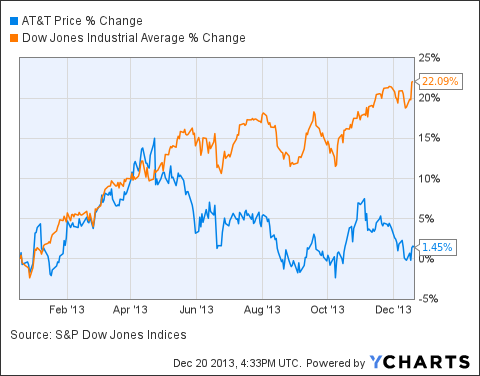 T data by YCharts
1. Exposure To Rising Rates
T is exposed to rising rates in two different ways. Firstly, a large portion of T investors are income investors who have been forced into high yielding equities such as T due to extremely low interest rates. As interest rates rise, some of these investors will likely move money back into safer bond assets. In short, bonds will be more competitive with high yielding equities such as T. The second way in which rising rates hurt T is that it increases the amount T must pay to borrow money. Currently, T has just over $76 billion in debt outstanding. Over time, T will be forced to pay more to borrow money which means increased interest expense a reduction in earnings. In short, in a rising rate environment T is not a good stock to own.
2. Lack of Cyclical Exposure
T is one of least exposed companies to the economy. The advantage to this is that in times of economic weakness, T earnings are relatively stable. However, this also means that T does not get much benefit from a rising economic tide. As the economy continues to improve in 2014, I would look for more cyclically driven Dow stocks such as Goldman Sachs (NYSE:GS) and General Electric (NYSE:GE) to outperform T.
3. Valuation
As shown by the charts below, based on both price to book value and forward PE ratios, T is not cheap. T is trading towards the mid-upper valuation range based on historical valuations. I find it difficult to argue that T should be trading towards the upper end of its historical valuation range. The reason for this is that much of the wireless opportunity has already been played out. The U.S. smartphone market is no longer the growth market that it once was.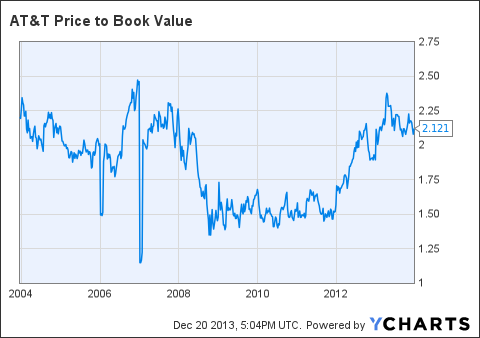 T Price to Book Value data by YCharts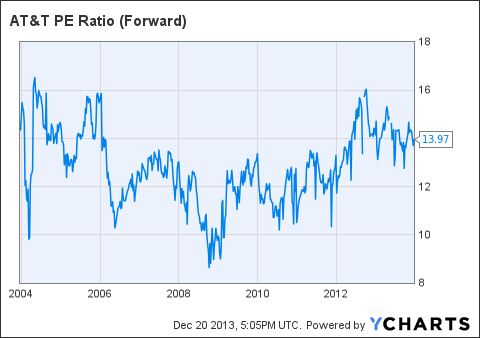 T PE Ratio (Forward) data by YChart
4. Increasing Competition From Sprint
Over the past few years, Sprint (NYSE:S) has emerged as a real challenger to T. Sprint's fortunes began to change when Japan's Softbank agreed to invest $21 billion in the struggling company. Sprint has now been rumored to be reading a bid for T-Mobile USA (NASDAQ:TMUS). I believe that Sprint will become an increasing headwind for T going forward.
My Thoughts on Verizon
Given my negative outlook for T going into 2014, it is fair to say that I am also negative on Verizon (NYSE:VZ). Verizon faces many of the same challenges that T faces. Rising interest rates, a lack of cyclical exposure, valuation, and increasing competition from Sprint are all reasons why I am not bullish on Verizon going into 2014.
Risk To My View
The main risk to the negative thesis I have laid out in this article for T is a major economic slowdown. If the economy falters, many of the negatives I cited such as interest rate exposure and lack of cyclical exposure will quickly turn to positives.
Disclosure: I have no positions in any stocks mentioned, and no plans to initiate any positions within the next 72 hours. I wrote this article myself, and it expresses my own opinions. I am not receiving compensation for it (other than from Seeking Alpha). I have no business relationship with any company whose stock is mentioned in this article.