EZ Corp has lost 70% of its market capitalization since 2012, but it's core business is fundamentally sound. Gold prices, a restructuring, and the failure of its Albemarle & Bond subsidiary have driven investors to panicked selling of shares. For investors that can wait out these largely temporary problems, EZPW presents significant upside with little risk.
EZPW's Business
At its core, is a very attractive business. Every day hundreds of customers walk up to their stores and present the company with one of the best investment opportunities that individual investors wish they had access to - a fully collateralized, secured loan that pays 20% interest per month.
The chart below shows that most of EZPW's business consists of these profitable pawn loans. Next, inventory assets, consisting of collateral that takes possession of when customers can't pay. Next comes Mexican payroll withholding loans. Single payment, installment, auto title, and CSO loans (a government program offering loans to people with bad credit) are generally less profitable and relatively small piece of the pie.

The profitability of each asset type is as follows:
Pawn loans @ 20% interest per month, or 240% APY
Inventory of seized collateral - 40% gross margin - inventory turns over in 6 months to a year
Mexico payroll withholding 20-40% APY
Other loans - similar to credit card 20% APY
Temporary Problem #1: Albemarle & Bond Holdings Subsidiary
(Removing this effect = .53 / share EPS increase)
1998- Investment was recorded at cost ($27M).
Added $23M of profits over the years ($53M).
11/7 - Wrote down account by $43M - caused share collapse
New account holding value= $10M = losses limited to $10M
Albemarle trades for 10% of former value on London SX, announced it is looking for a buyer.
Temporary Problem #2: Restructuring Charges
(Removing this effect = .29 / share EPS increase)
2013 - Closed underperforming stores and converted all Mexican gold-to-cash into retail pawnshops
Restructuring ended in Q4 - no further charges
Ongoing Problem: Gold Prices Declining leads to Depressed Margins on Gold Collateral.
When a customer gets a pawn loan for gold jewelry, they can get about 70% of that item's value as a loan. If, in a few months, EZPW has to default on the loan, they now have to sell that piece of gold at the going gold price. Hence, margins expand or contract when gold prices change.
(If gold prices stop plunging, expect a .40 share EPS increase, but I exclude this from my normalized earnings)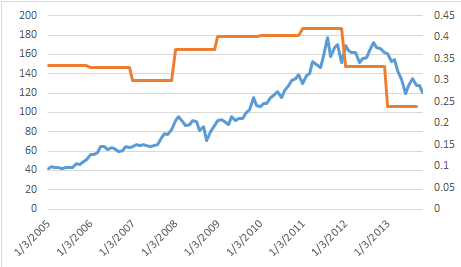 2009-2011- Rising gold led to inflation of scrapping margins.
2013- Rapidly declining gold leads to a hit in margins.
Furthermore, scrapping volume is down as the company has decided to switch to retailing more, which pushes inventory from a quick turnover cycle (sell to a smelter) to a longer one (6mo-1yr).
The misconception of many investors is that, because of the large amount of jewelry pawn loans, the company's fortunes are tied to the absolute level of gold prices. There is a slight effect, but its very overplayed by the market. This year, jewelry pawn loan balances declined only 6% as gold tanked 30%. General merchandise loan balances were up 11% at the same time. Customers pay back their pawn loans 84% of the time with jewelry loans (national average), and rarely take the full balance so as to pay less interest. There are still customers out there (company's pawn loan balances rose 2% overall in 2013) regardless of gold price levels.
Conclusion
Current earnings are .63 for FY 2013, and adding back just the factors we know will go away next year (restructuring and ABM, affecting for tax), we can conservatively estimate normalized earnings at $1.45/share in a declining gold price environment. That gives us a P/E of 7.6 at the current price of $11/share. A better gold environment could provide us with even more upside, and did I mention that the Mexican payroll withholding segment grew revenues by 46% year over year? EZPW's expected value I leave to others, but needless to say, it's worth much more than $11.
Disclosure: I am long EZPW. I wrote this article myself, and it expresses my own opinions. I am not receiving compensation for it (other than from Seeking Alpha). I have no business relationship with any company whose stock is mentioned in this article.