Use of 3D printing for producing human tissue, also called as bioprinting, has been made commercially viable through the initiatives of Organovo Holdings (NYSEMKT:ONVO). Next year, Organovo will launch its first bioprinted liver tissue. This 3D printing technology creates human tissue with the help of its own NovoGen MMX Bioprinter. Organovo aims to provide a technology that will solve the complex problems of biotech companies by providing an opportunity to test drugs on functional human tissues to better understand of drug's effects on the human body. In addition to this, the company plans to provide therapeutic applications by providing 3D tissues that can be implanted into the human body to repair or replace damaged or diseased tissues. The following is the application of bioprinted human tissue: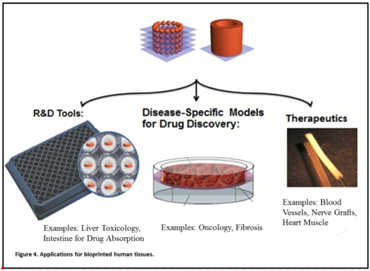 3D printing is not a new phenomenon, industries use it to build prototypes and finished products, but use of this technology for making functional human tissue is a new application. Use of this technology in biotech will revolutionize drug manufacturing by providing functional preclinical 3D human tissue, as it simulates the human biology, thus giving better results during drug trials. Preclinical trials are usually done on animal tissues before clinical trials, but animal samples don't always react the same way as human tissue.
Organovo isn't new to drug development; the company worked on two active research contracts last year with Pfizer and United Therapeutics Corporation. These collaborative research agreements involved use of Organovo's NovoGen MMX Bioprinter technology for facilitating drug discovery, thereby solving the specific needs of the company.
What is the future of Organovo's technology?
Organovo is working on developing its bioprinting technology for changing the future of drug trials and therapeutic applications. Organovo is a development stage company and currently generates revenue from grants and research agreements like the one with Pfizer. The company is working on its first product launch next year. This will be human liver tissue, which will be used in toxicology by pharma companies. Currently, the company doesn't have product based revenue, but its first product launch next year will be its first commercial transaction. It will facilitate drug discovery with the tissue's extended lifespan of up to 40 days. Current liver cells used in labs have problem replicating the nature of the human liver and had a short time span of viability. Therefore, this product will address these issues and will provide human biology simulating 3D printed tissue to companies.
The future of bioprinting is the use of this technology for making fully functional human organs to meet the customer demand. The company has demonstrated printing of the first fully cellular engineered human artery; it uses stem cells from fat tissue (like bone marrow) to create arteries. Use of Organovo's cell by cell 3D printing approach in developing human organs for transplant will be an important milestone, but this technology is still years away from producing human organs such as the liver or kidney. These organs require networks of blood vessels and other tiny structures to live, and 3D printing isn't capable of integrating blood vessels yet. Therefore, this technology is limited for regenerative medicine, and it will help in surgeries.
One cannot expect bioprinting to grow as quickly as traditional 3D printing. The medical world has been using 3D printing extensively, but use of this technology for bioprinting is a different ball game. Up to now, around 5.5 million patients have been treated using 3D parts, from prosthetic limbs to 3D-printed titanium jaw implants, around the world. 3D printing has been used extensively for making hearing aids, with more than 10 million printed hearing aids currently in use around the world. The medical 3D printing market is expected to grow from $354 million in 2012 to $965 million in 2019.
In addition, investors cannot expect Organovo to simulate the growth of 3D printing market leaders 3D Systems (NYSE:DDD) or Stratasys (NASDAQ:SSYS). 3D Systems specializes in all three 3D printing segments, i.e prototyping, direct digital manufacturing, and consumer. It provides end to end solutions in the 3D printing market, ranging from materials to 3D printers. On the other hand, Stratasys has focused on industrial grade printers, but with acquisition of Makerbot, the company now has a leading position in the consumer segment.
Organovo' changing market sentiments
Market sentiments towards Organovo have been changing quickly. At the beginning of the year, Organovo's share price was around $2.36 per share, but in November, the share price was high as $12.75, thus almost reaching a $1 billion market cap. This was due to bullish sentiments after the company announced in an October 22 Conference that it has achieved the 40 days performance target for its 3D bioprinted liver tissue, which will be launched in 2014. This October announcement added no new insight about the company's product pipeline, as it was just a progress report of previously announced news. Since then, there have been bearish sentiments towards the stock, and share price plunged below the $9 mark. Organovo entered an equity distribution agreement with JMP Securities, in which it may sell 4 million through its sales agent. This will help it raise cash and strengthen the cash position for funding growth initiatives. However, it will also put downward pressure on its share price.
So is this the right time to invest in Organovo?
Organovo's future revenue generation remains uncertain. As there is no new release regarding the company's upcoming product, its future revenue generation has come into question. The company is currently dependent on research agreements and grants for revenue generation, but its first product is expected to launch by December 2014, thereby creating doubts about Organovo's revenue next year.
Currently, the share price is benefitting from market sentiments with no clear fundamental support to the current stock appreciation. After reaching a market cap close to $1 billion in November, its share price has fallen, reducing its market cap, which is currently around $677 million. Its current trailing twelve months revenue is $693,000, and its price to sales ratio is just above the 1000 mark. This variation denotes that market sentiments are driving the stock price without much fundamental strength.
Bioprinting isn't a fad, and this technology will prosper in the future. I believe in Organovo' growth potential, so with a long-term view, investors should invest in this future technology with the understanding that there might be volatility. This stock isn't recommended for risk averse investors.
Disclosure: I have no positions in any stocks mentioned, and no plans to initiate any positions within the next 72 hours. I wrote this article myself, and it expresses my own opinions. I am not receiving compensation for it (other than from Seeking Alpha). I have no business relationship with any company whose stock is mentioned in this article.