For an investor, New Year is always a good time to review prior year picks, do some tax planning, and reflect on what went right and what went wrong this year. First I'd like to provide my 2013 scorecard of all calls I've publicly made this year either by publishing an article or by providing extensive comments or instablogs. The results are somewhat mixed, but still ahead of the market as several big winners: TISA, CRWS, OME, PESI, and RICK were offset by a couple of significant losers: EZPW and PERI.

First let me acknowledge an obvious mistake: I underestimated the scope of EZCorp (NASDAQ:EZPW) problems and was probably too early in the stock waiting for a rebound. Nevertheless, I believe it's still a very compelling investment which will turn around and provide a patient investor a tremendous upside. However, in my other "loser" Perion, I see no error in judgment, as the story has not changed one bit and only got better after it reported great results in Q3. The company was much undervalued at $11.74 a share and became even more undervalued now at $10.06.
Overall, I feel relatively good about returns this year. My actual portfolio has done better than my scorecard would indicate, as I sold off many big winners early, locking in most of the early gains.
As you can see, it's rather striking that my picks preformed best in one month after being recommended, followed by still impressive but less spectacular performance in two months, but did just above the market return over a longer period of time. One possible explanation is that my articles influenced market prices as I cover many micro-caps (it was clearly the case with SGRP, which surged over 30% in two days after my article came out).
Top ideas (all 2013 losers!)
Let me start with this year three big losers, which I previously recommended: EZPW, PERI, and BIOL (last one I actually recommended at its bottom price).
EZCorp
EZCorp is a pawn broker and pay-day lender operating mostly in US, Mexico, and UK. This year was an absolute nightmare for this company. Its management committed multiple blunders: it grossly overestimated the supply of gold jewelry by building out small format gold-focused stores, it took its eyes off its British subsidiary Albemarle & Bond, which levered up when the gold prices were booming and found itself in a compromised position when the gold rush stopped, and, finally, it decided to change a business model of its successful UK online lender, Cash Genie, resulting in short-term losses (the change is already rolled back).
Why am I still bullish after recommending this company twice costing me money and credibility? I believe pawn shops and online lending is a business any idiot can run and the list of the "current idiots" can be found in the "Leadership Section" of the investor relations section of EZCorp's Web site.
On the other hand, I speculate that last quarter was a "kitchen sink" one. EZCorp management knew that they had to take a large impairment charge on Albemarle & Bond and decided to throw in all other restructuring charges and bad news in order to show "improvement" next upcoming quarter. Currently, the company is trading at less than 5 EV/EBITDA value, at 63% book value, and 4.5 Cash Flow from Operations. It has no debt covenants to break or immediate liquidity concerns and the revenue is still growing. It's simply too cheap to ignore, even after applying "an idiot" discount.
Catalysts:
- Q3 was a "kitchen" sink quarter when EZPW wrote off everything it could scaring off investors. It's likely that it will show significant financial results improvement next quarter (even if it's artificial) regardless of the business improvement.
- Tax selling at the end of this year and "window-dressing" by funds not willing to show that they lost money on this dud further depressed the stock price to an unreasonable level.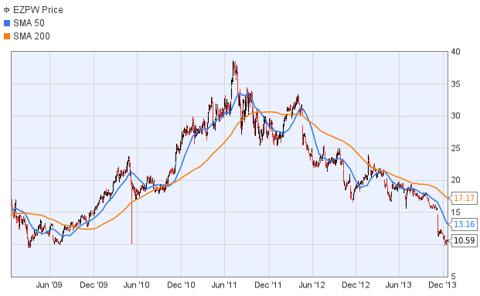 Biolase (NASDAQ:BIOL)
Biolase is a just another variation of the same theme of poor management but good products. The company manufactures and sells dental lasers ranging from a simple soft-tissue hand-held iLase used for cutting and treating gum tissue to expensive soft and hard-tissue lasers with its flagship Waterlase, which is used for complex surgical procedures.
I first became aware about this company in 2010 from my wife Dr. Olga Malkin who was very happy using their iLase product. She thought that their products were not only easy to use but were also well-designed and aesthetically pleasing. Back then, Biolase was barely alive, after replacing yet another CEO with its controlling shareholder Federico Pignatelli, and doing yet another equity issue to raise desperately needed money. Mr. Pignatelli seems much more interested in fashion photography than running the company (his Linkedin profile doesn't even list him as the Biolase CEO). The single biggest failure of Biolase has been its inability to build a coherent marketing and sales strategy, as they seem to completely change the course every couple of years. Biolase first tried to create direct distributing channels by heavily investing in building sales force, then, after heavy losses, it abruptly changed its course by firing its sales force and selling through a large distributor Henry Schein, and now, again, after ditching Henry Schein, it is re-building its sales force.
The equity of the company has been exceptionally volatile, as they seem to increase sales for a couple of quarters, when deploying a new strategy, to only see it collapse afterwards. The financial management of the company is not any better: it levered up early this year only to break loan covenants in the fall when sales fell short of expectations forcing it to raise equity at rock-bottom prices.
This pick is a great trading idea, not a good long-term investment, as a temporary upside could be a multi-bagger, but I wouldn't hold it long-term if its price runs up or catalysts fail to materialize.
Catalysts:
- Full company sale or sales of parts of its business. Biolase hired an investment bank Piper Jaffaray to "evaluate strategic alternatives". It said earlier that it's only shopping "non-core" assets but one "can never believe anything until it was officially denied", as it doesn't have much non-core assets to sell. This is either a "dog and pony" show to deflect investor criticism that the board is asleep or a sincere attempt to finally sell the company or take it private. If the latter is true, the company is probably worth twice the revenue most other medical device makers are typically trading, which would imply a 63% upside.
- Sales spike in Q4 due to likely expiration Section 179 tax deduction. Section 179 allows an immediate full deduction of up to $500 thousand in equipment purchases, plus some additional accelerated equipment depreciation, originally passed as part of the "stimulus bill." It's likely that this tax break won't be renewed next year if the economy keeps improving. Therefore, a lot of small business will rush to make purchases in Q4 to beat the deadline.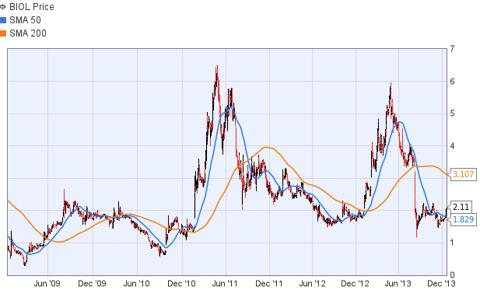 Perion (NASDAQ:PERI)
Perion is an Internet software tools company, which provides free software utilities in exchange for installing browser toolbars which display additional advertisement. The stock has been a very frustrating story this year. I can't find any fault with the management and strategic directions of the company. The earnings last quarter were also stellar. In September, Perion announced a "stock for stock" merger with a much larger but private Conduit, also an incredibly profitable maker of browser toolbars, about four times the size of Perion. The deal is expected to close in January and the first consolidated results will be reported in March. I did a very thorough investigation of the deal and find absolutely nothing not to like about it. The combined company will be growing at 20-25%, have no debt, and trades at about 7 times projected P/E and less than twice the revenue (the margins are very high in this business). If you want to find an opportunity to make 200-300% return next year, this may be a prime candidate.
Catalysts:
- Some investors probably sold because they bought Perion, or even its predecessor, Incredimail, but don't feel comfortable owning unfamiliar Conduit business. Next year, a new set of investors can take a fresh look at the company.
- Unless the company is a fraud, the valuation is grotesquely low. Once the combined results become publicly available in March, the investors will realize how cheap this company is.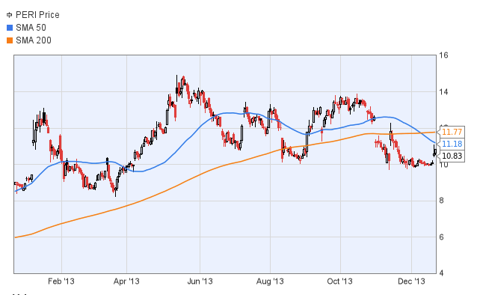 Russia small-cap ETF (NYSEARCA:RSXJ) and India small-cap ETF (NYSEARCA:SCIF)
I have already written an article explaining why investors should consider investing in local Russian and Indian markets in 2014. These countries have faced a slowing growth and weakened currency, not in the small part due the outflow of "hot money" from their markets earlier this year as the US rates begin to rise. I explained why domestic producers will greatly benefit from cheaper local currencies. I recommend two vehicles to invest in local companies: Van Eck's Market Vectors small cap ETFs RSXJ and SCIF, which also happen to be incredibly cheap.
Relative ETF valuations (Source: author's calculations based on Van Eck's data)

If we look at top 10 holdings in each ETF, we can see that the vast majority of the holdings are beneficiaries of cheaper currencies. For example, real estate becomes more attractive when priced in cheaper rubles or rupees and protects against inflation brought on by falling currency, industrial and airline companies' cost of labor falls in relative terms, IT pays locally but sells globally, and Pharma gets extra protection against more expensive imports.
Russian and Indian top 10 ETF holdings: green -benefits from cheap currency, white - neutral, red- cheaper currency is a detriment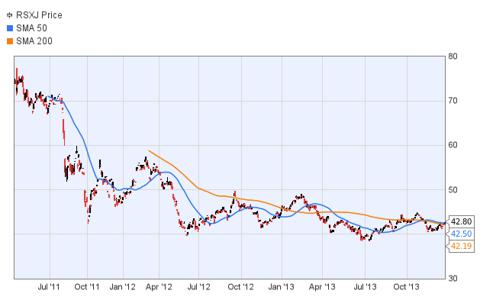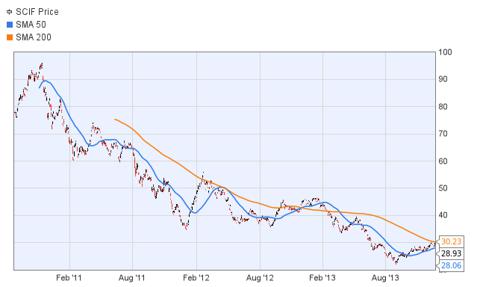 Catalysts:
- The "hot money" outflow subsides and both currencies stabilize at a lower level.
- Election in India next year brings in more economic reform-minded BJP party with Modi as prime-minister.
- Putin, faced with the stagnant economy, will make a few gestures to provide better investment and political climate (check recent Khodorkovsky and Pussy Riot amnesty). This may prove to be enough to stop the money leaving Russian shores after the investors realize how cheap the valuations have become.
Conclusion
I've only looked at top five ideas for next year. My major investment theme is that 2013 underperformers will outperform in 2014. I am a strong proponent of "mean reversion" law and would like to conclude with these two Bob Farrell quotes from "10 rules of investing":
Markets tend to return to the mean (average price) over time.
Excesses in one direction will lead to an opposite excess in the other direction.
Happy Holidays and Happy Investing!
Disclosure: I am long EZPW, PERI, RSXJ, SCIF. I wrote this article myself, and it expresses my own opinions. I am not receiving compensation for it (other than from Seeking Alpha). I have no business relationship with any company whose stock is mentioned in this article.