Editors' Note: This article covers a stock trading at less than $1 per share and/or with less than a $100 million market cap. Please be aware of the risks associated with these stocks.
Investment Thesis
HopFed Bancorp (NASDAQ:HFBC) is the holding company of a more than 100-year-old bank that operates in Kentucky and Tennessee. I believe that it's a low-risk investment with an active catalyst and a 50% to 80% potential upside within the next 12 to 18 months.
However, before I articulate why HFBC is worth so much, let me elaborate about the reasons this opportunity exists. After the housing crisis of 2009, thrifts and community banks have been under-followed and considered "toxic" due to their great exposure to mortgages and real estate loans.
HFBC is so small that it doesn't have any significant sell-side analysts following the stock. Add its meager average daily trading volume of $150K and you have the reasons why most professional money managers haven't bothered to invest in the stock. Furthermore, it doesn't look good on the bank stock screens most investors use, because its ROE for 2012 was an ugly 2.54% and its three year average ROE is a barely decent 3.3%.
Now let me present you with the reasons why HFBC is such a great investment opportunity.
HopFed has an attractive valuation trading at just 86% of its BV of $12.94 which can serve as a floor for the stock since it represents essentially the company's liquidation value. However, HopFed's private market value is even higher at about 1.3x its BV. But more on that later when we examine the company's valuation.
An experienced activist investor, Joseph Stilwell is invested in HopFed and is already stirring the waters forcing management to improve the company's ROE or sell the bank to unlock its true value. Mr. Stilwell is an investor with a good track record in small community banks and his presence has resulted many times in significantly increased shareholder value.
What makes HopFed such a good investment and acquisition target is its under-utilized balance sheet. HopFed has an equity/assets ratio of 10%, a tier 1 ratio of 16.4% and a loans/deposits ratio of 74.6%. The story all these three ratios tell is that HopFed has a lot of room to increase its loan portfolio and thus increase its profitability and ROE. And this is also what makes it an excellent acquisition target for every bank that has a presence in its market area or in any of the adjacent markets.
HopFed's insiders own collectively just 3.8% of the company's stock while institutional investors own 37% of shares outstanding. More specifically as of their latest 13Fs, Sandler O'Neil Asset Management owns 9.8%, Wellington Management 9.1%, M3 Funds 9.1% and Mr. Stilwell 9%. After a brutal proxy fight in early 2013 institutional investors appointed one board member of their own that will push for moves like the recently announced share buyback that will be to shareholders' best interests.
Company Overview
HopFed Bancorp was created in 1997 in order to facilitate the conversion of the Heritage Bank to a publicly held company. The company's shares began trading on NASDAQ on February 6, 1998 under the symbol "HFBC".
HopFed's subsidiary, Heritage Bank was found in 1879 under the name "Hopkinsville Building and Loan Association" by the Commonwealth of Kentucky. In 1940 the bank converted to a federal mutual savings association and in 1983 it became a federal savings bank. It changed its name from Hopkinsville Federal Bank to Heritage bank on May 14, 2002. The bank does business in southwest Kentucky and Tennessee.
Loans
HopFed's loan portfolio consists of loans worth about $532 million and represents about 57% of the company's $935 million assets, followed by $323 million of marketable securities and $28 million of cash. The company's loan portfolio is a very conservative one focused mainly in real estate loans. Here are the details on HopFed's loan classes: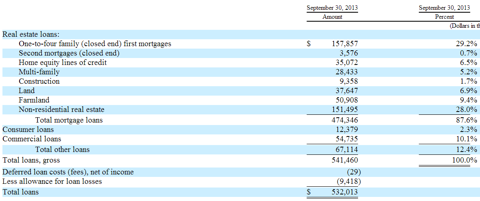 As you can see the two biggest loan categories are residential real estate with 41.6% and commercial real estate with 46%. Commercial and consumer loans are just 12.4% of the portfolio. HopFed's average annual interest rate on its loans is 5.6%.
Credit Health
Non-performing assets have been fluctuating between 0.81% and 1.37% over the last 5 years for HFBC, demonstrating its conservative loan policies. In general HopFed's credit health is in excellent shape and is expected to remain so for the foreseeable future.
Deposits
HopFed's asset base is primarily funded by deposits and equity. Deposits comprise about 87% of total liabilities and 78% of total assets. With 86% of HopFed's deposits being interest bearing, HopFed pays a rather expensive 1% interest on them. However, it paid 1.7% in 2011 and 1.4% in 2012, which means that HopFed is quickly reducing the cost of its deposit base.
Investment Portfolio
HopFed has a $323 million investment portfolio that as of September 30, 2013 was 34.5% of assets. As of September 30, 2013 HopFed earned an annualized income yield of 2.85% on its investments.

Market Area
HFBC's main market is the adjacent counties of Calloway, Christian, Todd, Trigg, Fulton, and Marshall in southwestern Kentucky and the counties of Montgomery, Cheatham, Houston, Obion and Weakley in Tennessee. HopFed's markets have a growing population and a 69% homeownership rate but they have a median household income of $43K which is well below the national average of $53K.
Management
HopFed's management team has a small 3.8% stake in the company and thus it doesn't appear very much aligned with shareholders' interests. However, in early 2013 there was a proxy fight between HopFed's management and its largest shareholders which were represented essentially by Mr. Stilwell. The reason for the battle was HopFed's agreement to acquire the Summer Bank & Trust. The proxy fight resulted in Mr. Robert Bolton (the director nominated by Stilwell) being elected on HopFed's board and the deal was terminated.
Here are Mr. Stilwell's intentions about HopFed as they were reported in his latest SC 13D/A filling (emphasis added):
Our purpose in acquiring shares of Common Stock of the Company is to profit from the appreciation in the market price of the shares of Common Stock through asserting shareholder rights. We do not believe the value of the Company's assets is adequately reflected in the current market price of the Company's Common Stock.

At the Company's annual meeting on May 15, 2013, we nominated Robert Bolton for the Board of Directors and strongly opposed the Company's agreement to purchase Sumner Bank & Trust. Robert Bolton won by a two to one margin, and the proposed Sumner deal was subsequently terminated on August 23, 2013. On June 5, 2013, we put the legacy directors named in the letter attached as Exhibit 6 to the Fourth Amendment on notice that we will hold them personally responsible should they continue to fail at supervising management. We believe that if the Company cannot earn an adequate return on equity within a reasonable timeframe, it should be sold.
Valuation
Given the developments in its management and shareholder base, I see two valuation scenarios for HFBC. It either starts delivering ROE north of 10% or it gets sold to the highest bidder.
In the first scenario where HFBC becomes a 10%+ compounder of its book value, the company would be worth about $20 per share on 10-year DCF basis (using a 5% discount rate). This is about 80% higher that its current valuation of $11.2/share.
In the second scenario, HFBC would be worth at least 10x the pre-tax earnings it could achieve as a subsidiary of another more efficient bank. In this scenario it would lend out its cash and its invested capital and it would have lower operating expenses since some of them would become redundant (like management bonuses and board compensation).
In this scenario assuming that its $357 million of cash and investment could be used to generate loans with 5% interest and salaries and benefits were cut just by 25%, HFBC would generate about $13 million of pre-tax earnings or about $1.74/share. So, as an acquisition target, HFBC is worth about $17/share or 52% more than its current valuation.
Catalysts
The wonderful thing in the investment case or HFBC is that its catalyst is already at play. With Stilwell having already placed one of his own on the company's board, it is reasonable to believe that within the next 12 to 18 months, HFBC will either generate a 10%+ ROE or will try to sell itself to the highest bidder.
Risks
The main risk in this investment is the case that the bank fails to increase its ROE and to be acquired. In this scenario, the stock would be worth no more than the company's BV of $12.9/share or 15% higher from its current price.
However, this is extremely unlikely because all of the company's institutional shareholders are very experienced in the community banks sector and are likely to be already on the job of finding a suitable suitor for the bank in the management performance fails to improve.
Conclusion
HFCB is a rare investment opportunity in the sense that while its catalyst has begun to take effect, it is still selling considerably below it true value, offering a great point of entry. In my opinion, it is a very low-risk investment because even if the activist investor fails to unlock, the company's value will still be worth more that its current price limiting the probabilities of a permanent capital impairment.
Disclosure: I have no positions in any stocks mentioned, and no plans to initiate any positions within the next 72 hours. I wrote this article myself, and it expresses my own opinions. I am not receiving compensation for it (other than from Seeking Alpha). I have no business relationship with any company whose stock is mentioned in this article.