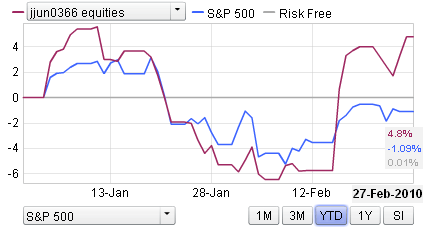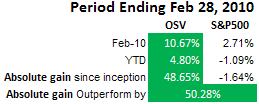 Portfolio Performance
Things moved back in the right direction this month. Up 10.67% compared to the market's 2.71%.
On an absolute basis, I am up 48.65% and outperforming the market by 50% since Oct 2007.
Portfolio Movers
The world economy isn't in such a healthy state as most people would like to think. The issues facing Greece and Japan are very real and the U.S. isn't in such a rosy state either. So despite the 10% gain for the month, it was still tough. In times like this, opportunities need to be focused on event driven investments.
The main event driven catalyst to my portfolio was on my largest holding General Growth Properties (GGWPQ.PK). Followers of GGWPQ already know all the details so I'll skip it here. You can catch up on what's been happening at Pakiya Funds who has been doing a great job of providing updates.
(Mastech Holdings (NYSEMKT:MHH): 4.40 +3.53%) released its full year results and things are still going very well at the company. The stock price however, has been going down steadily the past month on no news and low volume and I want to point out again that price is not an indicator. When you look at your holdings, you should always compare the value to the price and buy or sell accordingly.
I'll provide an update on MHH when the 10-k is filed. I emailed investor relations but got no response. Not impressed in that respect since I doubt investor relations is being flooded with emails and calls from investors.
Portfolio Trades
1. Bought more GGWPQ.PK
Bought more as the price kept dropping and was rewarded with the huge jump due to the buyout offer from (Simon Property Group (NYSE:SPG): 78.29 -0.28%).
2. Sold (Professional Detailing (PDII): 5.21 +0.97%) @ $5.05 for a 48.97% gain
PDII never reached my intrinsic value but with what's going on in healthcare politics and the industry, I wanted to convert the position into cash for better opportunities.
3. Sold (ETM: 10.17 +2.11%) @ $8.67 for a 144.92% gain
I sold Entercom (NYSE:ETM) without waiting for the full year results and it turned out to be a mistake. I was getting impatient and sold without comparing price to value. ETM is the best of breed in the radio industry and its results showed improvements in the business. I still hold (Radio One (NASDAQ:ROIAK): 2.99 +1.70%) which should also do well when results are released.
Cash is now back to around 12%.
Others
This month I finished reading Payback Time and A Random Walk Down Wall Street. I also read Quality of Earnings again in January so that's 3 books read so far in 2010. I've got books stacked up waiting for me on my desk so my free time is spent reading rather than analyzing these days.
I originally bought A Random Walk Down Wall Street about a year ago without knowing what it was about. I should have read it as soon as I received it 1 year ago so that I could have returned it. While there are some interesting sections related to behavioral finance and history of bubbles, most of it is about efficient markets which I found no use for. That's about as much time I'll spend writing about a book I don't recommend.
Disclosure: I hold all stocks mentioned except sold positions.