Previously, I turned cautious on Kaiser Aluminum (NASDAQ:KALU) because the aerospace inventory overhang was a bigger problem than the company initially expected (see Kaiser Aluminum & The Aerospace Inventory Overhang). Since that article, Kaiser Aluminum's management team has appeared at three investor conferences and given more information about the impact of the aerospace inventory overhang in 2014 and 2015. Although Kaiser Aluminum has good long term prospects, the inventory overhang over the next several quarters will likely weigh on the financial results and warrants some short term caution. In this article I will analyze management's recent comments on the overhang and the company's prospects for 2014.
Aerospace Plate Inventory Overhang
The aerospace industry is experiencing secular growth, led by growing demand for new planes from Boeing (NYSE:BA) and Airbus. Furthermore, new planes are being made with more aluminum, which benefits suppliers like Kaiser Aluminum.
However, the supply chain is long and complicated, so Kaiser Aluminum can experience choppiness despite the growth at the top of the industry and the positive long term growth drivers.
In its recent presentations, management of Kaiser Aluminum presented its estimate of the aerospace inventory overhang for the first time: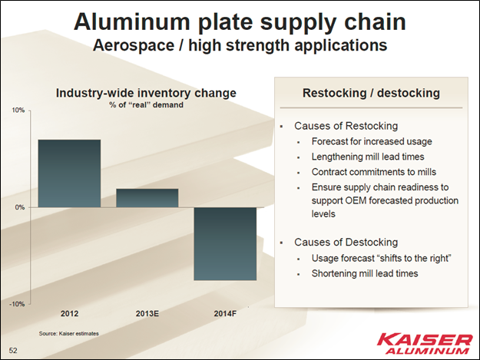 (Source: KALU presentation at Cowen conference, November 12, 2013)
The key take-aways from Kaiser Aluminum's outlook on the aerospace inventory overhang:
Management estimates that aluminum plate inventory increased ~5-10% more than underlying demand in 2012 and ~0-5% in 2013.
Management expects inventory destocking in 2014, which will result in orders for aerospace plate to run ~5-10% below underlying demand in 2014.
Management thinks the overhang could extend to 2015 (see below).
Considering the inventory build-up in 2012 and 2013, as displayed on the slide above, it is not clear why management did not anticipate the overhang earlier. As I mentioned in my previous article, on the Q2 2013 earnings call management expected the inventory overhang to be brief and resolve itself in 2013. The talk about the inventory overhang extending to 2014 and 2015 only began on the Q3 2013 conference call. I am interested in understanding more about management's forecasts and what happened in the supply chain that made it hard to read.
At the Bank of America conference on December 10, CEO Jack Hockema said the following about 2015:
"As we get to 2015, there maybe a little bit of destocking we are hearing from some OEMs that there may still be some reduced demand in 2015. Our view is it's going to be relatively close. If we build this chart for 2015 right now, it will probably show negative similar to the positive, we are showing in 2013. So what basically if you put four years on there, we think that the restocking in 2012 and 2013 is probably going to be offset by destocking in 2014 and 2015 with 2015 being back close to equilibrium and then seeing equilibrium type demand going forward."
Impact Of The Inventory Overhang
Interestingly, Kaiser Aluminum expects the overhang to mostly impact price, not volume.
Kaiser Aluminum still expects strong volume in 2014, but expects its competitors to have weak volume in the aerospace segment. This will lead the competitors to shift their manufacturing capacity toward the general industrial market. The increased capacity focused on the general industrial market will likely drive down price, especially because the general industrial market is mostly priced at spot prices, rather than based on long-term contracts.
At the Goldman Sachs conference on November 20, Hockema said:
"From our standpoint we think we're still going to have good strong sales here going into 2014. But the bigger impacts, some of our competitors apparently aren't going to have a strong sale and we're seeing a lot of pricing activity in the marketplace that's affecting our spot prices. So we're expecting price erosion that's going to offset some of the sales growth that we see as we go into next year."
It will be interesting to see if the company's volumes hold up as expected, despite the inventory overhang. If not, it could be a sign that the inventory overhang is worse than the company expects.
Non-Plate Inventory Overhang
On the recent conference calls, management also talked about an inventory overhang in non-plate products for aerospace.
However, this was not discussed at the recent conferences.
Financial Impact & Outlook For 2014
After experiencing strong growth going into 2012-2013, Kaiser Aluminum's financials have been flat / slightly down lately.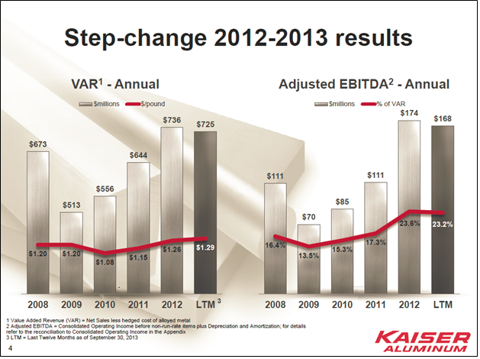 (Source: KALU presentation at Cowen conference, November 12, 2013)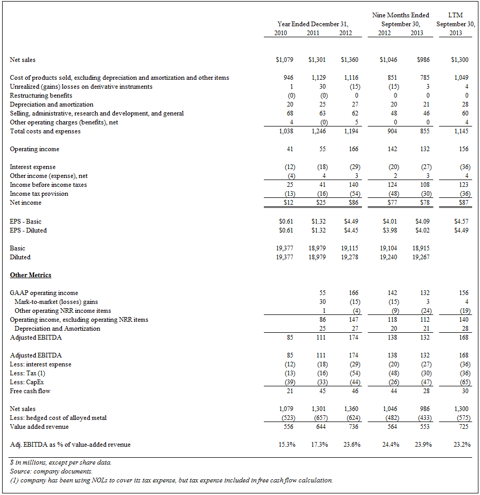 Management did not give a specific outlook for 2014, but made the following comments at the Goldman conference:
"What we've said is we think that 2014 is going to be similar to what we saw in 2012 and 2013, but we think it's going to better and we're pretty confident that our revenue will be better. The bigger impact [...] is the impact on pricing."
Analyst EPS Estimates Are Coming Down
There has been a big drop in analyst estimates for 2013 [FY1] and 2014 [FY2] over the last few months: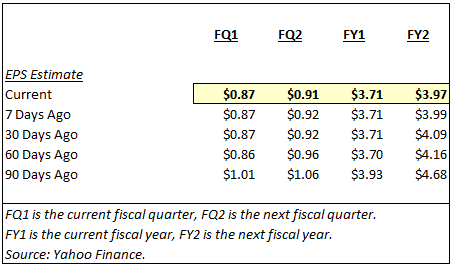 Furthermore, analyst sentiment is cooling off:
October 21 - Sterne Agee Downgrades Kaiser Aluminum Corporation to Neutral
Valuation Still Reasonable
Kaiser Aluminum is trading at 8.2x TEV / LTM EBITDA, which is reasonable.
Considering that EBITDA may be flat in 2014, it is hard to argue that the valuation will benefit from multiple expansion in the near-term.
For the patient investor with a timeframe greater than 1-2 years, the 1.7% dividend yield is helpful while waiting for a pickup in the financial results.
Furthermore, the clean balance sheet, with almost no net debt, gives the company opportunities to pursue M&A, increase the dividend and/or pursue more buybacks.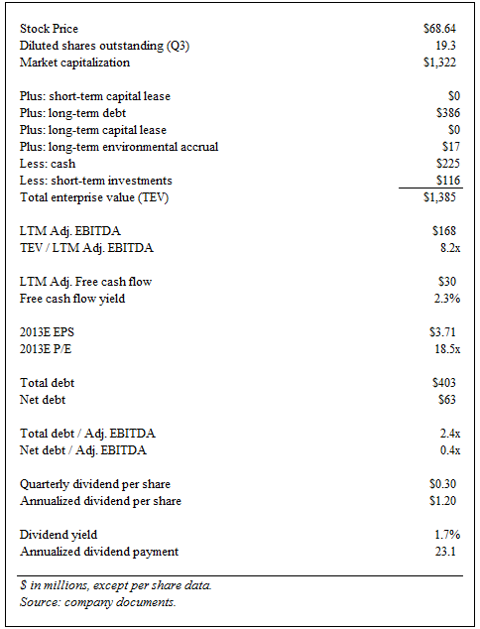 Comparable Company Analysis
A few take-aways from the comps:
I still believe there is room for Kaiser Aluminum's multiples to expand, based on the trading levels of the comps. However, there is no catalyst right now to justify multiple expansion because of the ongoing inventory overhang and its expected impact on EBITDA in 2014.
Note the changes to analyst EPS estimates, which have a negative bias lately.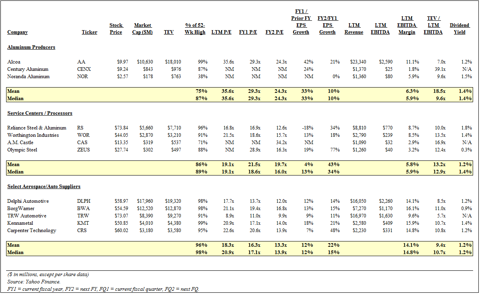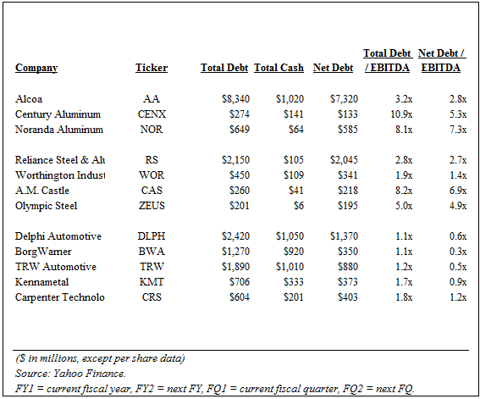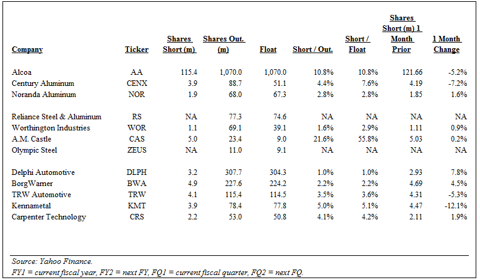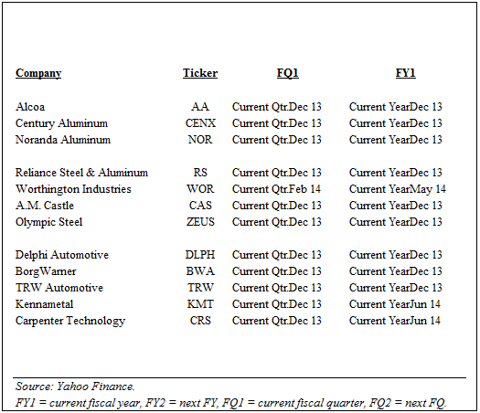 Stock Price Holding Up
Kaiser Aluminum's stock price has recovered a bit from the post-earnings drop.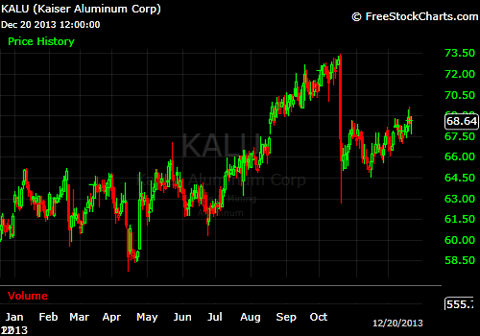 (Source: FreeStockCharts.com)
Conclusions
Kaiser Aluminum's management recently gave investors more color on the expected impact of the aerospace inventory overhang. Based on management's estimates, it looks like the company will continue to feel the impact through 2014 and into 2015. Considering that Kaiser Aluminum is still in the early innings of the overhang, I am cautious on the stock for the near term.
Going into 2014, I am very interested to see how Kaiser Aluminum's volumes hold up. Management has said that it expects volumes to be strong despite the overhang and expects that the main impact of the overhang will be on price.
Nonetheless, Kaiser Aluminum is well positioned from a long term perspective. I expect the aerospace and automotive markets to remain strong and the increasing aluminum content in planes and cars is a long term growth driver for Kaiser Aluminum. Furthermore, Kaiser Aluminum is trading at a reasonable valuation and could trade up when the inventory overhang abates.
Disclaimer: The opinions expressed above should not be construed as investment advice. This article is not tailored to specific investment objectives. Reliance on this information for the purpose of buying the securities to which this information relates may expose a person to significant risk. The information contained in this article is not intended to make any offer, inducement, invitation or commitment to purchase, subscribe to, provide or sell any securities, service or product or to provide any recommendations on which one should rely for financial, securities, investment or other advice or to take any decision. Readers are encouraged to seek individual advice from their personal, financial, legal and other advisers before making any investment or financial decisions or purchasing any financial, securities or investment related service or product.
Information provided, whether charts or any other statements regarding market, real estate or other financial information, is obtained from sources which we and our suppliers believe reliable, but we do not warrant or guarantee the timeliness or accuracy of this information. Nothing in this article should be interpreted to state or imply that past results are an indication of future performance.
THERE ARE NO WARRANTIES EXPRESSED OR IMPLIED AS TO ACCURACY, TIMELINESS, COMPLETENESS, OR RESULTS OBTAINED FROM ANY INFORMATION IN THIS ARTICLE OR ANY LINKED WEBSITE.
Disclosure: I have no positions in any stocks mentioned, and no plans to initiate any positions within the next 72 hours. I wrote this article myself, and it expresses my own opinions. I am not receiving compensation for it (other than from Seeking Alpha). I have no business relationship with any company whose stock is mentioned in this article.
Additional disclosure: I may trade any of the securities mentioned in this article at any time, including in the next 72 hours.