(Editors' Note: This article covers a stock trading at less than $1 per share and/or with less than a $100 million market cap. Please be aware of the risks associated with these stocks.)
During my time on Seeking Alpha, 10 of my 21 official picks to triple have doubled, tripled, or been acquired. Last week, Globalstar (OTCQB:GSAT) became #9. This week, Seagate (NASDAQ:STX) became #10.
Based on significant breaking news, I believe Techprecision (OTCQB:TPCS) could soon become #11. I spoke with the company about the news on Friday afternoon. This article will discuss the news, its implications, and numerous other opportunities that should set the stage for shares of TPCS to triple in value.
On Thursday, privately-held Mevion reported on a major milestone in its quest to become the world's dominant supplier of proton-beam cancer therapy systems. Unbeknownst to most investors, this is big news for publicly-held Techprecision , which was awarded a 5 year, $115 million contract to be the exclusive manufacturer of Mevion's new S250 Proton Therapy System.
TechPrecision is a diversified manufacturer, specializing in the production of large components that require an abnormally high degree of precision. For the past several years, TPCS has been gearing up to ride the wave of several high-growth markets, including smart phones, Solar, Nuclear, Oil & Gas, and advanced cancer therapies.
After years of heavy lifting, the company finally appears well-positioned to reap the rewards.
Despite the company's many capabilities, its old management team seemed content to exist on a diet of one-off / custom projects with little or no lasting value. Turning that around required two things:
1) A reorganization of the corporate structure / culture.
2) Executing against a number of long-term deals to raise the value of TPCS to a strategic level.
That is the mission of CEO Leonard Anthony, who was named TPCS's Chairman in January. We have had multiple discussions with Mr. Anthony, who clearly aims to underpromise and overdeliver. I believe that Mr. Anthony's turnaround plan is succeeding. TPCS's excess spending has been reigned. More importantly, deals involving two hot companies set to ready to ramp up.
Here's the rundown:
Sapphire - Shares of GT Advanced Technologies (GTAT) skyrocketed on the news of a $578 million strategic agreement with Apple (NASDAQ:AAPL). In turn, TPCS received a multi-million dollar order to begin supplying sapphire furnaces as part of this relationship.
But this is just the beginning. Based on what we are seeing in the underlying demand for sapphire, TPCS's furnace business should ignite in 2014.
In fact, thanks to new cost efficiencies in the marketplace, we believe that sapphire is on the cusp of wide-scale commercial adoption. Cell phone screens and grocery checkout counters represent two potentially huge opportunities. Our research suggests that a sapphire phone should only cost $15 more than a glass-screened phone. Considering that most consumers spend that much on screen protectors, it seems like we've hit a no-brainer inflection point on cost.
Of equal importance, sapphire is virtually unbreakable and scratch-proof as compared to any other transparent surface (except diamond). Sapphire is 2.5x harder than Gorilla Glass and GTAT expects that most smartphones will employ sapphire within the next few years (based on discussions with phone manufacturers). If they're right, a significant increase in industry-wide capacity will be required.
TPSC gets $50,000 per oven with high-30s margins. Based on our calculations, 1% of the cell phone market would require the equivalent of 3,000 TPCS furnaces. Of course, we need to take market share into account, but GTAT's leadership position gives us confidence that TPCS is in position to be a beneficiary here. We believe this will be a $20 million opportunity for TPCS within a few years.
Cancer Treatment - Proton-beam therapy is on the rise and TPCS was awarded a 5-year, $115 million contract with Mevion, arguably the industry's hottest proton-beam vendor. Under the terms of the deal, TPCS will be the exclusive manufacturer of Mevion's new S250 Proton Therapy System.
On Thursday, Mevion reported on a major milestone, setting the stage for TPCS's mega deal to ramp up. Mevion's recent round of funding ($55 million in June) was granted to accelerate proliferation of the S250 into the marketplace. This indicates a great deal of confidence on the part of Mevion's investors.
If all goes well, we calculate that this could become a $50 million business for TPCS by 2017. We would also anticipate a hot IPO for Mevion before long, which would surely draw attention to TPCS's role in its success.
Nuclear - TechPrecision had been supplying components to the nuclear power industry for over 50 years. It remains one of the few U.S.-based precision manufacturers with nuclear component (N-Stamp) certification. President Obama's nominee for Secretary of Energy, Ernest Moniz, is a nuclear advocate. Regardless of your political views, the administration is demonstrating a clear commitment to nuclear energy.
In fact, nuclear proliferation is now accelerating on a global basis. There are over 400 nuclear power reactors operating in more than 30 countries. Dozens more are under construction in 13 countries. Most of the new construction is taking place in Asia. However, according to the World Nuclear Association, "there are major plans for new units in the USA and Russia."
One problem with this is that the majority of containers (a.k.a. casks) used to transport nuclear isotopes are over 30-years old. For obvious safety reasons, we estimate that over 500 of them need to be replaced with newer, safer casks. At present, we believe that TPCS is the only manufacturer of modern NRC-Approved isotope transportation casks. They have already proven their ability to manufacture them to the NRC's approval. If / when they prove they can ramp production, we expect orders to start coming in. At a price of $1 million apiece, this appears to be a $500 million opportunity in its nascent stages.
Naval: On April 10, the U.S. government provided approval for the purchase of 10 Virginia-class submarines. The reason is that the Navy is seen as providing more bang for our budget dollars. By shifting spending there, overall military spending can be cut without a loss in military might. At one point, TPCS was doing just $300k of work per Virginia-Class sub. It has since grown that number to $7 million per sub. That's $14 million per year under the new work order.
TPCS could conceivably increase their share to $15 million per submarine by building more assemblies for its current customers, who include General Dynamics, Babcock and Wilcox, and Northrop Grumman. The government's order for 2 submarines per year (versus the usual 1) requires General Dynamics (NYSE:GD), Babcock and Wilcox (BWC), and Northrop Grumman (NYSE:NOC) to scramble for additional manufacturing resources. This provides cause for optimism as it relates to TPCS's opportunity here. In the meantime, $14 million per year seems like a solid bet.
Other Opportunities - TPCS is also involved in other areas, such as Oil & Gas and the solar market (which could finally rebound in the coming year). The Oil & Gas opportunity would be relatively new, but Solar was a major revenue contributor for TPCS a few years ago (GTAT was its primary customer). Investors shouldn't hold their breath waiting for these opportunities to bear fruit, but we felt it was prudent to mention them for those of you looking to do additional due diligence.
Valuation: Because of its past troubles, shares of TPCS pulled back to levels close to its book value. Via direct discussions with the company, we determined that its current operations can support upwards of $60 million in revenue. This gives the company a good amount of operating-margin leverage. In other words, any new revenues will contribute disproportionately to the company's profitability.
Because of this, along with 1) the financial prudence of its new CEO and 2) its line-up of opportunities we believe that TPCS is most likely to find financing for its ongoing and future projects.
Once that becomes a certainty and TPCS returns to profitability, investors will inevitably turn their attention to revenue growth and earnings forecasts. From that perspective, Mr. Anthony believes that the company's unique capabilities and N-stamp certification give it the ability to thrive, given continued direction and leadership.
Ultimately, its capabilities and leadership could support a multi-hundred dollar business. However, for now, investors should remain grounded and focused on the future size of its current opportunities -- and how much of that opportunity TPCS can execute against. A sample model is displayed below.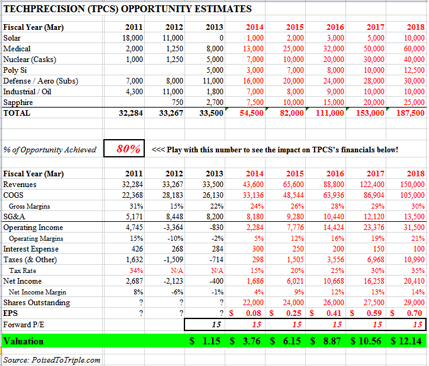 Looking at the stock chart, we can see that the company has been forming a bullish wedge. Once Mevion's news becomes more widely known, I believe the shares should break out, leading to a rapid 40%+ move above $1 per share. This would represent a good near-term target. From there, further positive tidings would serve as catalyst for further share appreciation.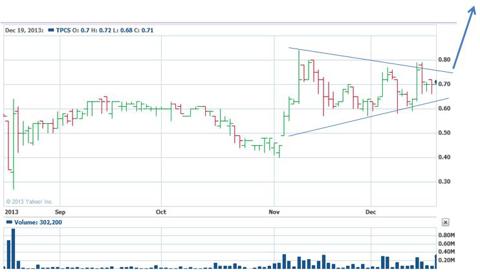 To be clear, a move would above $1 would merely be a good starting point, if all goes well (as investors can see from the opportunity chart above). Recently, ARC Group Worldwide (NASDAQ:ARCW), another specialty manufacturer, rocketed from $5 to $44 as word spread that it is involved in another hot market (3D printing). Though I believed that to be an overreaction, its current valuation remains well above 2x revenue.
For TPCS, a comparable valuation would represent close to $5 per share.
The Bottom Line: TPCS now appears to be in good and prudent hands. Accordingly, we believe that the recently decimated share-price offers investors an attractive level of risk/reward. Considering the risks against the potential rewards, we believe that shares of Techprecision are poised to triple.
Accordingly, the company is an official constituent of the Poised To Triple Speculative Portfolio.
Disclosure: I am long AAPL, OTCQB:TPCS. I wrote this article myself, and it expresses my own opinions. I am not receiving compensation for it. I have no business relationship with any company whose stock is mentioned in this article.