Cocoa-related exchange traded notes are having a sweet year as a surge in Asia demand led to the longest production shortfall in over five decades.
The iPath DJ-UBS Cocoa TR Sub-Index ETN (NYSEARCA:NIB) is up 22.1% year-to-date while the iPath Pure Beta Cocoa ETN (NYSEARCA:CHOC) increased 22.3% this year.
Demand will outpace supply by 70,000 metric tons for the 12 months started Oct. 1, and the supply deficit will continue through 2018, Bloomberg reports.
Traders anticipate cocoa prices could rise an average 15% to $3,200 a ton by the end of 2014. ICE cocoa futures currently trade around $2,771 per ton, rising 24% this year, the second best performer among the 24 commodities tracked by the Standard & Poor's GSCI gauge.
Euromonitor International Ltd. projects global chocolate confectionery sales will rise 2.1% to a record 7.3 million tons next year, following a 2% gain in 2013. China is leading the charge, with sales more than doubling over the past decade, and outpacing gains in Western Europe, the largest consumer.
"Demand for chocolate is great," Ashmead Pringle, the president of GreenHaven Commodity Services, said in the article. "A lot of the world population is moving to the middle class and will have more money to spend, in particular in emerging markets and Asia."
China is a "huge untapped market," which could lead to more cocoa-supply shortages, Claudio Oliveira, the head of trading at Castlestone Management LLC., said in the article.
Earlier this year, dry weather across the Ivory Coast and Ghana, the largest cocoa growers, pressured price increases.
iPath DJ-UBS Cocoa TR Sub-Index ETN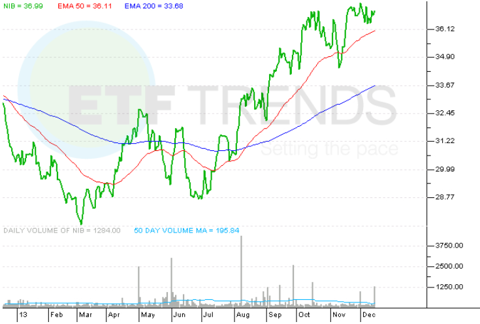 Max Chen contributed to this article.
Disclosure: I have no positions in any stocks mentioned, and no plans to initiate any positions within the next 72 hours. I wrote this article myself, and it expresses my own opinions. I am not receiving compensation for it. I have no business relationship with any company whose stock is mentioned in this article.