As many folks are preparing to travel this holiday season to celebrate the holidays with loved ones, the current trend is for consumers to increasingly choose online travel agencies because they are flexible, efficient and conveniently available 24/7. Companies such as Priceline (PCLN), Expedia (NASDAQ:EXPE), and Trip Advisor (NASDAQ:TRIP) are poised to see growth. With the recent onslaught of winter storms and more expected as well as recent rises in gas prices, Americans are not disheartened from traveling during the holiday season according to AAA. They predict 94.5 million people will travel 50 miles or more between December 21st and the 1st of January, an increase of .06% from last year. Almost 30% of Americans are expected to travel this holiday season. As many as 85.8 million people or 91% of travelers are expected to travel by automobile. Approximately 5.53 million people will travel by plane, while 3.13 million travelers will take other modes of transportation such as trains, buses, and cruise ships. Average traveling distance is also expected to rise to 805 miles. Median spending activity is also anticipated to rise this year as well. The US Department of Commerce expects strong growth of international travel through 2017. There is also a general consensus including Goldman Sachs (NYSE:GS) that major indices will continue to rise in 2014. The US GDP grew at 4.1% annual rate in the third quarter. Fridays report showed that consumer spending was the key driver growing at 2% opposed to estimates of 1.4%. The GDP growth rate of the European economy has risen 0.1% in the third quarter, however the FTS European 300 Index closed higher on Friday, its biggest in eight months with a weekly gain of 3.6%. Sixty percent of Priceline's travel bookings originate in the European market, mostly from Booking.com with a market share of 47%. Even though global growth is not impeccable, increased economic activity is a good sign more people will be traveling this holiday season and in 2014.
Competitive Analysis
With market caps in the billions of dollars, Priceline, Trip Advisor, & Expedia are the main competitors of the online travel industry. Priceline's tactical focus is Europe and the Asian travel markets while Expedia focuses principally on domestic clientele. Trip Advisor, the worlds largest travel site, has 260 million unique monthly visitors and operates in 30 different countries worldwide. Priceline's strategy will serve them well as they currently account for only a fraction of the $600 billion international market and has plenty of room to grow. With a P/E value of 34, Priceline is reasonably valued for a company that has performed well in the past and will continue to perform given their tremendous long-term potential. Over the past five years, PCLN gross bookings have grown 43%. In 2012, Priceline posted $23 billion in international bookings ahead of Expedia's $14 billion. Priceline's revenue has grown 33.5% in the third quarter beating projections to almost $2.27 billion. Earnings-per-share is $17.50 versus $12.40 last year. Non-GAAP net income grew 44.2% to $920 million. The company is doing well in each segment. Worldwide hotel room reservations are up 36% year over year and $74.8 million for the quarter. Rental car days booked were up 28% for the quarter as well. Bookings.com, one of Priceline's websites, has increased 45% with their selection of more than 295,000 hotels and accommodations (as of May 3rd 2013). Bookings.com is also expanding beyond the European market to the United States and Asian Pacific region. Earlier this year when their advertising campaign was first launched in the U.S., Chief Marketing Officer, Paul Hennessy stated, "The U.S. is one of the largest, if not the largest, travel markets in the world." This move into the American market confronted Expedia's dominating presence with Hotels.com. PCLN is up 91.96% YTD. EXPE is up 10.03% YTD and TRIP is up 96.31% YTD. Chart 1 shows these assets performance over this past year (Jan 2nd - Dec. 17th 2013). Priceline is in blue, Expedia is in red and Trip Advisor is in orange.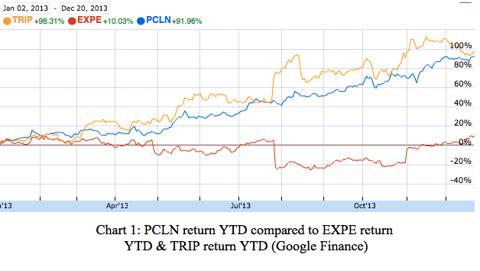 Expedia
However do not discount Expedia, as they are noteworthy competition. Their key growth strategy is focused on gaining traction at an international level. Recent platform upgrades have given them better cross-selling capabilities and established vendor relations should help them obtain market share. Expedia has experienced 17% revenue growth in 3Q13 year over year. Over the same period, they have earned 15% gross bookings growth and increased room night growth 20%. Trivago.com and hotels.com drove the revenue growth. In the U.S., Expedia leads in share of page views with 31.6%, followed by Priceline with 17.3% and Orbitz at 12.9% according to comScore.
Trip Advisor
On Monday December 23rd, Trip Advisor will be added to the Nasdaq 100 Index. They have also shown promise, as their average of monthly unique visitors is up 59% in 3Q13. Revenue for TRIP in 3Q13 has increased 3% quarter-over-quarter and up 20% year-over-year. Cash flow from operations for 3Q13 increased 90% year-over-year to $145 million and free cash flow for 3Q13 increased 87% year-over-year to $129 million. Revenue from click based advertising increased 13% in 3Q13 compared to 3Q12, which represents 74% of total revenue. Revenue from display-based advertising increased 29% in 3Q13 compared to 3Q12 and represents 12% of total revenue. Finally, revenue from subscription and transactions increased 68% in 3Q13 compared to 3Q12 representing 14% of total revenue. On the other hand though, net income decreased 6% year-over year and Non-GAAP net income dropped 1% year-over-year in 3Q13. Adjusted EBITDA also decreased 2% year-over-year.
Booking Vacations From Your Smartphone
In this day and age, smartphones have become an indispensable part of the consumer travel experience. In fact, 20% of smartphone and tablet Internet traffic is due to travelers looking for a deal or booking a trip. Chart 2 illustrates the most prevalent reasons as to why people are utilizing mobile applications to make their travel plans.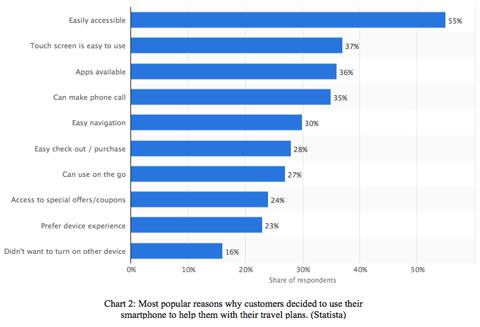 In a survey done by Tapjoy, some interesting insights were revealed. For instance, over 50% of consumers search for travel deals and promotions on a mobile device. Thirty-five percent research travel plans and 16% purchase flight tickets on their tablet or smartphone. Booking.com witnessed total transaction value mobile hotel bookings grow from $1 billion in 2011 to over $3 billion in 2012. The mobile application for Booking.com has been downloaded over 20 million times. Expedia's hotels.com app now has over 25 million downloads ahead of Booking.com. Totaling all of Trip Advisors apps, including TripAdvisor, City Guides, SeatGuru, Jetsetter and GateGuru, reached 69 million downloads. However, one should consider that the percentage of people browsing the application who actually book a hotel on a mobile device versus PC's is much lower. This is the case except when people are making last minute arrangements, as 65% of consumers prefer using their mobile device. On November 19th, Priceline announced a new beta version of its iPad app that simplifies travel exploration, research and booking capabilities into one interface. The latest in innovation is called Explore, which allows travelers to search for flights and access real-time pricing without defining a specific destination.
I Know First Prediction
I Know First utilizes an algorithm to forecast stock performance and to generate stock market forecasts. Essentially, the algorithm distinguishes stocks trading in ranges that deviate drastically from the trends the algorithm deems rational. The algorithm's methodology is conferred in more detail in Citigroup's Competitive Advantage under the section titled Algorithmic Prediction for Citigroup (NYSE:C). Chart 3 shows I Know First's predictions for PCLN in the 1-month and 3-month time horizons. The bright green demonstrates that the algorithm is strongly bullish.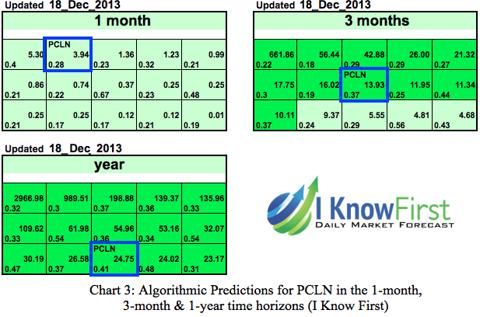 Conclusion
As the economic trend continues to be positive, companies in this industry should benefit, especially Priceline in particular. They have outgrown the competition and will continue to add value for shareholders despite increased pressure from opposition. Their business model has come a long way since the "Name Your Own Price" system. In fact so much so, the stock is up over 90% YTD. AAA predicts a rise in traveling by Americans; an increase for the fifth consecutive year and the Federal Reserve finally feels comfortable enough with the economy to begin reducing quantitative easing. Recent GDP data is propitious as the latest momentum comes from consumers whose spending accounts for two-thirds of economic demand in the US. All of which ultimately suggests more people are willing and able to travel as well as spend more this holiday season and next year. Priceline's ability to innovate as they have with their mobile application and effectively promote themselves, positions them for growth while allowing PCLN to confirm their position as a market leader in online travel.
Business disclosure: I Know First Research is the analytic branch of I Know First, a financial startup company that specializes in quantitatively predicting the stock market. This article was written by Joshua Pastore one of our interns. We did not receive compensation for this article (other than from Seeking Alpha), and we have no business relationship with any company whose stock is mentioned in this article.
Disclosure: I have no positions in any stocks mentioned, and no plans to initiate any positions within the next 72 hours. I wrote this article myself, and it expresses my own opinions. I am not receiving compensation for it (other than from Seeking Alpha). I have no business relationship with any company whose stock is mentioned in this article.