Editors' Note: This article covers a stock with less than a $100 million market cap. Please be aware of the risks associated with these stocks.
Synthetic Biologics (NYSE: SYN) is the brainchild of Randal Kirk. In addition to Kirk's wildly successful IPO of Intrexon (NYSE:XON) earlier in 2013, he has reinvented Synthetic Biologics, buying in and ousting management, reinvigorating the pipeline with skillful acquisitions, pulling in his team, going public, and lending SYN researchers use of Intrexon labs and resources.
Kirk owns over 12% of SYN as an individual, buying 2.5 million additional shares just last week, and his venture capital company roughly 22%. With skillful stewardship through the drug development process by a gold-standard management team, Synthetic Biologics is an excellent candidate for eventual buyout by a large pharmaceutical company. Kirk has vision, and would not risk sizable capital without excellent prospects for success.
The powerhouse in the SYN pipeline is SYN-004, which has the potential to become a standard of care preventative therapy in the large population of immuno-compromised patients receiving repeat IV beta-lactam antibiotic therapy. Even the Wall Street Journal recognizes the importance of SYN's revolutionary approach, which could enhance the safety and efficacy of antibiotic therapy. Eleseveir Business Intelligence named SYN-004 as a top project to watch in 2013 in the infectious disease area, and Griffin Securities placed a $4 price target on SYN in its research report.
SYN-004 is an oral biologic designed to protect gastrointestinal microflora for the prevention of C. diff infection. SYN-004, a second-generation enzyme, is intended to be co-administered with intravenous beta-lactam antibiotics. Ph1 and Ph2 studies in Europe with over 200 patients, testing a first-generation version of SYN-004 in conjunction with penicillin, were successful, and Synthetics' improvements aim to broaden the efficacy.
C. diff colonizes the human intestinal tract after the normal gut flora has been altered by antibiotic therapy, and is the causative organism of antibiotic-associated pseudomembranous colitis. C. diff infections have surpassed MRSA epidemiologically, resulting in more than 337,000 hospitalizations and 30,000 deaths in the U.S. during 2009. Over thirteen million patients annually are administered such antibiotic therapies, and C. diff related healthcare costs are approximately 8.1 billion per annum.
If physicians were to have SYN-004 on hand to stop an immuno-compromised patient on multiple or repeat antibiotic therapies from getting C. diff, and they fail to prescribe it, they will be liable if C-diff infection occurs.
This obliges physicians to prescribe, placing SYN-004 in a class by itself. Every physician prescribing antibiotics to an at-risk patient will be compelled to order SYN-004 or risk malpractice, rendering it the standard of care. "We believe SYN-004 is a gem in the rough and is a very de-risked product, based on results of prior studies of the first-generation product candidate", CEO Jeff Riley contends, "And we expect it to drive our valuation down the road."
Synthetic Biologics is presently requesting GMP certification for SYN-004 for trial use in the US. The FDA, in light of the unmet need, has granted "bridge study" status to SYN-004, and the drug could move quickly through trials to FDA approval. This video provides a brief outline of the method of action of SYN-004.
The nearest term catalyst in the SYN pipeline is Trimesta. Synthetic Biologic is developing this patented oral estriol drug candidate for the treatment of relapsing-remitting multiple sclerosis (MS) and cognitive dysfunction in women afflicted with MS. The MS trials are sponsored by the National Multiple Sclerosis Society and the National Institute of Health. Results of the ongoing 164 subject, 15 center, two-year, double blind, placebo controlled, Ph2 trial are expected to be announced during the first half of 2014.
Trimesta is a patented form of estriol2, a drug with a forty year history of safety. The Ph2 trials have generated little news, and the sponsors have released very little info. But once the sponsors publish in early 2014, SYN share price could rise dramatically.
The market for MS drugs is 14.1 billion dollars annually. Brilliantly, Synthetic Biologics' patent for Trimesta includes the use of this agent in combination with Copaxone, a four billion dollar per year, first-line multiple sclerosis agent owned by Teva (NYSE:TEVA). The largest ph2 study tests this combo agent on the most common form of MS, relapse-remitting form in women, representing eighty to eighty five percent of all MS cases. Women are afflicted with MS at a rate of 2:1 over males, with newer research suggesting a rate of even 3-4:1.
Copaxone's patents begin expiring next year and Teva faces a loss unless they buy this estriol agent outright and market a new Copaxone/Estriol combination slated to outperform any existing MS drug. The potential here is for greater than forty percent of the total MS market, and an acquisition by Teva could prove an excellent strategy to retain sales.
Looking forward expansively, SYN announced in early December 2013 they have entered into a worldwide license and option agreement with Cedars-Sinai Medical Center for the development of unique treatment approaches to target non-bacterial intestinal microorganism life forms known as archaea, associated with intestinal methane production and chronic diseases such as irritable bowel syndrome, obesity and Type 2 diabetes.
SYN traded sharply higher following the conference call of December 9, 2013, when Dr. Mark Pimentel, director of GI Motility at Cedars Sinai, presented the scientific basis and market opportunity of Synthetic Biologics' pathogen specific approach to archaea associated diseases. In the introduction, CEO Jeff Riley promises "a substantial number of targeted clinical trials" stemming from work at its new subsidiary, Synthetic Biomics, Inc.
IBS is the most common GI disorder, impacting ten to fifteen percent of the world population. As stomach ulcers were for decades thought to be stress induced, now linked to H-Pylori bacteria, Dr. Pimentel has devoted fifteen years to demonstrating the underlying cause of IBS is not psychological, but in fact archaea inappropriately colonizing the small intestine. "IBS is the most expensive disease in GI, because these patients undergo numerous investigations that always turn up nothing, because there isn't anything to see on endoscopy or colonoscopy," relays Dr. Pimentel, "so they undergo such expensive and invasive tests, only to come up empty handed and numerous pharmaceutical agents given to them, again with, mostly, futility...Our goal is to eradicate and cure irritable bowel syndrome over the next decade or so; and so there's a lot of opportunity to help these patients, and I hope that they have a great deal of optimism that we're working very hard for their future."
Dr. Pimentel confidently continues, "I have a fairly extensive experience with the FDA having gone there a number of times with Rifaximin. The FDA loves biomarkers, because it limits the population exposure. What we end up doing with a lot of drugs is, we're giving it in a swath of patients, and we obviously know that not all those patients are going to respond to a particular therapy, and if you have something that hones in on a population using a biomarker, it's golden, because the FDA, can understand that better. The physicians who are treating can understand that better and they know exactly who to give the therapy to. So that's a very important thing to have."
As the conference call will only be available in audio format for a limited time, please utilize this link to read a complete transcript of Dr Pimentels' call.
To add yet further depth to their pipeline, SYN is developing a series of monoclonal antibodies for the treatment of Acinetobacter infections and Pertussis (whooping cough). There is no known therapeutic for Pertussis, and cases are at an all-time high. Acinetobacter is deadly and can survive outside the human body for months, rendering it a vicious iatrogenic hospital pathogen as well as virulent in populations following natural disasters.
Synthetic Biologics' anti-infectious pipeline is specific and not vaccination based, but rather monoclonal antibody based, as the ever astute Len Zehr noted in his article entitled "Synthetic Biologics' Sniper Approach to Infectious Diseases." Quotes from CEO Jeff Riley outlining the company's ambitions are well worth reading.
A now-closed capital raise of 13,250,000 shares at $1.00 has allowed for an attractive entry to SYN. About five million shares were soaked up the first day, and there remains very solid bid support at the 1.00 to 1.10 range. The stock is trading the lowest levels since the company's reorganization in 2012, as other biotechs with near-term catalysts attracted investor dollars in 2013. SYN will have multiple turns at bat in 2014; however, as trial results for Trimesta are released and partnership possibilities abound, Cedar Sinai research moves forward on archaea, and an IND is filed for SYN-004.
Historical balance sheets and SEC filings including the latest 10Q demonstrates a pattern of reasonable ratios of assets to liabilities, with the help of Intrexon spelled out on the mid 2013 balance sheet. SYN has a pattern of managing assets well, and institutional ownership continues to grow, now to 25%. As with any developmental biotech company, the value is all potential, and there are negative earnings.
While Trimesta current trials are sponsored, and SYN has Intrexon's resources at its disposal, "a substantial number of targeted trials" will have to be funded, and one can expect future capital raises and measured dilution. At present the company is well-funded, with a minimum 12 to 15 million dollars cash on hand and a cash burn rate of approximately $1.9 million per quarter, subject to some increase as trials expand.
As with any developmental biotech venture, there are risks due to trial delay or adverse events, efficacy issues and/or failure to meet designated endpoints, and competition factors. These can dramatically diminish share price faster than an investor can react, producing the flame-outs the sector is famous for. And while the last capital raise created an opportunity for entry, it did reduce the share price for existing investors by about 20%. These risks, however, come with potent rewards to the upside should SYN hit its marks with Trimesta and SYN-004. With a 67 million dollar market cap and a diversified pipeline, SYN is by no means inflated in value, a danger with developmental biotech companies. SYN trades on the NYSE with ample liquidity, unlike many developmental biotech companies trading on lesser exchanges, where stock price manipulation is rampant.
With a sixty-seven million dollar market cap, I believe the market is currently valuing Synthetic Biologics and SYN-004 asymmetrically, at pre-clinical levels.
As Trimesta is relatively unheralded, it too is undervalued.
A Form 4 filed December 17, 2013 describes Randal Kirk's purchase of the additional 2.5 million shares of SYN. Perhaps the pricing of the capital raise was a bow to Mr. Kirk, allowing him a better price for expansion of his holdings. 2014 bodes well for SYN, and my belief is Randal Kirk and fellow investors will be rewarded for their foresight.
I believe 2014 will be a great year to grow along with SYN, and I wish all a healthy and prosperous new year.
SYN Pipeline [click to enlarge]: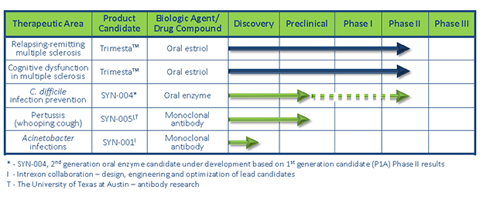 Disclosure: I am long SYN. I wrote this article myself, and it expresses my own opinions. I am not receiving compensation for it. I have no business relationship with any company whose stock is mentioned in this article.