BlackBerry (NASDAQ:BBRY) did indeed miss earnings expectations for the quarter, which caused a pre-market sell-off (pre-market lows were $5.70). I figured that there would be a narrow window of opportunity to short the stock and earn a quick return, but I didn't realize that it was only going to last for about an hour. The short-lived euphoria of fear was followed by a fairly sizeable move in the opposite direction. The extremes of emotion between the bulls and bears were fully exhibited in Friday's trading.
The first impression the market had was that results were terrible, but when the market realized that it was primarily driven by an impairment charge against long-term assets, sentiment had to reverse. While an impairment charge is a legitimate loss to shareholder equity it has no meaningful impact on cash flow. When dealing with a turnaround the primary concern is cash burn, which was addressed with a 17% reduction in expenses that excluded the write-down of assets. The abnormally high loss of $8.37 per share when including long-term asset impairment was worth more than the value of the stock.
When excluding the impairment charge, the EPS (non-GAAP) was actually -$0.67 per share. However, even the non-GAAP figure missed expectations. So if I had to offer an explanation as to why investors jumped into BlackBerry Friday, it was because John Chen turned out to be smarter than I or anyone else had originally thought. After a day like that, I guess calling him Chensanity could sort of make sense.
So what happened?
John Chen began his discussion by immediately addressing his long-term strategy of wanting to pursue the commercial business over the handset business. But to keep the handset business from being a financial loser; he had made his move on a deal with Foxconn so that it would reduce the risk of losing money by over or under production. This was a huge theme throughout the BlackBerry Q&A, but from how I understand it; the Foxconn deal will improve the product refresh of BlackBerry products, and in turn keep inventory costs and other cost a little lower. The way it works is sort of like a re-sale agreement between Foxconn and BlackBerry, with Foxconn charging Blackberry for a bill of materials, and labor costs so that BlackBerry can stay away from investing into R&D, manufacturing, supply chain management, and etc.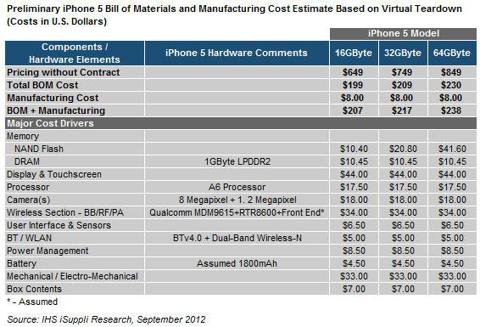 Source: iSuppli
While this is an older bill of materials for the original iPhone 5, trust me, the bill of materials for phones haven't changed by a whole lot. Foxconn will be designing the external features of future BlackBerry devices, and will incorporate components from Qualcomm (NASDAQ:QCOM), Samsung (OTC:SSNLF), and etc. This just streamlines the process a little more efficiently, because the supply chains leading to Foxconn are pretty well established. Foxconn will just ship in a higher volume of components that are already going into smartphone devices for other hardware vendors like Apple (NASDAQ:AAPL), and HTC.
John Chen also mentioned that by pursuing a Foxconn deal it will cost BlackBerry less to build a high or low-end device. How significantly? No one really knows, but if BlackBerry can sell products for $400 to $500 at full retail, and purchase phones from Foxconn for $200-$250 each, it wouldn't be hard to break-even. After all, BlackBerry could effectively strip its R&D expenditure towards handsets to zero, and reallocate that same R&D to just software for enterprise and mobile. That way, BlackBerry can maintain the service revenue side of its business, and turn the hardware business into a secondary source of revenue.
John Chen pointed out that he can release a phone for the Indonesia market that will be running on 3G, by Q1 or Q2 2014. It will be running on lower-end baseband technologies so the bill of materials should be marginally lower, and if the upcoming BlackBerry is priced closer to the Android global average selling price of $300, the device should do alright. Fortunately BlackBerry is considered a borderline luxury brand, and while it can't compete in developed markets, it can position itself as an inexpensive yet high quality phone. However, doing this means communicating its intentions very clearly to its target market.
Currently, BlackBerry's average selling price is $400 for its phones, however what keeps the phones from being priced any higher is that the components that come with the devices aren't latest generation stuff. This makes it difficult for BlackBerry to win customers on the basis of software alone.

Source: BlackBerry
John Chen is hoping to break-even from the handset division and is hoping to earn revenue from services to subscribers. This sort of reminds me of Sony's strategy with console gaming systems, and it's actually pretty effective against it's more well capitalized rival, Microsoft (NASDAQ:MSFT). That being the case, Blackberry reported deterioration across all of the regions that it is engaged in. What really concerns me is that this weakness happened in a period where holiday shopping and discounts lead to marginally higher sales for electronics (seasonal pattern). In the past shopping season, we saw a very rapid transition away from BlackBerry and perhaps into other comparable devices like the Windows phone (which also has a lot of work functionality built into it). Also, by offering BlackBerry Messaging to iOS and Android, the stickiness of the BlackBerry ecosystem has been negated further. As a result, consumers have no reason to buy a BlackBerry handset other than preference, and better security features.
My Balanced Approach to BlackBerry
Many in the financial media will immediately jump onto a stock assuming the price is always right. In this specific instance, the market is assuming that John Chen's roadmap to break-even and eventual profitability is a great strategy.
To summarize, he plans on cutting operating expenses by 50%. There will no longer be any more surprises, as write downs of over priced assets have been fully reported on the financial statement and balance sheet. The cashflow is starting to stabilize a little more, and there's enough cash on hand for them to run their operation for the next two-years (this is the amount of time that John Chen needs to turn around BlackBerrry). He's going to pursue a break-even strategy for handsets, and will hope to earn profit from services relating to servers, mobile, and embedded technologies.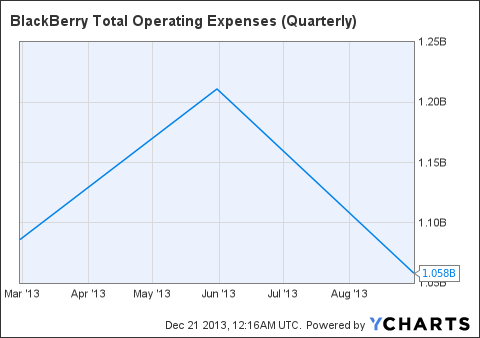 Source: Ycharts
Earlier in the year operating expenses went up significantly in order to push the BBZ10 into global distribution. The efforts on the part of management failed,because the BBZ10 was priced too high considering the mid-end parts that were inside of the smartphone and the lack of innovation that went into it.
However, it seems that John Chen understands BlackBerry's position in the smartphone market. Its mobile product is not cutting edge, and none of the R&D that BlackBerry's currently working on will catch up to stronger competitors in the smartphone space. It would be better off implementing components from other 3rd party hardware manufacturers like Qualcomm, and etc. This means that it can reduce its R&D spending significantly and therefore be able to generates significant cost efficiencies from an R&D standpoint.
Another mistake that Blackberry is also likely to avoid is overproduction. Earlier in 2013, the CEO felt that its global rollout was going to be a huge success, so it made a ton of phones. So many in fact that there were a lot left and over, and the problem continues to plague BlackBerry as Verizon (NYSE:VZ) currently offers the BBZ10 on a postpaid contract for $0. BlackBerry really can't price itself any lower, and because of this fact, John Chen will not make that many BlackBerry phones for its next generation.
BlackBerry will probably ship substantially less in 2014, as demand for handsets falls lower, forcing BlackBerry to accept a huge reduction of revenue. It will then shift its focus into enterprise services aggressively. Enterprise is John Chen's core area of strength. That leads me to believe that BlackBerry's revenue going into next year will be significantly lower then the current year, and any impact from John Chen's involvement will be felt in fiscal year 2015 or 2016. This is because winning enterprise customers will take time, and will depend heavily on the amount of product development that has been put in before John ever stepped in as CEO.
This implies that the current proposal stands at just being a plan, and when considering the highly volatile nature of the technology business, investors shouldn't consider BlackBerry's guidance to be a very good forward indication of what is likely to happen. Cost cutting has been BlackBerry's strategy for the past three-years, there's nothing substantially revolutionary about a restructuring that's an on-going restructuring.
Conclusion
It's unlikely that revenue is going to expand in fiscal year 2014. Assuming a low-end device strategy is pursued, the volumes will pick-up, but at lower average-selling prices, which means that revenues are unlikely to grow. I expect consumers to continue to prefer handsets made by Apple, Nokia (NYSE:NOK), or Samsung. That being the case, John Chen has a great software strategy in mind, and will be able to orchestrate a pretty strong turn around assuming investors give him enough time to demonstrate BlackBerry's capabilities in enterprise services.
The amount of time it takes to pull off a turnaround in a business that's primarily consumer-driven will be a long and drawn out struggle. First, you will see expenses drop, but you will see a further drop in revenue that will come along with it. You may not see results initially, and that will force weaker hands to dump the stock, which will in turn keep the stock from being an easy investment case over the short-term.
Furthermore, the recent price surge of 15% is likely to be temporary. So it still makes sense to short the stock after earnings. I guess, bears are just going to have to wait until bulls are a little exhausted to jump back in.
Disclosure: I have no positions in any stocks mentioned, and no plans to initiate any positions within the next 72 hours. I wrote this article myself, and it expresses my own opinions. I am not receiving compensation for it (other than from Seeking Alpha). I have no business relationship with any company whose stock is mentioned in this article.