Groupon (NASDAQ:GRPN) is expanding its scope in the online deal market with entry into the online coupon. It launched the Freebies category, which includes digital coupons, promotion codes, sales, and samples, all valid for a fixed period of time. Groupon Freebies has more than 25,000 coupons from 5,500 different brands and retailers, including famous brands Target (NYSE:TGT), Best Buy (NYSE:BBY), Nordstrom (NYSE:JWN), and Macy's (NYSE:M) across North America.
Online coupons typically differ from daily deals where Groupon earns revenue only when the user redeems the coupon. It earns revenue in the form of commission it gets from the retailers. However, in the case of deals, Groupon earns revenue as soon as the user buys the deal.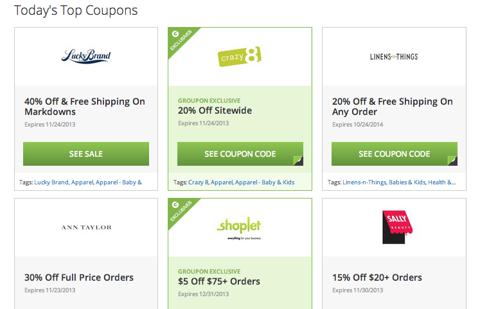 (Source: Grouponworks)
Groupon is still in its early phase and can expand its presence in this growing market. The online coupon market is valued at $4 billion in North America, and when combined with in store coupons, the addressable market is worth $28 billion this year. RetailMeNot (SALE) is the world's largest company to operate in the digital coupon marketplace. The company went public in July this year. It has 60,000 retailers and brands offering digital coupons and has contracts with more than 10,000 retailers. RetailMeNot has witnessed 132 million visits on its websites in the third quarter, an increase of around 19% year over year. In the U.S., customers commonly print coupons to receive discounts. However, digital coupons are catching up fast, and around 48% of U.S. adult Internet users redeemed digital coupons last year. As more and more people use the web as a medium to make purchases, the digital coupon user growth forecast has increased from 4.6% to 11% this year, and the digital coupon users total is expected to grow to 110.8 million in 2014 from 102.5 million this year.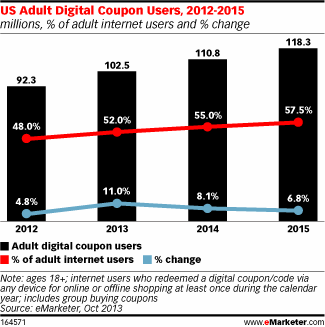 To continue strengthening its position, Groupon acquired Boomerang, a social gifting service, and it plans to integrate this acquisition with its Freebies coupon services. The Boomerang platform will shut down by the end of this year. People can share gift cards and other deals with their friends through Boomerang, which will be complementary to Groupon Freebies' coupon offering.
Groupon's entry into the online coupon market is a positive signal for the company in the long term. This new offering is an extension of its existing product line and targets a similar consumer base. Groupon has many advantages in capturing this market because of its large user base of 43.5 million active customers and its strong position in mobile, as 28% of the people with mobile devices are likely to redeem coupons in the U.S. In addition, online coupons will help improve Groupon's margin since online coupons have higher margins. In comparison to Groupon's margin of 10.5%, RetailMeNot has a margin of 35% based on adjusted earnings before interest, tax, depreciation, and amortization, or EBITDA.
More acquisitions on the way
Groupon will acquire Ticket Monster for $260 million in cash and stock, which is expected to close in the first half of 2014. Ticket Monster is a leading Korean e-commerce company that is owned by Groupon's competitor, LivingSocial. The company offers travel-based deals, as well as goods, and has about $800 million in annualized billings with a growth of more than 50% year over year this year.
This acquisition may have some headwinds, as Groupon earns 30% commission on its deals, but it may only earn commissions in the low teen percent from Ticket Monster. It is expected that Groupon will earn around $100 million in incremental revenue from this acquisition. However, this may not be great cause of concern since the company's prime focus was to understand the Asian market and have sustainable growth. Ticket Monster will help build Groupon's mobile commerce business as around half of Ticket Monster's sales happen through mobile devices.
LivingSocial, in which Amazon (AMZN) has around a 31% stake, had acquired Ticket Monster in 2011 and identified it as a 'non-core asset'. Living Social wanted to sell Ticket Monster to focus on its core business of localized deals, events, and experiences. Living Social will invest the capital from the sale towards product development and marketing in the U.S. So far, Amazon's venture into the daily deal business hasn't been profitable; LivingSocial has incurred a loss of $107 million in the first nine months of this year. Due to this, Amazon had to incur an equity earnings loss of $38 million in the first nine months of 2013. In addition, Amazon competes with Groupon through Amazon Local, a local deal website that offers services, products, and experiences. Quick delivery and access to local deals is what differentiates Amazon from its competitors. Amazon has been trying to expand its product offering with the launch of Kindle and entry into cloud services. Although Amazon did manage to achieve revenue growth of 24% year over year to $17.1 billion in its third quarter due to diversification of its business, it posted a loss for the consecutive second quarter. This is because Amazon is spending heavily on R&D and has focused on long-term growth rather than short-term profits.
Bottom-line
The last quarter wasn't particularly cheery for Groupon investors. The company posted below expected results, and its share price tanked by 5.05% on Nov 7, after the announcement of its third quarter results. In response, Groupon has pursued strategic moves and taken critical steps to expand its scope of operations. This will reduce its reliance on the email channel and improve its financial performance in the coming years. I believe Groupon is poised to re-accelerate its growth and profitability with its ongoing initiatives. Groupon has forecasted its fourth quarter revenue to be between $690 million to $740 million and operating income of $40 million to $60 million, much higher than its last quarter performance. I am optimistic about the stock.
Disclosure: I have no positions in any stocks mentioned, and no plans to initiate any positions within the next 72 hours.
Business relationship disclosure: Fusion Research is a team of equity analysts. This article was written by Rohit Gupta, one of our research analysts. We did not receive compensation for this article (other than from Seeking Alpha), and we have no business relationship with any company whose stock is mentioned in this article