Gaining long-term perspective on country fund investing is hampered by the lack of long-term existence of some of the funds. Fortunately, MSCI publishes country index total return figures that go back ten years or more — longer than some of the country funds have been around.
These three charts present the total return (including distributions, but before taxes) for 30 of the countries for which there are country fund ETFs or CEFs. They are as of February 26 and show the 1-day, 1-month, 3-months, YTD, 1-year, 3-year, 5-year and 10-year total return for each country index.
The proxy funds shown do not necessarily track the particular MSCI country index, but the correlation between the funds and the indexes are expected to be very high, making this long-term view useful.
The table is presented three times, once sorted by year-to-date returns, once sorted by 3-year returns and once sorted by 10-year returns. The primary sort column heading is shaded light blue for identification.
Returns between -1% and +1% are shaded yellow. Returns greater than 1% are shaded green. Returns less than -1% are shaded pink.
click images to enlarge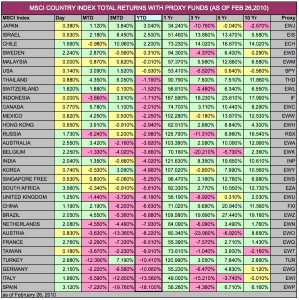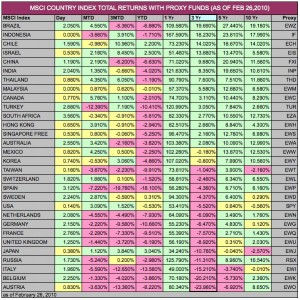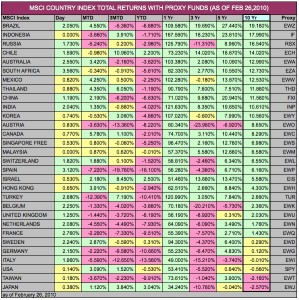 The country funds used as proxies in the tables are: EWJ, EIS], ECH, EWD, EWM, SPY, THD, EWL, IF, EWC, EWW, EWH, RSX, EWA, EWK, INP, EWY, EWS, EZA, EWU, FXI, EWZ, EWN, EWO, EWQ, EWT, TUR, EWG, EWI, EWP.
The United States rose from near the bottom at #28 for 10 years to #6 for YTD. Japan rose from dead last at #30 for 10 years to #1 for YTD.
The BRICs did somewhat of the reverse. Brazil was #1 for 10 years and 3 years, but #22 for YTD. China was #9 for 10 years, sliding to #21 for YTD. Russia bounced around from #3 for 10 years to #27 for 3 years to #12 for YTD. India stayed fairly stable in ranking, at #10 for 10 years, #6 for 3 years, and #15 for YTD.
Chile, the country of the week, due to the major earthquake there, and due to its impact on world copper production levels, was consistent at #3 for each of 10 years, 3 years and YTD.
Holdings Disclosure: As of February 28, 2010, we do not have current positions in any securities discussed in this document in any managed account.
Disclaimer:
Opinions expressed in this material and our disclosed positions are as of February 28, 2010. Our opinions and positions may change as subsequent conditions vary. We are a fee-only investment advisor, and are compensated only by our clients. We do not sell securities, and do not receive any form of revenue or incentive from any source other than directly from clients. We are not affiliated with any securities dealer, any fund, any fund sponsor or any company issuer of any security. All of our published material is for informational purposes only, and is not personal investment advice to any specific person for any particular purpose. We utilize information sources that we believe to be reliable, but do not warrant the accuracy of those sources or our analysis. Past performance is no guarantee of future performance, and there is no guarantee that any forecast will come to pass. Do not rely solely on this material when making an investment decision. Other factors may be important too. Investment involves risks of loss of capital. Consider seeking professional advice before implementing your portfolio ideas.