We have followed BMRN since 2001 when we launched coverage at $3. Under the leadership of Jean-Jacques Bienaime since 2005 the company has launched four products treating orphan diseases and has built an enviable pipeline. The stock is up almost 900% over the past 10 years, even though the company has yet to become profitable. The promise of profitability for BMRN has been elusive, but elusive for a reason. The company has built one of the deepest pipelines in the industry and has dramatically increased R&D to move that pipeline forward as quickly as possible. R&D as a percent of sales increased from 39% to 64% from 2010 to 2013. In dollars, that's a doubling of R&D while revenue increased 45%. That investment will soon pay off handsomely, with the company complementing its existing marketed products by launching several new products over the next three years with the potential of tripling revenue by 2018. We believe BMRN has at least 50% upside in the next 18 months with a manageable 21% downside from current levels. We expect BMRN to outperform for the long term.
BioMarin develops and commercializes enzyme replacement therapies and other treatments for orphan diseases. Orphan diseases are those that affect less than 200,000 patients in the US. Development of orphan drugs provides the company with 7 years market exclusivity in the US and 10 years in the EU.
The company has four marketed products, two of which treat lysosomal disorders (LSD) in which the body fails to produce enough of a particular enzyme to break down particular complex carbohydrate. The residue is then stored in the lysosome causing cellular dysfunction leading to numerous clinical manifestations such as short stature, delayed/regressed mental development, hydrocephaly, spinal cord compression, sleep apnea, impaired pulmonary and cardiac function and a host of others depending on the type of LSD. Traditionally, without treatments available, many patients have died in childhood or as young adults. There are 50 such disorders and all are exceedingly rare, generally affecting a few hundred to a few thousand people in the developed world.
Fortunately for BioMarin these treatments cost hundreds of thousands per year per patient and dosing is often increased with weight, so as children grow there is natural sales growth. Importantly, thus far there has been little push back with regard to reimbursement from third-party payers. The company's ERT treatments all have long patent lives remaining beyond the market exclusivity and they are difficult to manufacture, reducing the risk of competition in the long term.
Marketed Products
BioMarin's first ERT was Aldurazyme for Mucopolysaccharidosis I (MPS I), commercialized with Genzyme (now part of Sanofi) in 2003. Although only 3,000 people globally suffer from MPS I, the $200,000 per year cost has enabled $200 million in revenue generation annually. After several years on the market the partnership is still showing a small loss, but is quickly closing in on profitability. Under a restructured agreement with Sanofi, BioMarin will record 45% of Aldurazyme sales as revenue. With 3,000 known patients, Aldurazyme has at least $300 million in market potential.
BioMarin launched Naglazyme for MPS VI alone in June 2005. Naglazyme generated $250 million in revenue in 2012. The ERT has penetrated approximately half the market giving it revenue potential of $500 million in 2018.
The company's third marketed product, Kuvan, is for mild-to-moderate phenylketonuria (PKU), a genetic disorder preventing the metabolism of the essential amino acid phenylalanine. This results in impaired cerebral function leading to learning disabilities and other neurological problems. PKU is commonly included in the screening panel for newborns in most developed countries. Although extremely expensive BioMarin has generated clinical trial data demonstrating positive cognitive effects so that reimbursement has not been a problem. Kuvan posted $143M in revenue in 2012 and has already generated $122 million in the first 9 months of 2013. We project revenues of $450 million by 2018.
All of these therapies are likely to reach peak sales by YE 2018 adding an additional $650 million on an estimated 2013 revenue base of $545 million, an increase of 119%.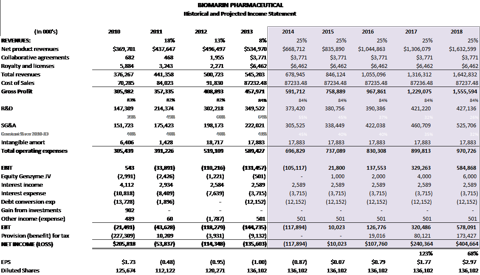 Larger Catalyst Ahead
In November 2013, an FDA Advisory Committee voted 19-2 to recommend approval of Vimizim, BioMarin's treatment for Morquio A Syndrome (MPS IVA), another LSD. Given the strong positive vote and no current therapies, we believe it is highly likely that the FDA will approve Vimizim in March 2014. Vimizim addresses BioMarin's largest patient population with potential peak sales potential >$750 million.
A conservative assumption of Vimizim reaching $375 million in sales in 2018 along with the $450 million would add $825 million to 2018 revenue, nearly tripling 2013's level.
Late Stage Pipeline Lends Further Confidence
What we appreciate about BioMarin is that the growth drivers are already on the market in patient populations that are at risk of death or severe debilitation if the treatments were unavailable. Along with market exclusivity and manufacturing difficulty, this provides confidence that the current products can drive parabolic growth over the next few years. This is not pie-in-the-sky biotech. It's already in place, with Vimizim as icing on the cake.
BioMarin's late stage pipeline adds additional fuel to reinforce and potentially accelerate revenue growth even further. Peg-Pal for severe PKU could be approved as early as 2015. This could double the PKU franchise potential. BMN-673, a novel Parp inhibitor for cancer and BMN-701 for Pompe disease could also be approved in 2015. Longer term, BMN-111 for achondroplasia and BMN-190 for Batten disease have potential. The former will begin Phase II in early 2014; the latter has begun a Phase I/II trial. We have only modeled $200 million in revenue in 2018 for the entire pipeline.
Valuation and Conclusion
BioMarin is in a very unique position with several marketed products with barriers to entry ensuring long-term growth, imminent approval of its largest product to date, and a late stage pipeline to support future growth beyond the current portfolio. We anticipate 25% revenue growth through 2018 with significant reductions in R&D as a percentage of sales will lead to profitability in 2015. Product ramp should enable explosive revenue and EPS growth in 2016-2018 and beyond. Our DCF and long-term earnings model indicate at least 50% upside with potential downside of 21%, an implied enterprise value to EBITDA of 17x (not exactly stratospheric in the industry) and 8x, respectively.
Risks
A complete response letter from the FDA for Vimizim would significantly curtail sales growth.
Reimbursement conditions around the world are less than optimal and given a strained healthcare system significant reductions could occur. Offsetting this is that money is generally available from private sources that allow patients access to these expensive treatments.
Two of BioMarin's pipeline drugs which should support growth beyond 2018 are in early stages of development.
Disclosure: I have no positions in any stocks mentioned, and no plans to initiate any positions within the next 72 hours. I wrote this article myself, and it expresses my own opinions. I am not receiving compensation for it (other than from Seeking Alpha). I have no business relationship with any company whose stock is mentioned in this article.