Baby, so far it's cold outside and winter only officially started this past weekend. The EIA reported in its weekly natural gas storage report a record withdrawal from storage of 285 Bcf. Storage of natural gas is now 261 Bcf below the 5 year average. While this is significant, there is still plenty of natural gas in storage to handle a normal winter. There is no reason to currently believe natural gas prices will not fluctuate in a normal 10% to 20% range from current NYMEX futures prices. But all of that could change if the winter turns out to be as cold as the last month of the fall. If storage gets tight, or very tight, or starts to run out, then all bets on pricing are off.
There are many natural gas hubs around the country with pricing way below or way above the NYMEX futures pricing. The NYMEX futures pricing is based on the pricing at the largest hub in the country known as the Henry Hub. It is located in southern Louisiana. For natural gas prices to experience a super spike based on cold weather it would require the numerous storage facilities in the Producing Region that feed into the Henry Hub to run too low on storage.
As the article Natural Gas Pricing Depends On The Producing Region details, the Producing Region consists of Texas, Louisiana, Oklahoma, New Mexico, Kansas, Arkansas, Mississippi and Alabama. To have larger than normal withdrawals from storage in the Producing Region requires colder weather in the Producing Region states. Additionally, according to the EIA, the Southeast also receives a significant amount of its natural gas from the Producing Region: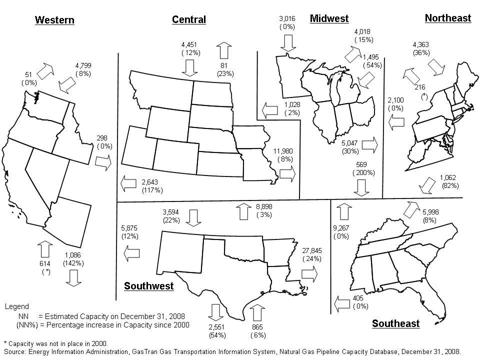 In fact, according to the EIA, there are no natural gas storage facilities in Florida, Georgia, North Carolina and South Carolina. These states get the bulk of their natural gas from the Producing Region during periods of peak demand. The west, the Midwest and the east also receive natural gas from the producing region.
The latest EIA weekly natural gas storage report shows that the East Region had a draw of 133 Bcf and now has only 1,683 Bcf in storage as of December 13, 2013. That is not only well below the 5 year average, it is also below the 5 year minimum storage of 1,767 Bcf for that date. The reason for the record 285 Bcf withdrawal from storage wasn't extreme cold but that it was cold everywhere in the country except for southern Georgia, southern Alabama and Florida. It is actually unusual for it to be cold almost everywhere. Usually one of the major gas consuming regions is normal or warmer than normal. Also, it was simply coincidental that the cold front that lasted a week happened to start at the beginning of a storage week causing the large daily withdrawals to be contained in one report rather than split up during two different storage reports.
However, the East Region withdrawal from storage of 133 Bcf was not very unusual for a week with below normal temperatures. There are 11 more storage weeks between the most recent week reported and the first of March. A cold January and February could leave the East Region with a storage crisis. This would generate larger than normal gas flows from the Producing Region to the East Region. If storage in the Producing Region were to also start to get too low, then this could lead to a price spike at the Henry Hub which could spill into the NYMEX natural gas futures market.
In the shale gas era of the last few years natural gas pricing has totally disconnected from oil pricing. But the energy content differential is 5.8 mcf to 1 barrel of oil. People may assume natural gas prices will never again trade based on oil prices. But once the natural gas market prices out all coal to gas switching if storage remains too low it will have to price out something else. Inevitably, in a storage crisis, the natural gas market will have to price out all of the gas to oil switching. This means natural gas prices will have to trade so high that power generation companies and industrial users of natural gas that have the capacity to run their plants on oil rather than natural gas will do so. This would require oil prices to trade below 5.8 times natural gas prices, perhaps way below to force all the switching possible. With oil trading near $100 per barrel near term natural gas prices would have to rise above $17.25 per mcf to force users to consider switching from natural gas to oil.
No one knows what the weather will be like in January and February. Current longer term forecasting models are simply not that accurate more than ten days out. The odds of a much colder than normal January and February are low. But the odds are not lottery ticket low. There have been several colder than normal Januaries and Februaries over the last 100 years that could do the trick. The odds could actually rise if the startling prediction that the world would enter a mini-ice age in 2014 made in 2010 by Russian scientist Dr. Habibullo Abdussamatov, head of space research at Pulkovo Astronomical Observatory in St. Petersburg, Russia, is correct. His predictions are detailed in the article This Could Be The Winter Natural Gas Bulls Have Been Waiting For.
All markets move on perception. If the winter remains much colder than normal and a natural gas storage crisis unfolds, then natural gas futures market will start to move up in anticipation of the crisis. Investors looking to make outside returns from a storage crisis in natural gas should be prepared to position themselves by the middle of January. January and February both have to be colder than normal for a storage crisis to occur. The weather in January will be largely known by the middle of the month. If it is much colder than normal, then the only variable will be the weather in February. Once it is obvious that January will be colder than normal, then the market could begin to move at any time.
Investors need to understand this is a short term weather demand trade and not a longer term supply trade. In a storage crisis prices can be expected to spike higher until the crisis ends and then to pull back. Constant monitoring of the weather forecasts will be required. The easiest way for investors to participate will be to buy the United States Natural Gas Fund (NYSEARCA:UNG), which is an ETF based on the front month contract traded on the NYMEX natural gas futures market. Investors that are uncomfortable taking on such direct exposure should consider a heavily weighted natural gas exploration and production company like Ultra Petroleum (NASDAQ:UPL) or the nation's largest natural gas driller Chesapeake Energy (NYSE:CHK).
Disclosure: I have no positions in any stocks mentioned, and no plans to initiate any positions within the next 72 hours. I wrote this article myself, and it expresses my own opinions. I am not receiving compensation for it (other than from Seeking Alpha). I have no business relationship with any company whose stock is mentioned in this article.