Shortages across the supply chain in the face of strong demand (particularly for laptops and netbooks) have led to peak utilization rates. This is turn has actually pushed the prices of hard drives upward, which is very atypical for the industry. Because hard drive makers slashed capacity in the face of falling demand at the end of 2008, present supply still cannot meet current market demand, and it will likely take at least six months before capacity additions come on line to balance the equation.
We believe this will translate into a very strong first half of 2010, with the potential to continue through the entire calendar year. However, we believe these peak industry conditions are already baked into share prices for Seagate and Western Digital, as well as their component suppliers (including Hutchinson (HTCH), Intevac (IVAC), TDK (OTCPK:TTDKY), and Xyratex (XRTX).
In other words, with the hard drive industry at its most profitable level in years, we feel it is the wrong time to be searching for an entry point into the space. (Click to enlarge)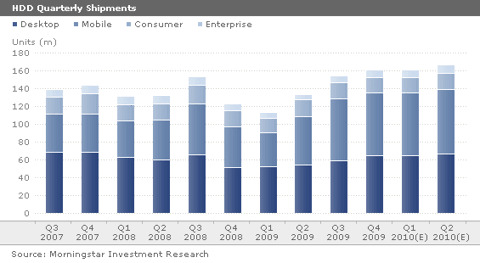 Both Western Digital and Seagate continue to have company-specific considerations that could influence how their shares perform in the near term regardless of industry demand. Western Digital has entered the enterprise drive space, a segment it has left uncontested to this point, and one that Seagate currently dominates. Enterprise hard drives have the industry's highest margins, and we believe the market has yet to price in that Western Digital will actually be successful in this area. With Western Digital having the best execution in the industry, we expect the company will eventually enjoy success in this space.
For Seagate, management has made it a major initiative to lower operating expenses, with the current goal of consistently being in the range of 10%-12% of sales. Booming near-term conditions have pushed the company into this territory during the last two quarters, but we remain skeptical the company is ready to execute successfully at these leaner levels throughout the other phases of the industry cycle. We expect its operating margins will lag behind Western Digital over the long run.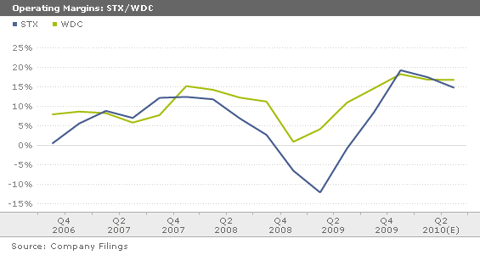 Despite these company-specific considerations and the potential for supply shortages to persist throughout the year, we believe the current proximity to the industry cycle peak limits upside potential. We believe hard drive makers are great companies to buy when the industry news turns bad: both STX and WDC generate consistently strong cash flow and will continue to hold dominant industry positions for the foreseeable future. For those interested in playing the space, patience will undoubtedly yield a more attractive entry point for both of these names further down the road.
Disclosure: Morningstar licenses its indexes to certain ETF and ETN providers, including Barclays Global Investors (BGI), First Trust, and ELEMENTS, for use in exchange-traded funds and notes. These ETFs and ETNs are not sponsored, issued, or sold by Morningstar. Morningstar does not make any representation regarding the advisability of investing in ETFs or ETNs that are based on Morningstar indexes.