Some of our top picks for 2014 are already beginning to come through for us in 2013 and it appears at least for this moment that the table is being set for a solid year ahead. This morning's news that China Mobile (NYSE:CHL) and Apple (NASDAQ:AAPL) had officially signed their agreement where Apple's iPhone will be carried on China Mobile's wireless network is pushing both stocks higher, with Apple up strongly in pre-market trading. Our view is that wireless devices and networks will be a key story driver in 2014 and this will now be one of the focuses for the market as it is the last low hanging fruit for Apple.
The move towards higher quality smartphones at China Mobile might also be good news for others in the industry, including Google (NASDAQ:GOOG) with their Android platform, and ARM Holdings (NASDAQ:ARMH) and Intel (NASDAQ:INTC) - both of whom are battling it out for supremacy in the mobile chipset market.
Chart of the Day:
If the Nasdaq is to hit the new highs we expect it to in the next 12-18 months then it will need leadership from both Apple and Google to help push higher. We think both names should do well in 2014 and currently would be buyers of Apple if one does not already own shares.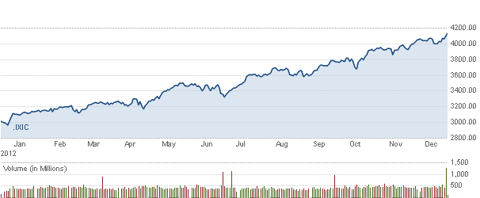 Source: CNBC
We have economic news today and it is as follows:
Personal Income (8:30 a.m. EST): Est: 0.5% Actual: 0.2%
Personal Spending (8:30 a.m. EST): Est: 0.5% Actual: 0.5%
PCE Prices - Core (8:30 a.m. EST): Est: 0.1% Actual: 0.1%
Michigan Sent - Final (9:55 a.m. EST): Est: 83.3 Actual: 82.5
Asian markets finished higher today:
All Ordinaries -- up 0.51%
Shanghai Composite -- up 0.24%
Nikkei 225 -- up 0.07%
NZSE 50 -- UNCH
Seoul Composite -- up 0.68%
In Europe, markets are trading higher this morning:
CAC 40 -- up 0.10%
DAX -- up 0.71%
FTSE 100 -- up 0.72%
OSE -- up 0.72%
Commentary
The move by China Mobile to upgrade their network to accommodate the next generation of mobile phones and open their network up to world standards is what has paved the way for Apple to finally be able to offer their popular iPhone to the carrier's customers. There are a lot of guesstimates out there regarding what this means for sales of iPhones moving forward, but we would recommend investors take a longer term approach to this than just the first year. We say this because the iPhone will open up more markets for Apple via China Mobile customers by pulling them into the Apple ecosystem. We would not be surprised to see an increase in sales of iPads over time.
Even though this takes a big piece of news out of the future news flow, it is still our belief that Apple is undervalued in relation to other big tech names and that growth will continue over the next few years. We feel comfortable with this being a buy all the way up to $600/share without having to think about it twice and possibly even the $650/share level if one is of the belief that the company is going to solidly beat results this quarter.
This should also be good news for ARM Holdings, which is probably the best way to play the smartphone revolution due to their technology being used by just about everyone in the industry. ARM Holdings is like the diversified index fund ETF of the smartphone market because rather than picking individual winners and losers within the industry, one can simply choose to be long the entire industry if they believe, like we do, that the smartphone market is going to continue to see strong growth as developing markets begin to adopt the technology.
We had a lot of success in buying ARM shares on pullbacks over the years after the initial run-up, but it now appears we are on a new leg higher as smartphones continue to take marketshare and the company continues to expand the products their chips can be used in.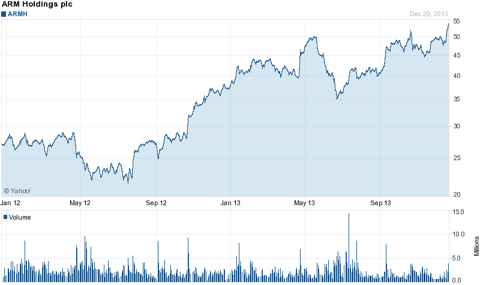 Source: Yahoo Finance
The company's stock has once again caught fire, this time after it was announced that Google could use the company's chip designs instead of Intel's in its own server processors. It would be another big win for ARM if this is in fact the case and another blow to Intel were they to lose Google's business - financially, yes, but more so from a public relations and perception standpoint.
We had recently cooled to ARM Holdings' shares after a 20% gain but heading into 2014 with rumors of new customer wins and making headway into new segments we think that this should join both Apple and Google as three tech names in our plans for 2014.
Disclosure: I have no positions in any stocks mentioned, and no plans to initiate any positions within the next 72 hours. I wrote this article myself, and it expresses my own opinions. I am not receiving compensation for it (other than from Seeking Alpha). I have no business relationship with any company whose stock is mentioned in this article.