Luxury is a presence, indefinable yet undeniable, that infuses a product with glamour, intrigue and desire. This subtle elegance captures the essence of the spirit and creates a sense of belonging and the promise of becoming. At Neenah Paper (NYSE:NP), this is exactly the perception that management has envisioned for the products and services the company delivers, and management's execution of this philosophy has set the company apart from its competition by developing meaningful positions in profitable niche premium markets. Our innate understanding of Neenah Paper- from its increase in product expansion, accompanied by its overall positioning in these specialty niche markets, to its attractive financials and returns - is why we conclude that the company is being undervalued by the market.
About Neenah Paper
Based in Alpharetta, Ga, Neenah is a leader in premium image and performance-based products serving customers in over 70 countries. The company conducts its business primarily through two segments: a specialty, technical products business and a premium fine papers business. The technical products business is a leading producer of transportation and other filter media, durable, saturated and coated substrates used in tape, label, abrasives, filtration, medical packaging, wall covering, and image transfer markets. In its fine paper business, Neenah produces premium writing, text, cover and specialty papers. These papers are typically used in annual reports, corporate identity packages, invitations, personal stationery, and high-end packaging for point of purchase advertising. In the last reported quarter, Neenah reported revenues of $ 214.1 million, up 4% year over year. The year-over-year increase was attributable to growth in Fine Paper, aided by additional volumes from acquired brands.
Growth Drivers
Throughout the past year, Neenah Paper has continued to diversify its portfolio by supplementing organic growth with acquisitions and partnerships to deliver value and expand the company's participation in growing specialty markets. In January, the two main acquisitions that set a platform for growth were the purchasing of certain premium paper brands from the Southworth Company and Wausau Paper Corp. Neenah noted in the company's annual report that as a result of purchasing the brands of paper from Southworth, it will now be widely sold and distributed to major retail customers such as Staples, Office Depot, Office Max and, more importantly, Walmart. Annual sales from the acquired brands are approximately $20 million and Neenah's past record of performance should indicate that this move will provide even more distribution and products within existing channels. Julie Schertell, President - Fine Paper, said on the acquisition of the Southworth brands,
"As the market leader in premium papers, this is a natural extension of our Fine Paper business. The addition of Southworth's well-regarded brands allows us to expand our presence in the retail channel and fits with our strategy to grow in profitable niches that value image and performance."
On the same date, Neenah also purchased assets from the printing and color business, Wausau. The purchase of these brands not only solidified Neenah's market position in premium papers, it also provided leadership in "Brights", a new niche category. Also, the deal, which includes its Astrobrights, Astroparche and Royal brands, accompanied by the brands acquired in the Southworth deal strengthens the company's line of image-driven products such as premium papers, labels and luxury packaging. We believe this is very significant because the global market for luxury packaging, premium labels and retail solutions is over $500 million and growing. Neenah's current share in this market is less than 7%, anchored by labels in North America. As seen in the chart below, Neenah's revenues in the United States has substantially outpaced its performance in Europe and given the solid direction the company is in, we assume that this trend will continue, thus enabling Neenah Paper to expand its market share in the fine paper business.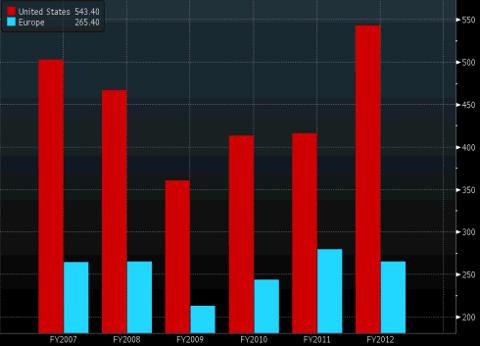 In addition to the acquired brands already mentioned, Neenah launched an expanded collection of design and packaging papers that showcased the company's access to unique product solutions as a result of its distribution agreement with Italian premium paper manufacturer, Gruppo Cordenons. This supports our claim of potential growth, specifically in North America, because Neenah will be marketing and distributing Cordenons papers to the U.S. and Canada. Cordenons specializes in making exquisite papers. The papers are thick and heavy and are used by clients for business cards, greeting cards, covers, presentation folders, tags, invitations, social announcements and similar such purposes. The partnership is a win-win situation for both the companies as both these companies will be able to offer distributors premium business products, which will add value and drive its businesses.
Neenah's Fine Paper division, into which these products will be incorporated, is the smaller of the company's two divisions, but is much more profitable. Consolidated net sales in the fine paper business for three months ending Sept. 30, 2013 increased $20.2 million or seven percent from the prior year period and for fiscal year 2012, fine paper business had net sales of approximately $373 million. That is up 36% from net sales of $275 million in 2011. This was due to a two percent increase in volume primarily due to incremental volume from the acquisition of the Wausau and Southworth brands and double-digit volume growth in luxury packaging and label shipments.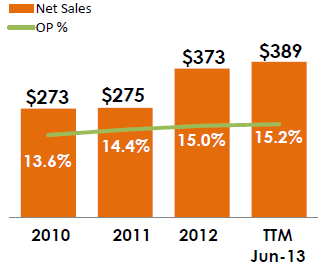 Neenah Paper's other business operation includes developing technical products. This business represented 54% of the company's net sales this past fiscal year, compared to 46% for fine papers.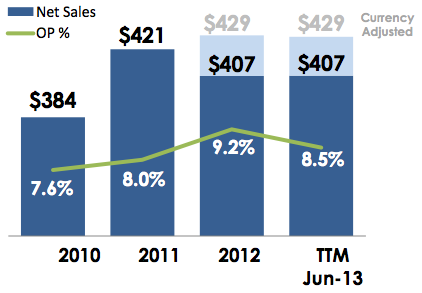 While technical products sales rose on a constant currency basis in 2012 and 2013, US dollar sales of $407 million were down 3% from the prior year largely due to currency translation. Even so, Neenah improved operating margins and delivered record profits in 2012, and according to the company's latest 10-Q for the third quarter, net sales in technical product's business increased $5.7 million or six percent from the prior year due to favorable currency effects, increased volume and a more favorable product mix. In 2014, profits should benefit from an improved sales mix as demand for higher value products is expected to grow, and sales of products in specialty markets are also forecast to be stronger.
High-performance filtration media for fuel, air, oil, cabin air, as well as filtration for other markets continue to be the focal point of growth for Neenah Paper's technical products division, and we see rising demand in new international markets as Neenah's most valued customers seek to deploy its products across its global operations. The premium-paper company has traditionally focused on the European transportation filtration market, but considers the area of specialty filtration media as a potential new market. As you can see, it has continued to see growth in the filtration business.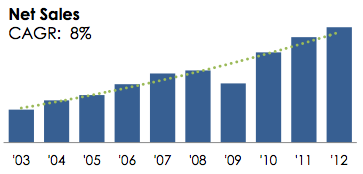 Small acquisitions should add to sales growth in 2013. Demand for filtration products used in automotive applications, as well as specialty papers used in packaging and labels, is likely to rise modestly in both 2013 and 2014 due to geographic expansion and market share growth.
A League of Its Own
Differentiating from the rest of peers is key in any industry, especially the paper industry. We believe that Neenah Paper has shown much success in doing so. Neenah is that company that businesses such as Cadillac, Mary Kay, and Amazon are starting to rely on for services, and Neenah's 57% increase in stock price over the past 12 months reflects this impact. One of the reasons that Neenah has a competitive advantage over many of its peers is because of the economic moat the company has developed with its customers. For Neenah Paper's technical products business, the qualification process with such customers as 3M, Mahle, and Saint-Gobain serves as a strong barrier to entry. This is why Neenah's focus on premium niche markets has served as a compelling strategy for the company, thus allowing it to establish significant market positions based on the company's core strengths. The image below compares Neenah Paper to other paper companies in the industry including SWM, Glatfelter, Boise, Domtar, and International Paper. What this shows is the company's financial metrics have outperformed its counterparts, yet Neenah Paper's valuation measures are below the industry average. This says a lot about the Neenah, in that it does not perform like a regular paper group because of the company's different approach to the market. As part of this approach, Neenah expects to grow along with its customers to expand its current product portfolio in new geographic regions and enter into adjacent product lines that are growing and profitable.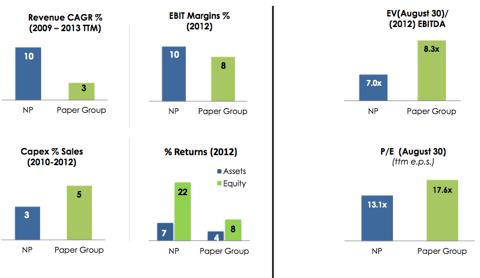 Capital Allocation
Neenah Paper has delivered investors with a highly competitive return versus other choices in the equity market. For each of the past four years, total shareholder return has significantly outperformed the Russell 2000 Value index in which the company has chosen to benchmark its return against.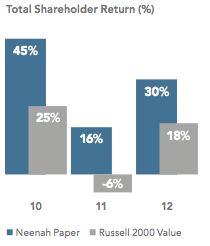 It has paid dividends in every single year since 2005 and announced on November 19th, that its Board of Directors approved a 20 percent increase in the regular dividend on the Company's common stock. The annual dividend will increase from $0.80 to $0.96 per share. John O'Donnell, Chief Executive Officer for Neenah Paper said, "Our businesses continue to perform well and generate strong cash flows. As we have indicated in past communications, priorities for these cash flows include organic investments and acquisitions that are value-adding and drive growth, and a return of cash to our shareholders through a sustainable dividend that, over time, will provide a yield of three to four percent".
In addition, Neenah also strives to deliver consistent and attractive returns to its shareholders through disciplined financial management. In May of 2013, the company refinanced its bonds, reducing interest rates from 7.375$ to 5.25% and Neenah's debt rating was upgraded to Ba3/BB. The image below shows the management has been able to sustain its debt since 2008, thus enabling the company to deploy cash flows in ways that can create value, including maintaining a meaningful dividend.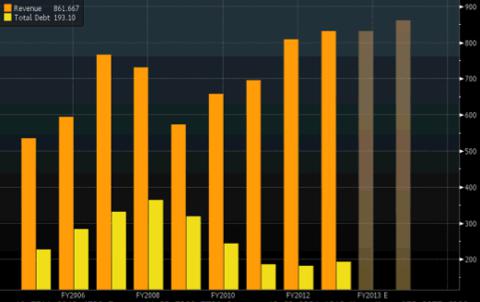 As mentioned previously, Neenah is taking on a different approach to the market relative to its competitors and has proven to be a winner in many aspects. The chart below is further evidence that Neenah is outpacing its peers. Neenah is in the upper quartile of each metric if not the leader. The company's margins are atop of the industry, while ROE, ROI, and ROA are all also above the industry average.

The Bottom Line
Neenah has established several strategies to create value for its customers and shareholders. One is to increase its size, growth rate, and portfolio diversification through both organic initiatives that build on the company's technologies and capabilities, and through acquisitions that fit with its competencies and provide attractive financial returns. Another strategy is to increase its participation in niche markets that can provide the company with leading positions and take advantage of its expertise as the company moves to focus on fine papers and technical products. Moreover, its financial condition has improved due to cost-reduction initiatives over the past two years and will continue to support the company's approach in delivering its high quality products to premium specialty markets. Over the long term, we expect the company to exhibit higher profits and cash flows due to growth in higher-margin businesses where it has strong technical capabilities and higher market share. These factors have led us to establish a twelve month target price of $46.00 for the company. The street is overlooking Neenah Paper's approach to the market, thus overlooking and undervaluing Neenah Paper as a growing prospect.
Disclosure: I have no positions in any stocks mentioned, and no plans to initiate any positions within the next 72 hours. I wrote this article myself, and it expresses my own opinions. I am not receiving compensation for it (other than from Seeking Alpha). I have no business relationship with any company whose stock is mentioned in this article.
Additional disclosure: AlphaStreetResearch is a team of Investment Research Analysts. This article was written by Mr. Hunter Orr, Director of Research, with research assistance from Mr. Matthew Luber, Junior Market Insight Analyst.