Wikipedia defines
Fast Moving Consumer Goods [
FMCG]
as products that are sold quickly at relatively low cost. Though the absolute profit made on FMCG products is relatively small, they generally sell in large quantities, so the cumulative profit on such products can be large. The consumer goods industry is one of the largest in the world, valued at approximately US$4 trillion. Although growth has slowed in this industry, companies that provide these types of goods still benefit from large margins and strong balance sheets. Some basic examples of consumer goods are food and beverages, clothing, tobacco and household products. While the universe of consumer goods companies is huge, this article will focus on five of these companies :
P&G (NYSE:PG), Kimberly Clark (NYSE:KMB), Colgate (NYSE:CL), Nestle (OTCPK:NSRGY) and Unilever (NYSE:UL).
These companies are not only the largest in the sector, but they also are the ones that reach the maximum number of consumers globally. For example, P&G prides itself on serving 4 billion consumers per day. Besides the sheer number of end-consumers that these companies reach, their sheer sizes are simply huge. Based on end-2008 figures, the combined revenues of these five companies is equivalent to the GDPs of some important countries like Finland or South Africa. (Click charts to enlarge.)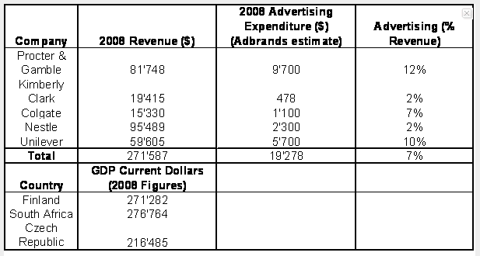 Moreover, the FMCG sector on the whole accounts for 40% to 50% of all advertising global expenditures annually. For example, the advertising expenditures of only these five companies exceeded $19 billion in 2008.
In this article, we are going to be looking at these companies with a comparative approach, trying to understand their particularities per P&L items such as production costs, SG&A costs (including advertising). The aim is to simply define the strengths and opportunities for these companies.
For most companies, the production costs represent the largest P&L item. Understandably, the cost of production is among the first P&L items that companies try to optimize. The below chart on production costs show that compared to their 2000/2008 averages, the latest figures show an overall improvement in the production costs. The most successful company in doing this has been Colgate; however opportunities are still there for companies like Nestle and Unilever.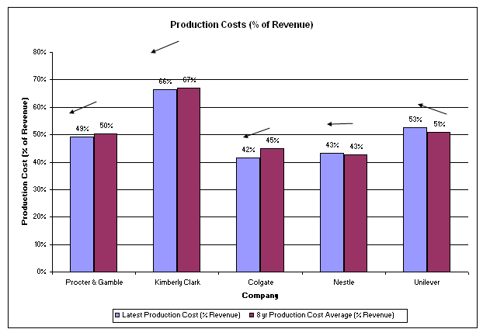 SG&A expenses are another key P&L area. This particular item includes expenses like advertising, in-store activities, salaries, commissions and travel expenses. To optimize this area, companies usually choose to cut back number of employees and /or rationalize advertising expenditure. With the exception of Kimberly Clark and Colgate, the companies have recently managed to reduce this item by 1% to 2% of revenue. With regards to Kimberly and Colgate, one could suggest that these companies probably invested in new and stronger organizations in the face of growing revenues.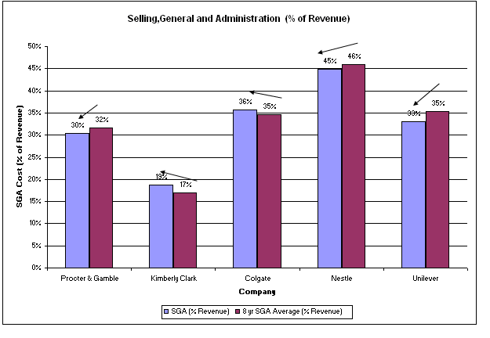 In terms of advertising, companies have a differing approaches as well as different cost allocations. Clearly, P&G, a great believer of brand awareness & loyalty, spends around 12% of its revenues on advertising according to Adbrands. Contrarily, a company like Kimberly Clark that emphasizes in-store activities over traditional advertising items like TV copy, only spends 2% of its revenue on traditional advertising. By simply looking at these figures, one could argue that P&G has more room than others in increasing the efficiencies of the advertising expenditures. Conversely, a company like Nestle with its modest advertising focus can benefit from further increasing its advertising. As a matter of fact, Nestlé's most recent results clearly showed the benefits of its increased advertising.
Lastly, the bottom-line: In terms of net income, Colgate emerges as the company that managed to consistently deliver without much volatility. On the other hand, Nestle and Unilever could probably improve their net incomes by working on their production costs.

Source:* Data is mostly Bloomberg based. For advertising, estimates from Adbrands were taken. The average figures pertain to 2001-2008 period. For Unilever, whenever data was missing, 2008 figures were taken as the latest figure.
Author's Disclosure: Long Unilever and Nestle