As a whole, U.S. real estate investment trusts (REITs) have fared poorly this year. Traditional equity REITs (eREITs), which are companies that own and often operate income-producing real estate buildings, returned -0.43% year-to-date as represented by the Vanguard Real Estate Index ETF (NYSEARCA:VNQ). On the contrary, the S&P 500 has returned an impressive 27.49% year-to-date, as measured by the SPDR S&P 500 Index ETF (NYSEARCA:SPY).
REITs were performing very well in the beginning of the year, trading in sync with the S&P 500. Once the threat of rising rates spooked the market late in the second quarter, REITs took a dive. With one week left in the trading year, it appears the sector will close out with a lackluster 2013 performance.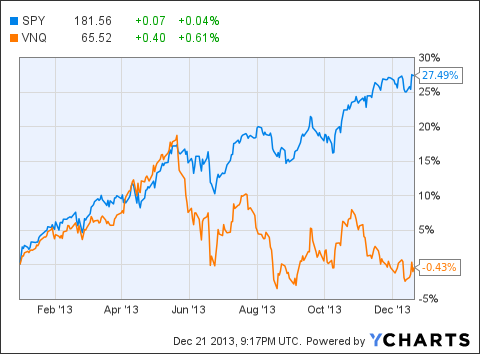 When stocks drop, sometimes they overshoot to the downside. When this occurs, stocks provide a margin of safety and long-term value that attracts all types of investors.
Catalysts Driving The Year-End REIT Clearance Sale
On October 21, 2013, I warned investors in an article to avoid the REIT sector. I cited two major catalysts would likely drive the sector lower. Since then, the S&P 500 Index ETF returned 4.11% while the VNQ dropped 6.21%. Another form of measuring REITs is the iShares U.S. Dow Jones Real Estate Index ETF (NYSEARCA:IYR), which also includes non-traditional and mortgage REITs. The IYR returned -5.37% during the same period.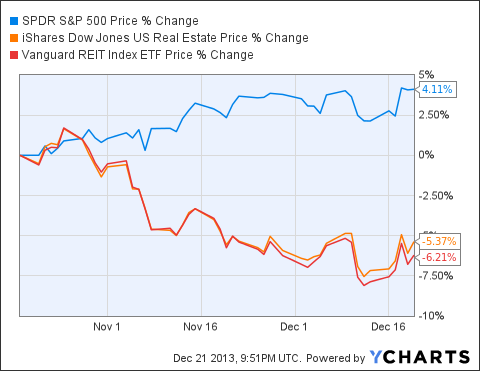 The catalysts I cited were a probable rise in the 10-year treasury and year-end tax-loss selling. I argued these would likely result in aggregate REIT losses by year-end. I stated
"While the U.S. REIT market can be argued a great long-term investment, these [two] short-term risks create a false sense of security that leave the REIT market susceptible to immediate downside risk."
In a follow-up article on November 10, 2013 I warned that although the slide had begun, in addition to these risks fund manager window-dressing would cause further weakness. Aggregate REITs continued to underperform the S&P 500, culminating in a continued negative loss to date.
The Year-End REIT Clearance Sale Has Begun
What is more remarkable than the aggregate REIT losses since late October are exaggerated drops that stable, market leaders with excellent dividend history have incurred.
For example, HCP, Inc. (NYSE:HCP), Ventas, Inc. (NYSE:VTR), Realty Income Corp. (NYSE:O) and Camden Property Trust (NYSE:CPT) have all underperformed the index with no company-specific catalyst. This may be seen as an example of "throwing out the baby with the bathwater."
These four companies have also underperformed the index over the year and are sitting within a breath of their respective 52-week lows.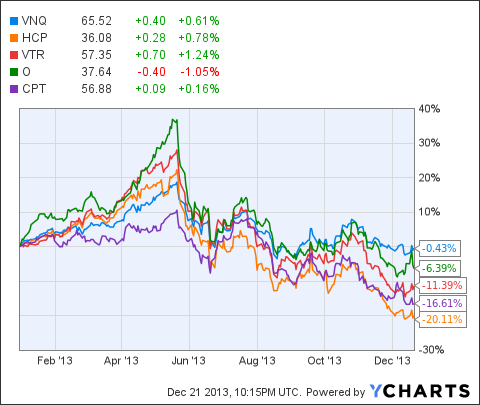 While poor stock performance provides relative value, investors should be cautioned against any perceived value and focus on fundamentals and valuation. These four REITS, as well as 2013 newcomer Chambers Street Properties (NYSE:CSG) are trading at or below my fair value estimates. As such, these five companies may provide excellent long-term income and capital appreciation.
1. HCP, Inc. , $36.08
HCP is one of the three leaders in the health care REIT subsector of the REIT industry. The platform at HCP is a diversified geographic base consisting of five health care building types. These are senior living facilities, medical office buildings, skilled nursing facilities, life science buildings and hospitals.
As a health care REIT, HCP operates in an area that has justifiable barriers to entry. There are only a handful of players who understand the specifics and risks of operating these building types. In this regard, diversified REITs generally avoid the subsector altogether.
HCP recently brought in a new CEO, Ms. Lauralee Martin, from the global real estate services and investment management firm Jones Lang LaSalle Incorporated (NYSE:JLL). Her outside experience may be helpful in reorganizing HCP as a growth company.
2. Ventas, Inc. , $57.35
Ventas is also one of the three largest health care REITs, as such the company shares similar characteristics with HCP. For a health care REIT, the company has grown remarkably well over the past 10 years.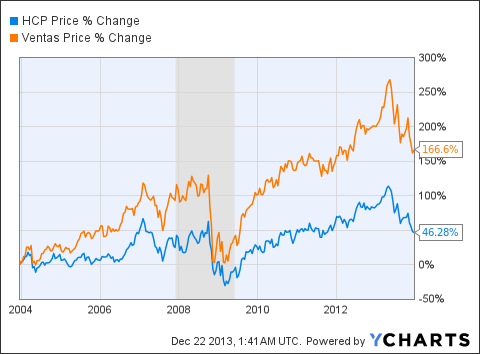 The outperformance of the past 10 year time period has earned the company a premium valuation in respect to HCP. VTR has also outperformed HCP in the past five years time period.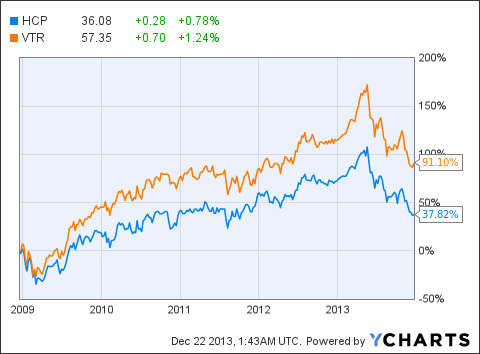 HCP did not give notice of the previous CEO's termination and subsequent replacement this October. Investors have every right to be suspicious of such a move, however when looking at the stock performance relative to VTR over the past 10 years it could be assumed that a lack of stock leadership performance was a leading concern.
3. Realty Income Corp. , $37.64
The often mentioned net-lease retail leader has been under considerable pressure of late. Investors often vote for Realty Income due to strong historical performance, excellent diversification across industries, a consistent and growing monthly dividend and easy access to investor information.
Over the past seven months investors have seen nearly 30% of the share price go up in smoke. Realty Income was hit harder than most REITs after the late-May taper tantrum that roiled many income-related investments.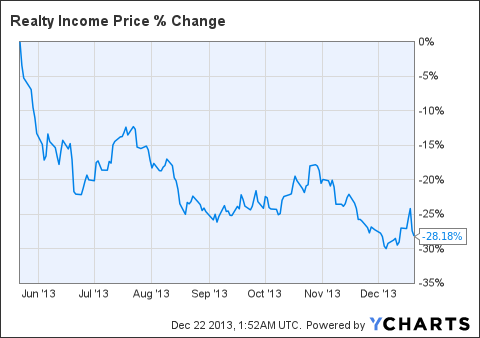 With such a slide, the stock now trades closer to fair valuation than it did most of the year. 2013 FFO estimates are $2.40 per share. As such, the company was trading at 23.1x 2013 FFO at the peak of the year and now trades at 15.7x 2013 FFO.
Over the past five years, the company has traded at a 16.1 FFO on average. As Realty Income is still focused on growth and has an excellent track record, investors clearly believe that the company deserves a premium valuation as 15.7x FFO is high in comparison to peers. Of this peer group, it has the highest valuation.
4. Camden Property Trust , $56.88
Camden Property Trust holds a property portfolio of multi-family residential communities that are mostly located in the U.S. Sun Belt. Multi-family REITs generally trade at a premium valuation to other REITs as people always need a place to live and new communities take time to come online.
In 2012 CPT had the highest NOI growth of its peers at 9.2%. Also, the company has been executing a strategy of buying properties in higher-growth regions and selling properties that are older and more capital intensive in slower-growth regions.
According to a recent report from SNL Financial, the multi-family REIT group as a whole is trading at the largest discount to net asset value in relation to other subsectors. Also, BRE Properties Inc. (NYSE:BRE) recently agreed to a $4.34 billion buyout deal from Essex Properties Trust Inc. (NYSE:ESS). In this regard, further consolidation in this group is possible.
5. Chambers Street Properties, $7.85
Chambers Street started as a non-traded REIT in 1994 and went public this year at $10 per share. The company is focused on industrial, office and retail properties. The company recently converted to a monthly dividend payout policy and owns property in the U.S. as well as Europe.
Due to the fact that the company started as a non-traded REIT under CBRE Group, Inc. (CBG) and is currently stacked with a leadership team from CBRE, one of the leading global property services and investment management firms, it is likely that the company will have an advantage over peers and offer above-average growth.
The downside to CSG is a share price under $10, a higher relative level of debt and weak coverage/poor access to investor information. Clearly the markets were not expecting the taper tantrum, however this showcases how a $10 IPO price probably isn't wise. Lower price stocks generally are associated with higher risk and volatility.
As far as company debt, the risk of moderate leverage employed by above-average debt levels can be offset for three reasons. First, the company has deep financial connections in the relationships accrued through management history at CBRE. Also, money is on sale as the cost of money borrowed is below the value of the stock. Third, Chambers Street Properties holds an investment grade debt rating from Moody's.
As a new company, CSG has growing pains to learn. As mentioned, the company coverage is weak but this can be overcome by great investor relations from the website. Currently there is no 2014 FFO outlook, which pains investors seeking to value the company based on future growth. Also, FFO is not easy to find as the company prefers to lead financial press releases with core-FFO. While such a measure helps understand valuation, FFO is the only FFO-type valuation method that reflects standardized accounting to GAAP principles.
The Five REITs Compared: Fire Sale Or Fairly Valued?
Of these five companies, Chambers Street is the only company that does not provide 2014 FFO guidance. As such, the 2013 FFO estimate will be employed for 2014.
In determining fair value, a standard 15x 2013 FFO is used. Many subsectors trade at premiums or discounts to 15x FFO, also company size, historical performance, diversification, debt levels, dividend strength, barriers to entry, relative price, management strength and price to NAV play roles in valuation. 15x is simply used as an objective baseline.
In regards to market capitalization, Ventas and HCP are the two largest REITs observed in the group, while Realty Income Corp., Camden Property Trust and Chambers Street Properties are much smaller in comparison. On average, these companies are worth about $9.5 billion.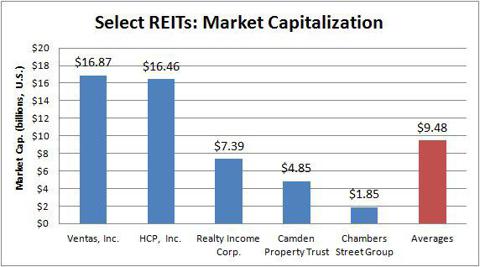 With the higher debt load, CSG clearly leads the pack with a 6.42% monthly dividend. HCP (quarterly) and O (monthly) yield just over 5.8%, while the average of the group is about 5.5%. Also, HCP and CPT are due for a dividend raise within the next month, using past performance and financial strength as a guideline.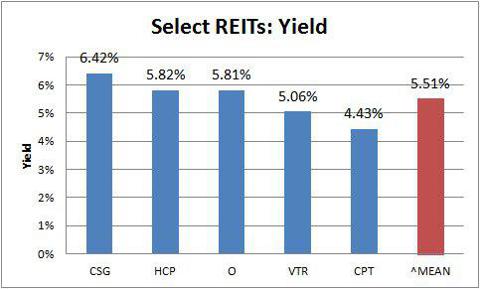 By dividing the current dividend by next year's FFO estimate, one can decipher how much flexibility the company has to raise the dividend. O is very limited as the company covers the 2014 distributions by less than 20%, however CPT, VTR and HCP all have flexibility to increase distributions.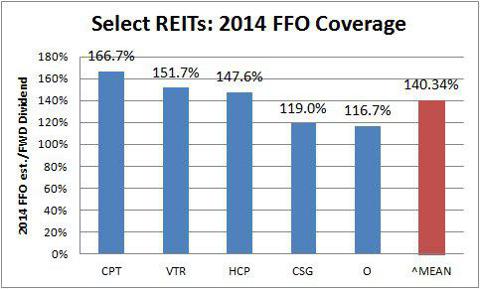 As noted above, CPT and HCP are likely to increase the dividend by Q1 2014. VTR just raised the dividend this quarter, however according to this chart they have room for higher payouts. Also, Chambers Street Properties does not have public 2014 FFO guidance, as such the 2013 FFO estimate was used.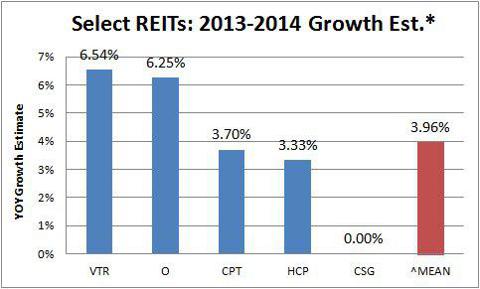 As REITs must pay out at least 90% of taxable income to shareholders by law, FFO growth is largely limited to stock and debt offerings. On average (and conservatively assuming no 2014 FFO growth from CSG as no guidance is available) this group will grow by about 4% next year.
Using a 15x 2013 FFO estimate as fair value, below are the select REITs premium or discounts to fair valuation.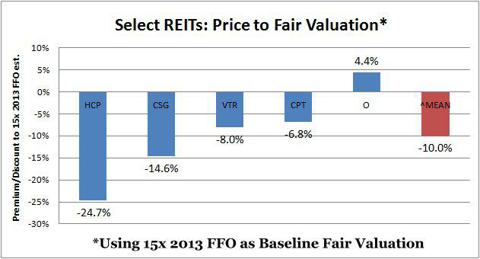 Below are the P/FFO estimates for 2013 and 2014. The chart direction goes from the lowest to highest valuation for 2014 FFO estimates. In this regard, HCP is trading at the lowest valuation. On average, the group trades at 13.74x 2014 FFO.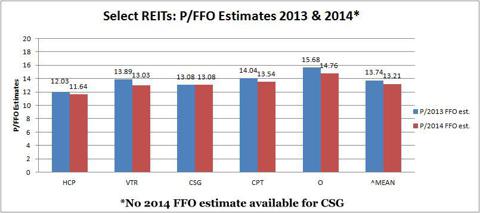 Conclusion
With the washout of the REIT sector this year, many companies are on sale. Valuations remain threatened with rising rates, which offers investors an incentive to buy in at lower prices.
The five companies listed are a few of the best run U.S. REIT options that I have found in my research. All trade at or below fair value, have yields near or above 5%, offer excellent diversification, are well-run and are poised well for long-term growth.
Disclosure: I have no positions in any stocks mentioned, and no plans to initiate any positions within the next 72 hours. I wrote this article myself, and it expresses my own opinions. I am not receiving compensation for it (other than from Seeking Alpha). I have no business relationship with any company whose stock is mentioned in this article.