Overview
I believe Iridium (NASDAQ:IRDM) is a very compelling long opportunity for several reasons:
Concentrated industry with few competitors and extremely high barriers to entry
Recurring revenue model incorporates high-margin subscription revenues and strong incremental operating margins
Anchor customers in the Department of Defense and major air navigation service providers
Significant growth potential in hosted payload offerings and Aireon joint venture
Extremely cheap valuation relative to operating EBITDA (OEBITDA), free cash flow, and peer group comparable multiples offers a solid margin of safety
Iridium is the second largest provider of mobile voice and data communications service via satellite, and is the only commercial provider of communications services offering true global coverage. Through a constellation of 66 low-orbit satellites, Iridium provides voice and data communications to businesses, world governments, and consumers utilizing a mesh architecture which routes traffic across the constellation using RF crosslinks between satellites. The company was originally a pet project of Motorola and went bankrupt in 1999 after a host of missteps including overpriced phones, narrow marketing focus, and a hasty rollout which ultimately resulted in $2 billion in equity being wiped out overnight. The company was acquired out of bankruptcy in 2001 for a paltry $25 million, and was taken public by a Greenhill special purpose acquisition company in 2007. Headed by CEO Matthew Desch, Iridium has grown its subscriber base to over 650,000 users while growing revenues over 9% annually and expanding OEBITDA margins from 45.6% in FY10 to over 53% in FY13.
I believe the market is discounting IRDM heavily for a couple of reasons, namely (1) slowing growth in the company's higher ARPU (and margin) voice and data subscriber business which is causing IRDM's revenue mix to shift into lower-margin machine-to-machine (M2M) business, and (2) ramping capex requirements and debt load in lieu of the launch of Iridium's next-generation satellite constellation, dubbed "Iridium NEXT". Ultimately I believe these fears are largely overblown and would expect the stock to trade for at least book value of over $10.50 per share, which would imply upside of roughly 65% for the stock. As the NEXT satellite constellation is prepped for launch, Iridium has racked up a few major contracts and it seems to be getting the market's attention. Longer term I believe the stock could be a potential multi-bagger through growth in the company's subscriber base, accelerating debt paydown, and hosted payload / Aireon growth opportunities.
Valuation
The stock is extremely cheap as it is. IRDM trades at just 60% of book value, which doesn't make much sense to me for a couple of reasons: (1) IRDM has been solidly profitable in each of the last three years, having booked cumulative net income of $127 million and grown earnings at a 75% rate in 2011 and 63% in 2012, and (2) the company has fairly sizeable growth opportunities in the form of Aireon and Iridium NEXT. In June 2012, Iridium announced it would offer space-qualified Automatic Dependent Surveillance Broadcast (ADS-B) on each satellite in the Iridium NEXT constellation which will allow air traffic management agencies to be able to continuously track aircraft anywhere in the world, through a newly-created joint venture dubbed Aireon. This is essentially a telematics solution for aircraft, and I fully expect air traffic managers to jump at the opportunity just as the Department of Defense and Caterpillar (NYSE:CAT) have already done with respect to Iridium's machine-to-machine offerings… while M2M offerings are lower ARPU subscribers, they offer enormous growth potential and do not require much cash outlay or incremental investment / operating expense to scale up (high contribution margins).
Aireon has already gained significant traction: in June 2012, Iridium announced the joint venture between the company and NAV CANADA, a major Air Service Navigation Provider which manages over 1,200 flights per day for 40,000 customers in 18 different countries. It is the world's second-largest Navigation Provider by traffic volume. As part of the agreement with NAV CANADA, $200 million in hosting fees will be paid to IRDM between 2014 and 2017. IRDM will also be privy to an annual data collection fee from Aireon, and will receive a cut of any profits generated by the joint venture. The data collection fees have been quoted at $300 million over the life of the Iridium NEXT constellation, or roughly $20 million annually once fully operational. The "true" upside will stem from the fact that IRDM is a significant owner in the joint venture, and this option is becoming more and more valuable as time progresses: last week, Iridium announced it had entered into binding agreements with three new major ANSPs, including ENAV (Italy), the Irish Aviation Authority, and Naviair (Denmark), injecting $120 million of equity into Aireon. Air traffic authorities are state-owned entities who will serve as early adopters of this technology mainly because of the $6 to $8 billion in estimated fuel savings over a twelve year period, but also because it offers surveillance capabilities and allows the authority to track and route the plane literally anywhere on the planet at any time.
In April, the company announced it had secured a $45 million contract with Harris. In May, Iridium and Caterpillar closed on a deal establishing IRDM as the primary provider of CAT's M2M telematics services, further validating the long-term trajectory of the company's technology. Management noted they "expect this will be the first of a number of significant contracts in the coming quarters and years" and expect it to contribute meaningfully in 2014. Longer-term, CEO Matthew Desch believes CAT could become one of their largest M2M customers. Iridium modems could eventually wind up on nearly every piece of heavy equipment in the country, and Iridium may be working to penetrate major rental fleet operators with tens of thousands of pieces of heavy equipment.
In October, the company announced a major contract renewal with the Department of Defense, who has historically been a 20% "anchor" customer. The Dept. of Defense owns and operates a dedicated gateway in Hawaii that is compatible exclusively with the Iridium network. The DoD is a big supporter of the company and has even invested alongside Iridium to upgrade defense-specific technology such as Netted Iridium. IRDM can essentially leverage the DoD's R&D program to develop new applications for the constellation, similar to the FAA who has invested $10 million into Iridium NEXT. Part of why government entities are big fans of the Iridium constellation versus competitors such as Globalstar (NYSEMKT:GSAT), ORBCOMM (NASDAQ:ORBC), or Inmarsat (OTCPK:IMASY) is that the constellation is almost entirely space-based with comparatively fewer ground stations, making the network much more secure and less costly to maintain. According to Iridium, the new DoD contract will provide for at least $22 million in incremental government service revenues in 2018 from what the company will see in 2014. Iridium is on pace to do roughly $58 million in government service revenues this year and is guiding to 6% growth in FY14, implying $61.5 million in FY14 government service revenue. This would call for $84 million in FY18 service revenues, a 10% CAGR over the next five years implying a step-up in DoD contract service revenues each year… this is exactly the case, as according to the contract, the fixed-price rate agreements are $64 million and $74 million in years one and two, and then rise to $88 million in years three through five. The outlook for Iridium's government business appears to be quite favorable: according to the company, commercial satellite communications support 40% of the DoD's satellite communication needs, while Northern Sky Research predicts this will grow by 68% over the next decade.
Iridium also secured a deal with CalAmp (NASDAQ:CAMP), a major hardware supplier to the rapidly-growing vehicle telematics giant Fleetmatics (NYSE:FLTX). Iridium's involvement with both ground and air telematics giants such as CAT, CalAmp, the FAA, and global air traffic controllers suggests that there will indeed be a substantial market for Iridium NEXT communications and hosted payload offerings. The deals I've outlined above represent nearly $300 million in incremental revenues in FY2017 alone, which equates to almost 80% of IRDM's FY13 revenue base. The majority of these revenues will have extremely high margins and a substantial portion should flow directly to the bottom line (namely the $200 million hosting fee payout from NAV CANADA). There is a strong recurring revenue stream in the annual data transfer fees from Aireon, air traffic controllers, OEM equipment sales such as CAT / CalAmp, and whatever other potential customers Iridium has in the pipeline.
Putting this all into perspective suggests to me that the stock has very favorable risk/reward at 60% of book, 5.6x LTM EBITDA, and just above 8x earnings. This is still very much a growth story, even if it doesn't look like it due to some temporary softness in subscriber growth over the last couple of quarters (which management still projects to grow 10% in FY14, along with service revenue growth of 6%). Additionally, a major competitor ORBCOMM prices at over 20x EBITDA and 1.6x book value while Inmarsat prices at over 11x EBITDA and roughly 5x book.
Iridium NEXT
I believe that the market is assigning a huge discount factor to the company's launch of the NEXT constellation, scheduled for launch in 2015 at a total cost of $3 billion. IRDM prices at significantly discounted multiples relative to its peer group (I excluded GSAT as the company is being priced on its spectrum portfolio and not the core satellite business), likely as a result of the massive failure of its first satellite launch in the late 1990s when the company was saddled with debt and did not even come close to obtaining a break-even subscriber base. The company is vastly different now and has already proven there is a deep and wide market for its products, by both signing over 600,000 individual subscribers, forging a profitable and growing relationship with the Department of Defense, and successfully launching Aireon which will serve as a significant growth engine for Iridium going forward. The handsets are smaller and much cheaper, there is no direct competition (Iridium v1 marketed to business travelers who had a viable alternative in cell phones), and the financing and design requirements for the NEXT launch are largely finished. The support functions for the constellation cost a fraction of the original bill in the late 1990s.
The new constellation will be backwards compatible (existing customers don't need to replace equipment) and will boast a 9x improvement in throughput and a 125x improvement in memory capacity. Below is a summary of the costs and contractors IRDM is working with:

The project is being financed with debt, internally generated cash flows, and revenue offsets such as the hosted payloads on the NEXT constellation. Iridium has already paid for $1.2 billion of the project cost and has drawn $936.3 million on its COFACE loan facility (4.95% fixed interest rate, fully financed). At a 5% revenue CAGR and a draw on the COFACE equivalent to the company's shortfall in free cash flow in order to finance growing capex, IRDM's debt will peak in FY17 at roughly 6.1x OEBITDA.

This assumes just 60 basis points of expansion in OEBITDA margin which is unrealistic and fairly conservative, considering the $200 million in high-margin hosting fees hitting the income statement in FY17 while DoD service revenues will be growing 7-10% each year. Considering the cost to replicate IRDM's satellite constellation, a limited number of competitors, and sizeable growth opportunities available to the company, as well as a solid history of profitability and high-margin EBITDA, this is a stock that could easily support a 9-10x EBITDA multiple which still puts it at a sizeable discount to smaller peers who have even lost major business to Iridium as of late (ORBC was the original provider of CAT's M2M satellite capabilities). I am applying a 10x multiple for the many reasons I've already discussed, but also because this is where the stock needs to trade to put the share price in line with book value.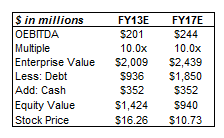 IRDM's cost structure is highly fixed. According to the company, "the incremental cost of providing service to additional end users is relatively low" and I would expect data transfer and hosting fees to be significantly higher than IRDM's current corporate averages. At a 60% OEBITDA margin, FY17 OEBITDA could be as high as $274 million which would be an 8% CAGR on today's OEBITDA.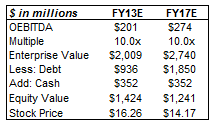 The upside here could be much larger depending on how large the hosted payload business becomes. The Aireon venture represents cheap optionality for equity investors and could be a major growth engine going forward. To value this, we can use discounted cash flow analysis supplemented with a sum of the parts valuation. This doesn't account for the ongoing annual earnings of the Aireon joint venture which will accrue to IRDM (now a 24.5% owner after the recent investment by three major traffic controllers).


Looking at the business "as is", we still get a stock price of $8.66, or 38% upside. Again, this only accounts for the $200 million Aireon hosting fee and the ongoing $20 million annual payments. The Aireon earnings aren't baked into this, nor is any type of growth in the company's core business. The value comes from growth in IRDM's OEBITDA multiple, which is deeply discounted today because of concerns related to the launch of NEXT combined with temporary softness in subscriber growth (management has affirmed this is industry-wide, and billable subscriber growth rates are in-line with peers). One of the problems is that M2M revenues have lower ARPU, and as these have shifted deeper into IRDM's mix, growth appears to have slowed. I think this should work itself out as the subscriber base grows and IRDM's cost structure gains enough critical mass to absorb/offset the differential in ARPU to the point where margins can continue expanding.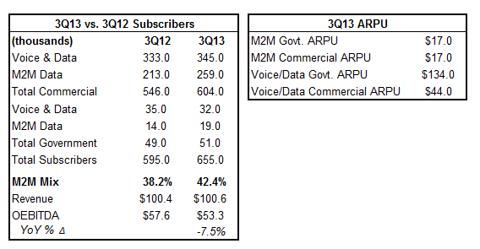 Risks
Stagnating growth in subscribers would indicate the market is too narrow for Iridium, ORBC, Inmarsat, and GSAT to compete as efficiently as they have in the past. Margin expansion and OEBITDA growth is dependent on gaining critical mass in billable subscriber figures.
A loss of the Department of Defense as a major customer would be catastrophic. I don't think the likelihood of this is very high considering the DoD has built dedicated gateways that are compatible only with the Iridium network, and that the two just reworked a major contract worth over $400 million.
GSAT recently received approval to utilize its spectrum portfolio to route terrestrial data such as Wi-Fi through its satellite network. IRDM is worried this may interfere with the quality of its own network until the NEXT constellation is launched.
Summary
IRDM offers a solid margin of safety with considerable upside, suggesting the opportunity has a nice risk/reward profile and free optionality in the Aireon joint venture. The company has a solid business model with stable high-margin revenues, mostly fixed costs, an anchor customer in the Department of Defense, and fairly high barriers to entry. Investors are worried by accelerating capital expenditures and debt drawdowns, even though the NEXT constellation financing is in place with fully financed interest while IRDM has announced major revenue offsets to accelerate debt paydown in the out years. I believe the stock has considerable upside with fairly limited downside, and should price at least to book value which would equate to over 60% upside.
Disclosure: I have no positions in any stocks mentioned, and no plans to initiate any positions within the next 72 hours. I wrote this article myself, and it expresses my own opinions. I am not receiving compensation for it (other than from Seeking Alpha). I have no business relationship with any company whose stock is mentioned in this article.