Model N (NYSE:MODN) is located in the small town of Redwood City, nestled comfortably between Silicon Valley and San Francisco on what is called the San Francisco Peninsula in Northern California. MODN is a revenue management company that "…drives improved pricing, margin, and revenue performance through a powerful combination of best practices, highly configurable software applications, comprehensive services, and actionable analytics across the complete functional spectrum of pricing, contracting, rebating, sales, and marketing." Its customers include the likes of Merck, Gilead, Boston Scientific, Novartis, and Teva in life sciences, and Microchip, Atmel, VMWare, and PMC-Sierra in high tech.
MODN started publicly trading in March of this year, but it did not catch my attention until it fell a gut-wrenching 32% on September 10th after a disastrous update on fiscal year 2014 and Q1 earnings and revenue guidance. At that time, MODN blamed reduced sales visibility and announced that it had launched a search for a sales leader to help fix the problems.
MODN's stock opened at $20.40 on the day of its IPO after pricing 6.74M shares at $15.50 (above the expected range of $12.50 to $14.50). The stock went nowhere for three months (probably a tell-tale sign in this year of scorching hot high-tech IPOs) before a brief run-up to a closing high of $24.62. So, I wondered whether the collapse in the stock, culminating in the earnings warning, represented an opportunity to buy a good company with a good safety margin (current valuation prints at a price/sales ratio of 2.4 and price/book of 2.5 - downright cheap in the world of high tech software). I decided to take a shot and early indications suggest this purchase is a good, measured risk.
On November 19, MODN reported earnings for its fiscal fourth quarter and announced the hiring of Chris Larsen as SVP and Chief Sales Officer. Larsen comes with a very impressive resume including President of SAP and EVP Global Field Operations at TIBCO Software. Now, a bet on MODN is partially a bet that Larsen can successfully turn around the business through his sales efforts.
The conservative guidance MODN provided contained no hooks for excitement. On the conference call, the company explained it is looking to get back to revenue growth in the back half of 2014. Here is the guidance the company provided for the first quarter of fiscal 2014 and the fiscal year ending September 30, 2014:
First Quarter Fiscal 2014 Guidance:

Total revenues are expected to be in the range from $21.0 million to $21.5 million.
Non-GAAP loss from operations is expected to be in the range of $2.5 to $3.0 million.
Non-GAAP net loss per diluted share is expected to be in the range of $0.10 to $0.13 based upon weighted average shares outstanding of 24 million shares.

Fiscal Year 2014 Guidance:

Total revenues are expected to be in the range from $72.0 million to $80.0 million.
Non-GAAP loss from operations is expected to be in the range of $20 to $24 million.
Non-GAAP net loss per diluted share is expected to be in the range of $0.80 to $0.96 based upon weighted average shares outstanding of 25 million shares.
The most interesting part of the conference call came during the Q&A session.
One analyst asked for a follow-up on the large sales opportunities MODN mentioned in its previous earnings call. From the response, it is clear the company is still struggling to close those deals, and I can only assume the hiring of Larsen will help. President and CEO Zack Rinat referred to the closing of a deal with Johnson and Johnson (NYSE:JNJ) as one large deal that did come through in the previous quarter. The company however did not directly answer whether its guidance includes assumptions about the closing of the other large, potential deals. That lack of an answer does concern me as it is hard to determine the degree of conservatism baked into guidance.
MODN is currently ramping up its efforts to chase down mid-market customers after seeing great success at the high-end for the past several years. This is both positive and a bit concerning. Sometimes, these kinds of moves indicate that the more lucrative, high-end opportunities are drying up or that growth is significantly slowing down in the well-established market. Only future earnings reports will reveal light onto this dynamic.
MODN earlier implemented a restructuring that reduced the size of its professional services and sent more investment into sales, marketing, and R&D. This is another potentially good/bad signal. On the one hand, a cut in professional services indicates that current engagements are winding down without significant replacement. Investment in the future may become an immediate priority simply because the existing pipeline is weakening. On the other hand, smart investments now could pay off in a big way in the future. So, a bet on MODN now is a big bet that these efforts will indeed deliver in the near future.
One analyst asked for an explanation for the expansion in the sales force. The CEO responded that it comes from a core belief in the market for revenue management (no surprise there). He cited the example of the company's engagement with Amgen (NASDAQ:AMGN), adding that once a company becomes successful using a system, the rest of the market moves in this direction. Amgen implemented a revenue management system for the U.S. and 60 other countries. This system proved out the potential of a single, global revenue management system that can even handle the complexities of international regulatory issues.
Overall, the earnings report was slightly encouraging but mainly a "wait and see" kind of event.
One more news item after this report provided more encouragement. In an 8K document dated December 6th, MODN announced the 2014 compensation schedule for its senior executives. Rinat was given a token base salary of $1 and performance-based RSUs (Restricted Stock Units) of 200,000 shares. Now, his compensation is directly tied to turning the company around.
Almost two weeks before this announcement, the stock hit what I now think was rock bottom at $7.73. Since the announcement, MODN has surged 28%. It is definitely possible that some "January effect" momentum is building as well. The January effect is the storied (relief) rally in otherwise poorly performing stocks, typically small caps, that were dumped toward the end of the previous year by investors looking to harvest losses against capital gains. With that selling overhang removed, bargain hunters step into the breach and send these abandoned stocks higher. I think these kinds of stocks may experience even stronger, more exaggerated moves than usual next month and beyond, given 2013′s tremendous rally has left many investors flat-footed and scrambling for "deals" which can help them play catch-up.
The next step for MODN to maintain momentum is to show some signs of progress in its next earnings report.
Stay tuned and be careful out there!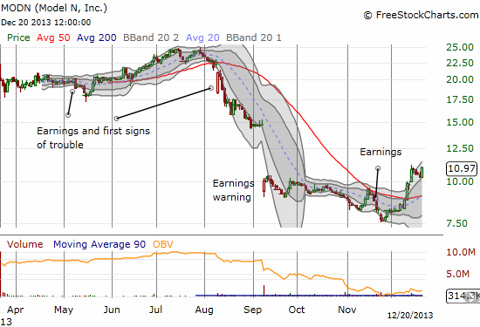 Model N has begun the long road back…
Source: FreeStockCharts.com
Disclosure: I am long MODN. I wrote this article myself, and it expresses my own opinions. I am not receiving compensation for it (other than from Seeking Alpha). I have no business relationship with any company whose stock is mentioned in this article.