Nathan Snyder, CFA, joined Snow Capital Management L.P. as chief operating officer in 2005. Nate was previously Director of Equity Investments at Parker/Hunter Asset Management, where he managed an All-Cap Value Equity product and a long/short hedge fund. Before joining Parker/Hunter, Nate was the Director of Equity Investments for a $1 billion Pittsburgh-based institutional investment firm, RRZ Investment Management. Nathan received his undergraduate degree from Harvard University and his MBA from the Tepper School of Business at Carnegie Mellon University.
We recently had the opportunity to ask Nate about his highest conviction holding in his fund at present.
What is your highest conviction stock position in your fund - long or short?
While we have high conviction in all of our positions, we would highlight Community Health Systems (NYSE:CYH) in particular.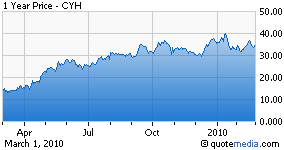 Community Health Systems Inc. is the largest publicly traded operator of hospitals in the United States. The company owns, leases, or operates 122 hospitals in 29 states. The hospitals offer emergency room services, general surgery, critical care, internal medicine, obstetrics and diagnostic services. Community Health also owns interests in physicians, physician practices, imaging centers, home health agencies and ambulatory surgery centers.
To what extent is this a healthcare services sector pick, as opposed to a pure bottom-up pick?
Snow Capital Management L.P. focuses on relative value and employs a bottom-up, fundamental stock selection process. Sector or industry biases are a by-product of our stock selections. However, the catalysts we believe will trigger a turnaround in an investment can be due to industry specific issues. CYH was identified via a fundamental screen and offers a number of catalysts, including potential upside from regulatory changes to the health care industry.
Due to strong demographic trends in the United States, we believe that the healthcare services sector is poised to experience above-average growth, which should lead to increased admissions and higher revenue.
We expect CYH to augment internal growth through accretive acquisitions. The company has had much success buying and integrating facilities, including the 2007 purchase of Triad Healthcare. Industry sources indicate that merger and acquisition activity is on the rise as an increasing number of facilities are facing rising costs and lower revenue during the recession.
Legislative reform could improve the reimbursement process and reduce exposure to bad debt expense experienced by hospitals by expanding insurance coverage to the uninsured. The bills currently making their way through Congress could make insurance mandatory and expand coverage. However, even without immediate changes to the healthcare system hospitals should get some relief from bad debt expense when the economy recovers.
Bad debt expense historically represents between 12-16% of hospital operating costs on average. Any reduction in this expense will have an immediate and significant impact on hospital earnings.
How is CYH positioned vis a vis its competitors?
In more than 65% of their markets, Community is the sole provider of health care services. Yet on average, CYH holds just a 50% market share in each of their markets as many residents pursue health services out of their home market. The company has an opportunity to grow market share by offering more services to patients who are currently traveling to larger markets for treatment. To this end, the company has an aggressive physician recruiting program and has maintained a healthy capital budget for cutting edge medical equipment.
In 2007, CYH acquired Triad Hospitals for approximately $5 billion in cash (excluding existing debt). This deal is significant for three reasons:
1. It expanded Community's footprint into some very attractive, less rural markets;
2. It provided ample room for margin expansion through operational improvements as Triad's operating margins were approximately 200-250 basis points below those of CYH; and
3. It represented a good value as we believe CYH purchased Triad during a historic trough, evidenced by private equity's initial interest in the deal.
As a result of the Triad deal, CYH sold a number of hospitals, netting over $400 million in proceeds. The company has redeployed this capital into debt reduction and capital investment.
We believe that Community Health has the balance sheet to grow their business and continue to reduce operating costs in an environment where many hospitals nationwide are struggling.
What about Community Health's current valuation? How does valuation compare to the competitors?
Like many of their public company competitors, Community Health System is currently trading at a P/E valuation (13.3 ttm) that is near the low end of their historical range on what we believe are depressed earnings. CYH generates $150-$200 million in free cash flow per year, and has used this cash to repurchase their debt on the open market and to buy back common stock. We believe that their balance sheet strength will enable them to further expand their market share through acquisitions of weaker private competitors.
What is the current sentiment on the stock? How does your view differ from the consensus?
When we purchase a stock the market generally dislikes the company. In this case the market has been cautious due to the healthcare overhaul debate swirling around Washington, D.C. Wall Street sentiment is evenly split among buys and sells as many understand the possible return potential of CYH but are uncomfortable with the potential outcome of the health care debate.
We are awaiting the highly-anticipated initial public offering of HCA, which should draw more investor interest to the hospital sector. Because there are a limited number of players in the publicly-traded hospital sector, we believe the supply/demand imbalance between shares available and potential new investors could drive CYH stock higher in the long run as uncertainty dissipates.
Does Community Health's management play a role in your position?

An assessment of management is not a meaningful contributor to our analysis. In our opinion, the quality of management is not always positively correlated to stock price performance. Further, management teams often change during periods of underperformance.
We believe the management of Community Health is capable of executing on their strategy.
What catalysts do you see that could move the stock?
Economic recovery in the U.S. is the first potential near-term catalyst for this stock. We monitor unemployment in Community Health's markets and have been encouraged by what appears to be a trough in the metrics. An improved economic landscape would presumably drive demand for discretionary medical procedures, raise insurance coverage through job growth and reduce bad debt expense for CYH.
A resumption of merger and acquisition activity in the hospital industry would be a second near-term catalyst. The financial crisis and US recession have destroyed the balance sheets of many not-for-profit hospitals and have created an environment ripe for financially sound hospitals such as CYH to expand their market share through opportunistic acquisitions.
A resolution of any kind to the current US healthcare debate would be a third catalyst. The uncertain outcome of government reform has deterred many investors from purchasing stock in healthcare companies, regardless of the valuation. We believe that any definitive conclusion to the legislative process will attract new buyers to the space.
What could go wrong with this stock pick?
In every investment decision we must weigh the risks relative to the potential returns. Here are a few potential issues that may arise with our thesis on CYH.
- Valuations for hospitals could be permanently impaired due to the uncertainty of health care legislation that is perpetually proposed and never acted upon.
- Legislation could have a deleterious effect on operations, either through significantly lower Medicare and Medicaid reimbursement or failure to cover uninsured individuals.
- The company could make poor acquisition decisions.
- CYH could lose access to the debt markets as they near maturation of their existing debt and facilities, in 2014.
Thank you very much, Nate.
My pleasure.
Disclosure: As of December 31, 2009, the Snow Capital Opportunity Fund held shares in Community Health (3.37%). Fund holdings and sector allocations are subject to change and are not recommendations to buy or sell any security.
Read more High Conviction Picks »
If you are a fund manager and interested in doing an interview with us on your highest conviction stock holding, please email Rebecca Barnett.