Back in May and June, if you were invested in REITs, you saw the value of those positions take a huge hit, as did most fixed income investments. But REITs aren't fixed income, you say, so why were they so negatively impacted?
Well, bottom line is that REITs are perceived to be 'high yield' plays, or more broadly, that investors invest in REITs for the income they provide. After all, they have to pay out 90% of their income to unit holders. Therefore, when interest rates rise, there is the perception that REITs will be negatively impacted similar to how fixed income reacts to interest rate increases.
This is a myth, however, or at least, not entirely true across all types of REITs. In fact, there are some REITs that may actually benefit from interest rate increases, which usually occur when inflation is rising. Not the case in May and June 2013, but usually, when interest rates are rising, it is accompanied by inflation.

Cohen and Steers have put together an interesting white paper on the topic and we found the following chart quite compelling: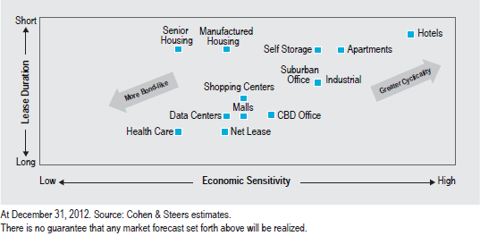 As you will notice, the types of REITs across the top of the chart are those REITs with shorter lease durations. Senior Housing, Manufactured Housing, Self Storage, Apartments, and Hotels. The latter being able to change rates daily if need be.
Short leases can be advantageous in an inflationary environment because REITs can increase their lease rates to keep up with price increases and more importantly, cost increases, including the cost of borrowing. We have been particularly focused on the top left of the graph, where you'll find Senior Housing. Not that we don't like the other types of REITs, but we feel that the demographic trends impacting Senior Housing are extremely attractive as the baby boomer generation begins to retire.
There are several large REITs that operate in the space such as Healthcare REIT Inc.(NYSE:HCN), Ventas (NYSE:VTR), and HCP Inc.(NYSE:HCP); these large REITs are poised for additional growth through both organic and acquisition activities. Consolidation in the industry is still in the early stages as only 10% of healthcare properties are owned by REITs.
There are a few smaller players in the space but the only one we have recently covered is Senior Housing Properties Trust (NYSE:SNH), which is about 1/4th the size of the three mentioned above, but the largest of the rest of the senior housing focused REITs.
As investors you can't go wrong with the big three, even if their growth rates may relatively slow in recent years. As competition for acquisitions has increased from private equity firms, non-public REITs, and even office REITs, the deals available are less attractive as prices are bid up.
Despite the slower growth, they will continue to grow and will continue to pay nice dividends. For the more aggressive investor, SNH may be a better option, even if it still has a way to go to reach the level of 'stability' we see in the big three. To give investors an idea, SNH is at about the size that VTR was about 7 years ago.
Whichever way you might decide to play it (you can always diversify across multiple names), we like the senior housing theme for the long run.
Disclosure: I am long SNH, VTR. I wrote this article myself, and it expresses my own opinions. I am not receiving compensation for it (other than from Seeking Alpha). I have no business relationship with any company whose stock is mentioned in this article.