The world's most valuable company could be even more valuable in the next few months. The tremendous consumer enthusiasm for the new iPhone 5S and the iPad Air and iPad mini Retina have virtually assured Apple (NASDAQ:AAPL) of a record Q1. Analysts estimates put the quarter at $57 billion in revenues and $14 per share of net income, an outcome that flows from iPhone sales of somewhere in the 52 million range and iPad sales of close to 30 million.
The long awaited China Mobile (NYSE:CHL) deal failed to materialize until this week when a deal was finally announced and is due to take effect in early 2014. In the meantime, China Mobile appears to be selling unlocked iPhones for their full price without any plans.
In Apple's fiscal 2013 Q1, the company had sales of 48 million iPhones and 23 million iPads. Both markets have had stunning growth since that time. The smartphone market has grown from 722 million units in 2012 to an estimated 1 billion units this year according to both IDC and Gartner, for a 40% surge. The tablet market has also grown rapidly and may surpass 197 million this year, up 70% from 116 million in 2012 (see Gartner chart below).
A lot of the market growth has been lower priced smartphones and tablets in developing markets, but the mainstream premium market where Apple dominates continues to advance as well. At least one analyst thinks Apple's strategy to capitalize on user engagement and developer payouts trumps market share.
Charles Wolf at Needham & Company concludes that market share "matters very little" and is unconcerned that Apple's worldwide mobile phone market share is below 10% according to Gartner data.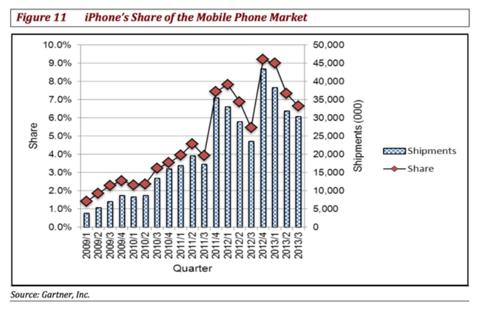 The fact is the smartphone market continues to exhibit high growth and Apple can continue to grow even while conceding a bit of market share. IDC forecasts that there will be 5 billion people using mobile phones by 2017, up from 4.3 billion this year. About 70% of those users will live in Asia-Pacific, the Middle-East and Africa.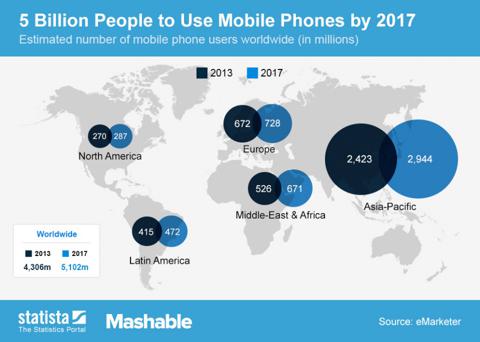 The total market for smart connected devices is expected to grow by over 700 million units through 2017, with mobile phones and tablets comprising the vast majority of the growth.

Smartphone use will grow faster than the total market with an estimated compound average growth rate of 13.3% to 2017 according to IDC, with emerging markets outpacing the rest of the world by a wide margin.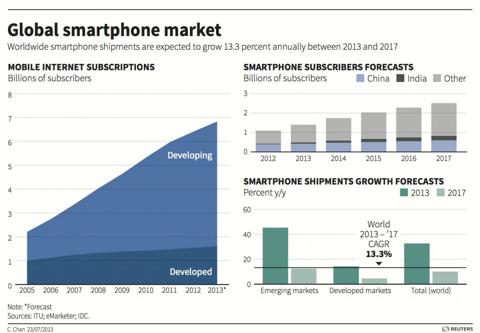 Apple can sustain its profit growth if it can capitalize on its vast and rich ecosystem and worldwide brand recognition to both persuade its loyal customers in its established markets like North America and Europe while encouraging wealthier customers in emerging markets to buy into the same prestige status and user experience that has made Apple such a success in the United States.
Mere market share of units ignores what many think is more important - market share in dollars. Volume does not equate with value. Gartner estimates that premium smartphones will represent 32% of units sold in 2016 while contributing 38% of revenue.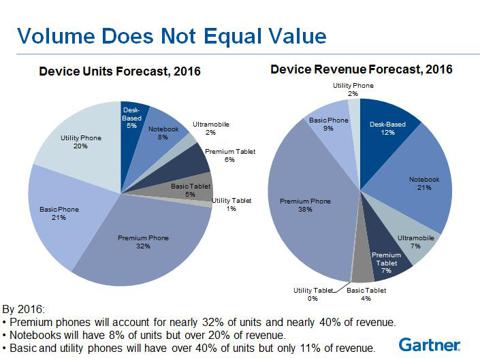 Apple's apparent strategy, and one which has the vocal support of many SA readers, is to position itself as the preeminent supplier of "premium" smartphones and tablets commanding a premium price by offering an unbeatable user experience.
This strategy can succeed. For Apple to continue to command premium prices at the high end of the market, it must defend its world leading brand and reputation and continue to deliver an unparalleled user experience.
In my opinion, a successful strategy for Apple has three elements:
Build and maintain a reputation for user satisfaction second to none;
Hold or increase market share in the premium end of the market. By premium, I mean smartphones with a price in excess of $400 U.S.
Continue to lead the industry in design and innovation
Apple has certainly enjoyed dramatic success in North America. Even today, despite extraordinary efforts by all of its competitors, only Samsung has been able to rival it for user satisfaction in the United States - e.g. at Sprint.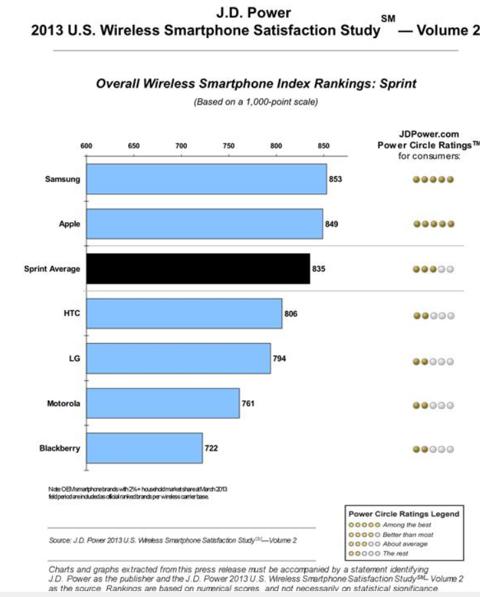 Similarly, Apple has a very high level of user satisfaction in the United Kingdom once again head to head with its rival Samsung.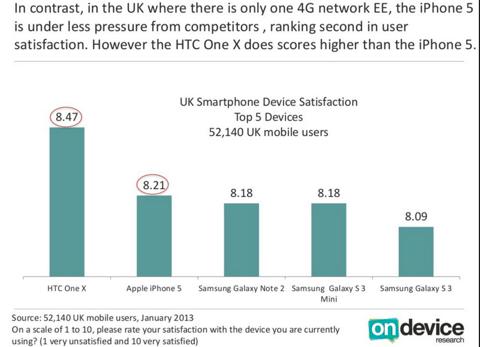 Of course, while Samsung is a key competitor, it is not the only one. Fast growing Lenovo pays a lot of attention to product positioning and trends in market share in both smartphones and tablets.
While relatively small, Lenovo has a clear picture of the target it needs to meet and regularly reminds itself and its shareholders of its relative growth versus Samsung and Apple and its other key competitors.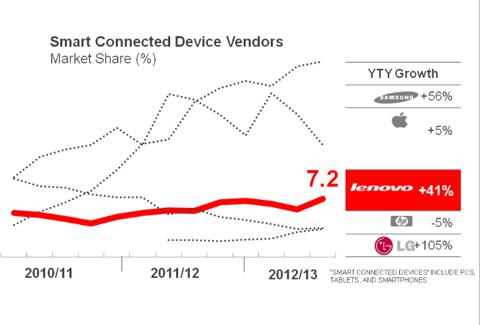 Lenovo seems to understand the differing dynamics between mainstream and premium priced smartphones, measuring the growth of each segment separately, reporting that the premium segment has now fallen to about a 10% rate of growth while the mainstream segment continues to grow much more rapidly.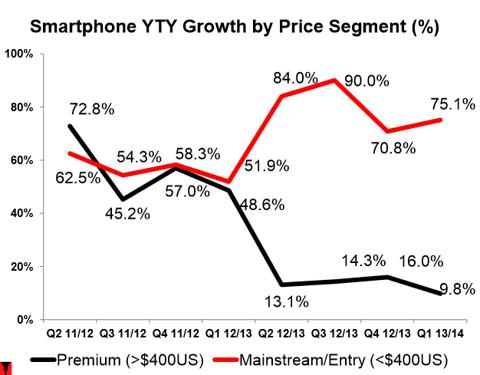 That dynamic combined with a recognition that the premium segment is where most of the profits lie has made the competition for the premium customer particularly important.
Lenovo data shows a similar situation in the tablet market, with the premium segment actually in decline while the mainstream segment continues to grow. Apple's introduction of the very popular and well-priced iPad mini was a brilliant competitive step to protect volumes in the tablet market with the sleek iPad Air positioned as the device to own at the high end.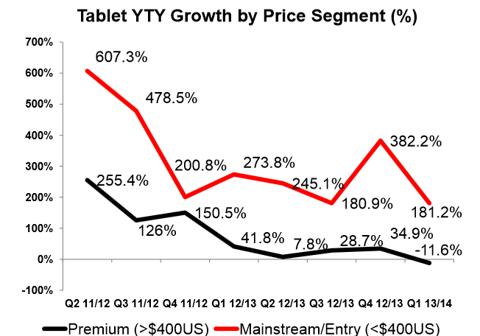 The 10% growth in the premium segment of smartphones is significantly higher than world population growth despite the fact that the premium market is pretty well saturated in developed markets according to reports.
The growth in the premium segment primarily arises from the growth in the middle class of the developing countries, particularly China.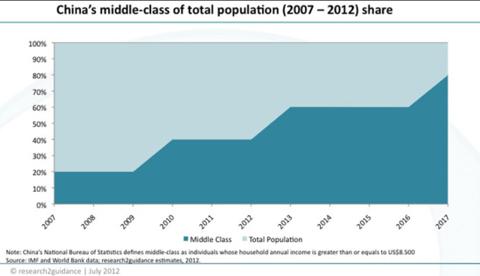 IDC forecasts 600 million new smartphone users will emerge between now and 2017, almost half of them new users in China and India. These markets will be the battleground for smart device suppliers for the next few years.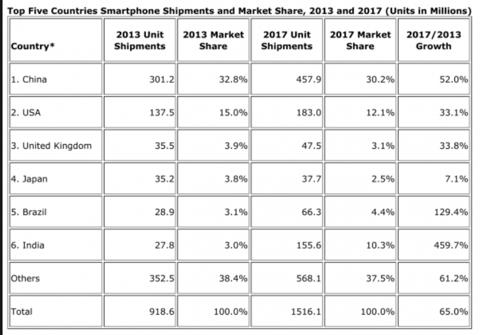 One can roughly dimension the opportunity for Apple in the premium segment by combining the Lenovo estimated with the Gartner or IDC data. Over the next four years, the premium segment should grow from about 320 million units in 2013 (Lenovo's 32% estimate of a 1 billion unit market) to some 470 million if it keeps growing at a 10% rate. If Apple can hold its share of the premium segment, it should sell about 220 million iPhones in 2017.
Focus on the premium segment is key for Apple, particularly in China where even the flower priced iPhone 5C was seen as too expensive for the vast majority of Chinese consumers. Apple's recent China Mobile deal, to begin January 17, 2014, will be a good test of how successful its premium strategy will be in the Middle Kingdom.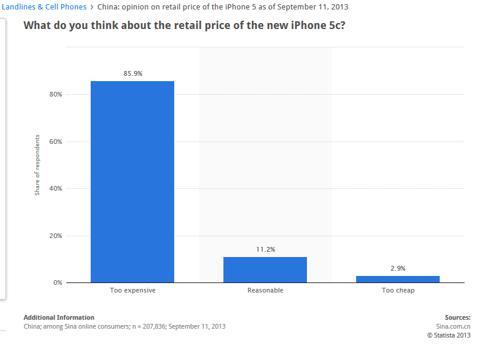 Prices of electronic devices tend to go down over time as the costs of components decline. 2013 iPhone average selling prices (ASPs) are about $575. By 2017, Apple will do well to keep them north of $500 in my opinion. Since the arithmetic is simple, if you disagree use your own guesstimate. If I am right, Apple would generate revenue of $110 billion from iPhones in 2017. That would compare to approximately $85 billion in 2013.
The growth in tablets is forecast to be sizzling, but not at the premium end. Apple currently owns 33% of the tablet market according to Lenovo's data and with the iPad mini has a competitive mid-range as well as the iPad Air premium product. Notwithstanding, the rapid growth of lower priced tablets using both Android OS and Windows 8 OS will make holding a 33% share challenging, and the premium segment is not showing any growth this year according to Lenovo.
Holding share in the premium segment is complicated by the absence of an Apple phablet. Phablets are the fastest growing part of the premium segment in Asia-Pacific (excluding Japan).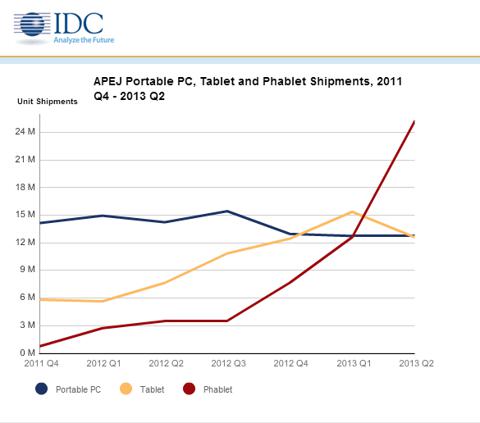 Phablets made up 143 million units of the smartphone market in 2013 and are forecast to more than double by 2016.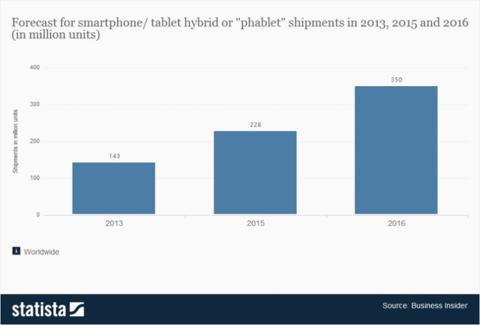 For the purposes of analysis, I am going to assume Apple market share of 27% in 2017, a decline from 33% today, reflecting the popularity of phablets in the growing Asian markets. Based on this assessment, Apple should sell 125 million iPads in 2017. That would represent about 27% market share. Use your own estimate if you don't like mine. Average selling prices will be affected by the success of the iPad mini and may fall to the $350 range, yielding 2017 revenue of $45 billion more or less.
I think the 27% estimate is a reasonable one even if Apple introduces its own iPhablet. While such a device would undoubtedly be popular, it would also very likely reduce sales of iPhones. Rather than estimate sales of a device that does not yet exist, I have chosen to use the decline in iPad sales as a proxy for the combined effect of an iPhablet increasing tablet sales but decreasing iPhone sales. Readers can reject this assumption and replace it with their own if they disagree.
Mac PC's have been steady for Apple on the strength of very good designs and high quality components. While the PC market is stagnant through 2017, Apple should be able to hold its current revenues running at $22 billion per year.
iPods, iTunes, software and services and accessories generated $26 billion revenue for Apple in 2013. Apple's decision to offer OS upgrades and software like iLife and iWork for free will dampen growth in this segment but the rich and growing App Store will ensure growth for the total of about 10% a year to reach $38 billion by 2017.
If these numbers are anywhere close, Apple could turn in 2017 revenues of $215 billion. Apple's premium pricing strategy should let it keep margins in the 36% range and expenses including research and development and general and administration of $20 billion is consistent with their recent rate of growth. Take into account taxes at 26.5% and 2017 should see Apple earn $45 billion net income in 2017.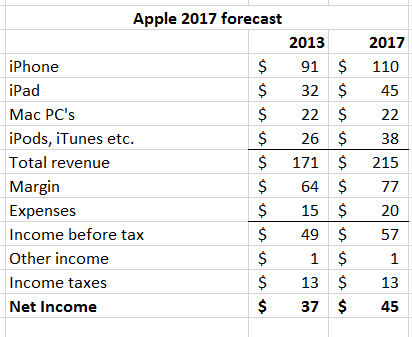 Over the next four years, Apple may pay out about $50 billion in dividends and spend perhaps another $40 billion on capital expansion. During the period it should generate about $180 billion from operating activities if it meets these projections. Before buybacks, its net cash balance could increase from about $125 billion today to $215 billion. If Apple keeps a prudent cash balance of $50 billion and uses the remainder to buy back stock at today's prices, while maintaining its share based compensation at roughly $2 billion per year, Apple's share count would drop to 600 million more or less, and earnings per share would reach the $75 range.
Apple is an innovator. New products will no doubt be invented and could add to these projections. The market would only have to assign Apple a multiple of 14 to 15 times earnings to push the shares over $1,000.
I am sure there are many readers who see even more growth in Apple. There is also risk. Competition could eat into iPhone and iPad sales. While this article presents a thesis that Apple can hold its share of the premium market, that is not a foregone conclusion. Despite the strident voices of Apple's supporters that it provides a unique and compelling user experience, data from J.D. Power and others suggest that at least Samsung has developed a high level of user satisfaction as well, and Microsoft has now entered this space in a determined way. Lenovo, LG and Sony as well have very attractive premium smartphones and cannot be counted out.
I have tried to fairly set out the bull case for Apple. In doing so I have attempted to capture the core sentiments of the commentators who have pilloried by articles on the bear case tempered by common sense and reason.
There is risk to the bull case. Samsung now rivals Apple in user experience and is competitive on price. The premium segment of the market will get more crowded as Microsoft, Lenovo, Sony, LG and some of the new entrants move in with strong product offerings. The growth of phablets in Asia needs to be met with a competitive device from Apple that somehow does not overly cannibalize the iPad segment. And, most importantly, Apple needs to gain share in China and India where the bulk of the growth is taking place.
The risks are relatively easy to dimension. A 10% miss on projected iPhone sales, for example, would reduce revenues by $11 billion and income before tax by $4.4 billion assuming 40% iPhone margins. There can be no doubt Apple is highly leveraged to the success of the iPhone.
I have no current position in Apple and no immediate plans to put one on.
Disclosure: I have no positions in any stocks mentioned, and no plans to initiate any positions within the next 72 hours. I wrote this article myself, and it expresses my own opinions. I am not receiving compensation for it (other than from Seeking Alpha). I have no business relationship with any company whose stock is mentioned in this article.