Shanda Games (NASDAQ:GAME), a Chinese online gaming company, dropped nearly 18% on Monday after releasing its earning report, which in and of itself did not look bad at all.

What killed the stock was its dismal revenue forecast. One Associated Press news piece caught it well:
In a client note, Brean Murray, Carret & Co. analyst Andrey Glukhov said the company's sales forecast came in "deeply below expectations." He said the company expects revenue will fall 10 percent to 15 percent from fourth-quarter levels.

That would mean sales of between $166.3 million and $176.1 million, compared with the average forecast from analysts of $208.1 million, according to Thomson Reuters estimates.

Glukhov said that based on those sales figures, he expects revenue from the company's biggest game, "Legend of Mir 2," will shrink by about a quarter.

I have written quite a few analyses on Shanda Interactive (NASDAQ:SNDA), Shanda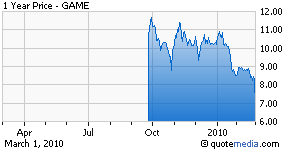 Games's parent company, but I have never directly commented on the quality of Shanda Games, the biggest reason being that I suspected that a day like Monday was likely to come.

Wallace Cheung of Credit Suisse (NYSE:CS) saw this quite early on and he wrote one report dated on September 23, 2009, in which he stated:
Shanda reported an APA of 8.58 mn and ARPU of Rmb41.8 in 2Q09. In 1H09, Mir II and Woool contributed 72% plus of total revenue, but with 100-150,000 ACU only. Assuming all gamers play three hours a day, we estimate Mir II and Woool's actual ARPU were about Rmb720 and Rmb520, respectively, above those of other top market games. (The next one is ZT from Giant, with ARPU Rmb314)

Due to Mir II and Woool's high ARPU, as well as high game portfolio age, we expect Shanda's earning visibility in 2010 will be weak. We reiterate our UNDERPERFORM rating on Shanda.
Even though Shanda Games wanted to be a comprehensive game portfolio company, it could not defy the 'winners take all' nature of the business: The top 10% of the games are making 90% of the profit. Being the pioneers of the industry, its Legend game series attracted some of the richest game players in China and dwarfed all other games in Shanda Games' portfolio.

While the company touted that it was a platform company and hinted that it should be more stable than its peers, the truth was that Mir II and Woool, the two hit games, have been contributing about 75% of the gaming revenue. And on top of that, they are the oldest games in the industry and have the highest ARPU.

The direct cause of the ARPU drop is supposedly an unwelcome game patch. Nevertheless, I believe that Cheung was right in his curse. The drop was bound to take place, and the unwelcome game patch was only the catalyst. For the next several quarters, the situation might not improve once the momentum starts.

So I turned from cautious to pessimistic on Shanda Games after this earning report, but I still like the other business of Shanda Interactive. The hedged play I suggested in my previous article is still very valid in capturing the value created by Shanda Interactive's rapid growing literature business. If time allows, I will write another article discussing the hedged play, its execution and the economic meaning behind this play.


Disclosure: No positions in all mentioned