by Mingze Wu
Hourly Chart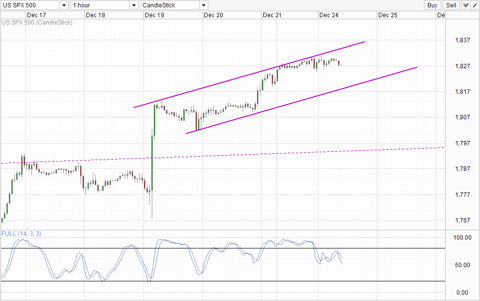 We're one more day away from Christmas, but it seems that presents have already come for the bulls. Despite the tapering action by the Fed last week, U.S. stocks continued to rise steadily as the market believed that the $10B taper is merely a token action to appease the hawks within the FOMC roost who have been baying for a larger / more symbolic cut. Or perhaps the market has come of age and is no longer heavily influenced by the expected reduction in QE, and right now traders are trading purely based on strong U.S. economic fundamentals - a much better reason to buy stocks compared to the "QE will save us all" thinking that could have resulted in a bubble and an eventual fire sale when prices are no longer sustainable.
Whatever the actual reason may be, it is clear that sentiment is bullish, allowing the S&P 500 to hit yet another record high yesterday. This record high came in spite of weaker than expected U.S. economic data - Personal Income grew at 0.2% versus an expected 0.5%, while Core Personal Consumption grew 1.1% vs. a 1.2% forecast. U of Michigan Confidence (Final) was also weaker than expected, standing at 82.5 despite analysts believing that the market sentiment indicator would be slightly more bullish at 83.0. Nonetheless, it should be noted that none of the aforementioned numbers are objectively bad, and still signal growth in the U.S. economy. Hence, the market is bullish but not hysterical - a key difference - and the weak bullish rally yesterday supports this assertion.
This reduces the likelihood of strong pullbacks in January, and may even suggest that future tapering action may be met with muted bearish response. That being said, it doesn't mean that the S&P 500 will simply rally all the way up right now. From a technical perspective, prices have hit Channel Top recently and open up the possibility of price hitting Channel Bottom. Furthermore, trading volume for the rest of December is most likely going to be low as well, hence do not expect strong directional push from here out.
Weekly Chart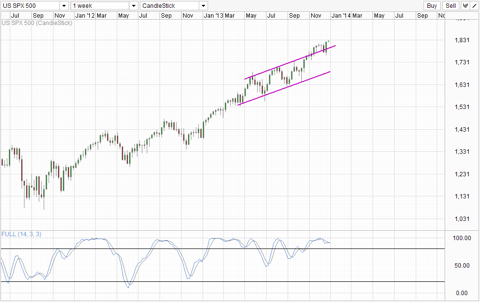 The Weekly Chart is undoubtedly bullish with the breakout of Channel Top confirmed from last week's rally. Hence, bulls are indeed primed for further bullish ventures in the future. Given that Stochastic readings are extremely overbought and may be pulling back lower, a retest of Channel Top cannot be ruled out in the next couple of weeks, strengthening the call for patience right now.