Nuance Communications (NASDAQ:NUAN) presented decent y-o-y revenue growth in fiscal year 2013. FY 2013 non-GAAP revenue was reported at $1.96 billion compared to $1.74 billion in fiscal year 2012 (an increase of 12.6%). Non-GAAP net income came in at $428 million or $1.33 per share compared to $555.9 million or $1.73 per share in 2012.
GAAP revenues increased 12.3% to $1.86 billion vs. $1.65 billion in 2012. 2013 produced a GAAP net loss of $115.2 million or $0.37 per share vs. GAAP net income of $207.1 million or $0.65 per share in 2012.
Nuance Communications also repurchased 9.8 million common shares at an average price of $18.81. The total repurchase amount yielded $184.4 million.
Historical performance vs. peers
Shares of Nuance Communications have lost about 31% in value over the last 52-weeks. Shares are now trading so low that risk-seeking investors might want to consider an investment after shares rebounded from a new 52-week low at $13 at the end of November.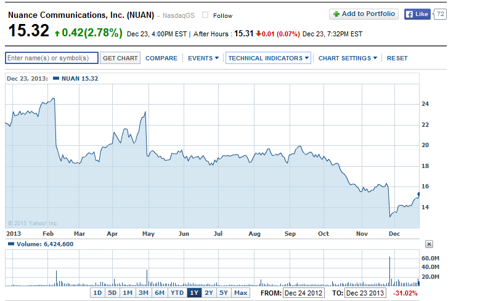 Compared to other software technology companies, Nuance Communications has done poorly for shareholders. MICROS Systems (NASDAQ:MCRS) gained 22%, Cadence Design Systems (NASDAQ:CDNS) 30% and Open Text (NASDAQ:OTEX) 80%. Fortinet (NASDAQ:FTNT) lost 9% and Nuance Communications 40%.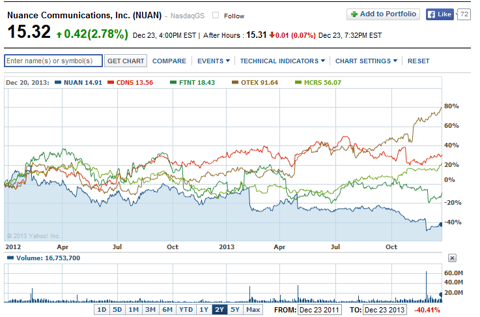 Free cash flows
Nuance Communications has engaged in an extensive acquisition strategy in the past that was largely financed with debt. The table below summarizes Nuance's cash flows over the last three years and includes my cash flow projections for 2014. The bottom line is that free cash flows to equity (after net borrowings) are estimated to remain negative in 2014 which unfortunately renders the free cash flow valuation model meaningless.
Market valuation
Since Nuance's free cash flows are negative, I compare Nuance Communications' P/E and P/S ratio to a group of application software makers that are in the same market capitalization category of around $3-5 billion.
Nuance Communications presently trades at a forward earnings multiple of 12.64 which is a 34% discount from the peer group average P/E ratio of 19.15. Nuance is the cheapest company in the peer group and offers investors a current earnings yield of 7.9%. Fortinet fetches a massive premium bringing the P/E ratio up to almost 34.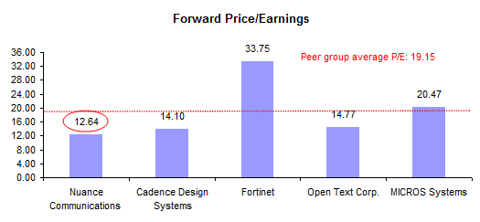 A similar picture emerges when peer group constituents are evaluated based on the price/sales ratio. Nuance Communications quotes at 2.57x sales and is the most attractive application software maker of the benchmark group. Again, Fortinet carries the highest valuation ratio at 5.25 times sales.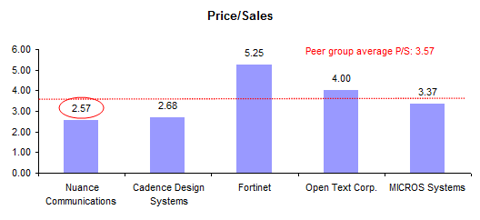 Nuance Communications trades at a 34% discount to the average peer group P/E ratio of 19.15. In addition, Nuance trades at a discount of 28% to the average peer group P/E ratio of 3.57. On a comparative basis, Nuance Communications seems to be a good deal for investors.

Conclusion
Nuance's extensive acquisition record overshadows its financial results. Despite substantial operating cash flows, the company achieves negative free cash flows because of a constant stream of acquisitions. However, operating cash flows have been positive and purchased growth should eventually contribute to Nuance's cash flow generation ability. Investors can now purchase this leader of speech recognition and imaging applications at just above 12 times forward earnings. Also, investors can buy Nuance Communications at the same price it quoted at in 2008. Long-term Buy for investors who seek exposure to a cheap, strongly growing software company that is trading close to its 52-week low.
Disclosure: I have no positions in any stocks mentioned, and no plans to initiate any positions within the next 72 hours. I wrote this article myself, and it expresses my own opinions. I am not receiving compensation for it (other than from Seeking Alpha). I have no business relationship with any company whose stock is mentioned in this article.