Several months ago, I posted an article with a bullish perspective on Outerwall (NASDAQ:OUTR). Recent developments have caused me to revisit Outerwall's financials and update my estimates of the company's performance.
Future Revenue Growth
Outerwall is made up of three business units, with video rental kiosk vendor Redbox the primary revenue driver for Outerwall. Redbox is responsible for approximately 85% of Outerwall's revenue. In the 3rd quarter earnings release from Outerwall, they forecasted 2013 full year revenues at between $2.303 billion and $2.328 billion. Based on the 2013 quarter revenue numbers, we can estimate 4th quarter revenue for the 3 business segments:

Note my estimates are shaded in light blue. The revenue estimates for the Coinstar unit of Outerwall are from Coinstar's historically consistent steady revenue growth story. For the New Ventures unit, I assume it will slightly exceed third quarter performance. ecoATM is the revenue driver for the New Ventures unit, and it was acquired early in the third quarter which resulted in a huge bump in revenue for this segment. Assuming my estimates for the Coinstar and New Ventures units are relatively accurate, this leads to an estimate of 500 million in fourth quarter revenue for Redbox in order to meet the full year Outerwall estimate. If correct, $500 million fourth quarter revenue for Redbox would put it at 4% year-over-year revenue growth.
Factor in that Redbox Gross margins are compressing: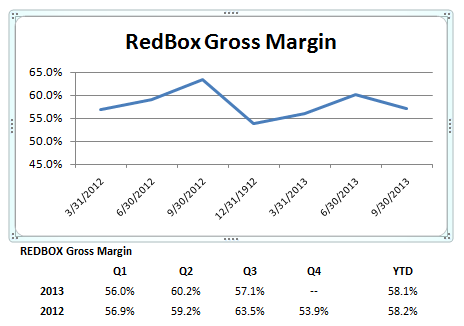 ...and it appears that growth may be coming at the expense of profit margin.
2014 Outerwall Revenue Analysis
Current published revenue estimates for 2014 are $2.45 billion, representing a 6 percent year-over-year growth. To achieve this number, my analysis came up with this segment breakdown: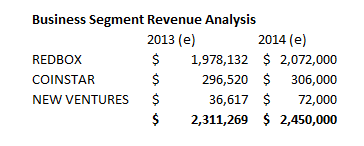 These values assume:
Coinstar growth will remain consistent.
New Ventures (ecoATM) will grow slightly (on a full year adjusted basis).
Redbox will generate $2.072 billion revenue.
That represents a 4.75% jump in total revenue for the Redbox unit, which would be a significant increase over the estimated 4% 2013 performance. Factor in the recent departure of the president of the Redbox unit, and I believe there is reason for concern regarding Redbox's ability to hit these numbers.
Conclusion
I would agree with other Seeking Alpha contributors that Outerwall is a relatively cheap stock using typical valuation metrics. However, given my concerns with the revenue forecast, and the large run up in Outerwall stock due largely to the Jana Partners investment, I think I will take this opportunity to exit Outerwall and watch from the sidelines as 2014 unfolds. My forecast is that revenue expectations will be reduced, resulting in Outerwall under-performing the overall market in 2014.
Disclosure: I have no positions in any stocks mentioned, and no plans to initiate any positions within the next 72 hours. I wrote this article myself, and it expresses my own opinions. I am not receiving compensation for it (other than from Seeking Alpha). I have no business relationship with any company whose stock is mentioned in this article.