What Is Going On in Sweden?
According to data released Monday from the Swedish statistical office, Sweden unexpectedly fell back into a recession in the fourth quarter. This adds to the impression that there has been a growth dip among Europe's economies, and raises further questions about the durability of the recovery in Europe.
Gross domestic product contracted by a seasonally adjusted 0.6 per cent in the fourth quarter of 2009 (when compared with the previous three months), despite analyst expectations for growth of 0.3 per cent. In addition, the third-quarter figure was revised to a 0.1 per cent quarterly decline (down from an original 0.2 per cent gain) which means that Sweden is now back in a recession.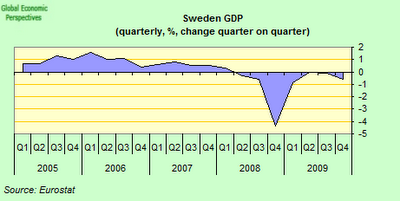 (Click to enlarge)
YOY GDP was down by 1%, following a 4.8% fall in the fourth quarter of 2008. That is to say, Swedish GDP is now down by just under 6% from GDP in Q4 2007.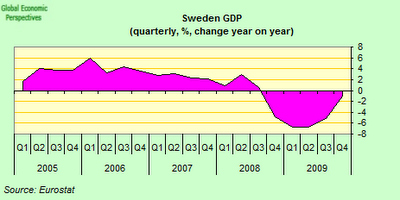 (Click to enlarge)
Exports seem to be a big part of the problem, despite the earlier devaluation in the Krona. In this sense my earlier optimism was misplaced.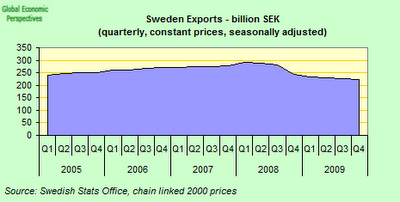 (Click to enlarge)
In fact, exports have fallen in every quarter since the start of the long contraction.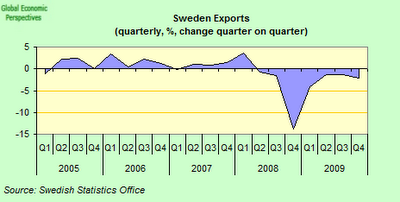 (Click to enlarge)
Indeed, far from this expansion being export-lead, it is household consumption and government consumption which have been the positive components in growth. Capital investment is still contracting, as it is almost everywhere in Europe, which is one of the obvious weaknesses in the recovery.
I wrote "what is going on" in my title, since I am at this very moment going through all of the February Purchasing Managers Index (PMI) results, and Sweden has come in, for the second month running, as the global leader, with a reading of 61.5.
This in theory suggests a strong expansion in the manufacturing sector, and it isn't only the January and February 2010 data which have been strong. If you look at the PMI chart (below), in theory, Swedish manufacturing has been expanding since June of last year.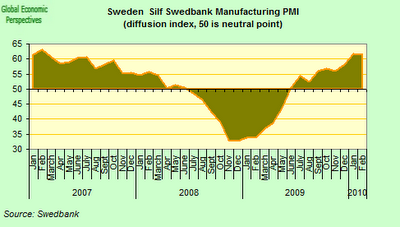 (Click to enlarge)
Yet if we come to look at the manufacturing output data as supplied to Eurostat, there is no sign whatever of any sort of recovery in Swedish manufacturing. Really I think SILF/Swedbank (SWDBY.PK) owes us all some sort of explanation for this state of affairs, since at the very least something must be way out of line in their methodology. And please note, this survey is NOT produced by Markit economics, whose PMIs are normally far more reliable.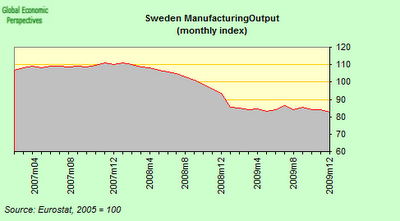 (Click to enlarge)
Disclosure: No positions
This article was written by
Edward is a macro economist, who specializes in growth and productivity theory, demographic processes and their impact on macro performance, and the underlying dynamics of migration flows. Edward is based in Barcelona, and is currently engaged in research into the impact of aging, longevity, fertility and migration on economic growth. He is also working on a book which has the working title: Population, The Ultimate Non-renewable Resource? He is a regular contributor to a number of economics weblogs, including India Economy Blog, A Fistful of Euros, Global Economy Matters and Demography Matters. He was, in fact, a founding member of all these weblogs. Edward follows in detail the Indian, Italian, Spanish, German and Japanese economies. He also has a more than a passing interest in the economies of Turkey and Brazil and in the emerging economies of Eastern Europe. Visit Edward's sites: Edward Hugh Too (http://edwardhughtoo.blogspot.com/) Global Economy Does Matter (http://globaleconomydoesmatter.blogspot.com/index.html) Demography Matters (http://demographymatters.blogspot.com/)