In today's world we see markets fluctuating as stocks go up and down. Very few companies in the world give investors faith in terms of their future definitive prospects and ability to appreciate investors' portfolios. Amongst those few companies is International Business Machines (NYSE:IBM). The long-term player has had its ups and downs being involved in cases from ex-employee insider dealing to ongoing investigations from NSA for keeping its data secret. Nonetheless, it continues to excel and offer profit to investors.
IBM holds a competitive position in enterprise software, services and hardware. The segments are industry leaders in their own groups. The product mix offered by IBM gives it an unsurpassable solution creation and delivery ability that is the key to its sustainable competitive advantage. This makes it difficult for rivals to wear down its market share and profit.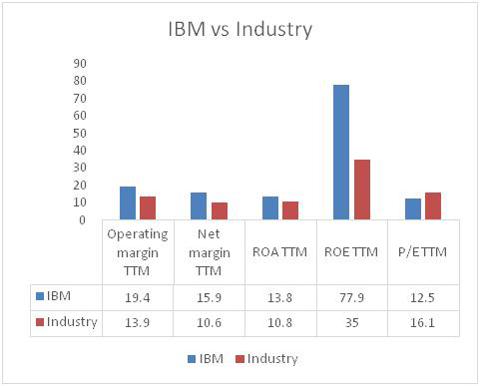 A brief look at the table above reveals a glimpse of its successful recent past. As you can see, all the profitability and return variables have been above industry levels. What's most appealing is the return on equity that IBM has been able to provide its investors.
During its latest quarter, IBM's net income was $4.0 billion increasing 6% from $3.8 billion since the third quarter of 2012. Operating (non-GAAP) net income grew in line by 6% to $4.4 billion compared with $4.2 billion in 3Q12. This came during a period where revenue fell 4% to $23.7 billion!
IBM continues to expand its operating margins and its EPS despite declines in revenues. In the recent past, the company showed strong growth in areas it previously identified as high growth opportunities such as cloud services, mobile, business analytics and security systems. This emphasizes its successful strategy to implement an effective and ongoing transformation of the company to bring in high value for investors.
According to the CEO, IBM is taking action to improve execution in growth markets and in the elements of its hardware businesses that are underperforming by focusing more on software. Given these actions, IBM's strategic initiatives and the strength of the business model, IBM is confident about being able to achieve an operating EPS higher than $20 by 2015.
Presently, IBM expects a full-year 2013 GAAP diluted EPS of at least $15.01 and an operating (non-GAAP) diluted EPS of $16.25 or $16.90, excluding the second-quarter workforce rebalancing charges. With 2013 coming to an end, the 2015 guidance indicates an 18% increase in 2 years!
From a non-numerical perspective, IBM holds certain advantages that will continue to allow it to dominate the market. However, we should remember that IBM is a long-time player. If you don't believe me, the fact that Warren Buffett owns a 6.3% stake in the company should bring some confidence. Even though the stock value has decreased by nearly 8% year to date, over a longer term of say 5 years, IBM has seen its value more than double (see graph below). That's exactly what long-term investors look for.

Source: Morningstar
IBM is the preferred choice for businesses as it offers large scale solutions at efficient costs. It has a long history of providing services to industry leaders. IBM recently collaborated with Eurobank to deliver the first ever cloud-based digital experience for international trade. Through the service called Exportgate, Eurobank will bring together exporters and importers to locate business partnerships around the world enhancing international trade and resulting in higher transactions for the company.
The idea has the potential to help business with future opportunities as the daunting process of searching for business partnerships is solved through a small online process. I believe that businesses will look forward to this service and it could be a significant contributor to IBM's long-term sustenance. Such intuitive strategies and pioneering ideas are what continue to bring value for investors.
It is a Good Time to Buy IBM
According to a report, IBM's trading volume was up 75% with 8.6 million shares last week and the share price went up by 2.9%. Upon seeing the report, I agreed with the writer's belief that there are lots of shares being purchased.
It does makes sense since IBM's shares have fallen 10% year to date and trade 20% below the all-time highs that were observed in March of this year. Smart investors are making a move while IBM shifts its focus towards cloud computing and changes its strategy. This time of the year gives them an advantage to buy shares at depressed prices. With future strategies and higher-margin businesses coming into play, we can expect IBM to roar back like it has always done in the past.
Final Thoughts
IBM also recently bought Aspera. The time to transfer a 2GB video file across a country reduces from 3.5 hours to less than 5 minutes once Aspera is installed. To sum it up in few words, the acquisition allows IBM to gain an advantage in its file transfer suite over competitors.
I hope readers are able to grasp my point in explaining how IBM delivers value for its shareholders in the long term. IBM is smart enough to add effective and innovative products to its portfolio. This is the key to its survival.
Coming to a close, with regards to what I said previously about shares being traded at their lower end, it is a good time to buy IBM.
Disclosure: I have no positions in any stocks mentioned, and no plans to initiate any positions within the next 72 hours. I wrote this article myself, and it expresses my own opinions. I am not receiving compensation for it (other than from Seeking Alpha). I have no business relationship with any company whose stock is mentioned in this article.