By David Russell
Sequenom (NASDAQ:SQNM) is exploding higher today after an upgrade of the heavily shorted biotech stock, and the bulls think that it's got further to run.
Volume in the March 9 calls surged to 9,580 contracts, more than 15 times open interest, with institutional-sized paper changing hands from $0.50 to $0.74, according to our Heat Seeker tracking system. Overall options volume in the name surged to almost nine times greater than average.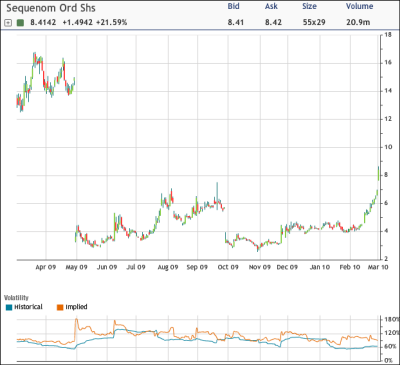 SQNM soared 21 percent to $8.37 in late morning trading after Cantor Fitzgerald upgraded the stock to "buy" from "hold" and lifted the target price from $4 to $16. The analyst, Pamela Bassett, cited strength in the pipeline and said the company was putting legal issues behind itself. The move also came one day after Hapoalim raised the stock to "hold" from "sell."
Short interest represented a hefty 35 percent of the float in SQNM on Feb. 12, so forced buying is probably helping fuel today's rally.
The stock appears to be trading around gaps that occurred over the previous several years. On one hand, it's attempting to fill a huge bearish gap that occurred on April 30, 2009. On the other, it's stalling around the same level where it gapped higher on June 4, 2008, a move that preceded a rally of more than 200 percent in the following four months.
Investors also sold the April 8 puts for $1.03 to $1.13 to earn premium. More than 7,500 contracts traded against open interest of just 37, according to optionMONSTER data.
Disclosure: No positions