A couple of weeks ago, I outlined why I thought Take-Two (NASDAQ:TTWO) is very a different company than a few years ago with significantly brighter prospects. But many investors focus on the here and now. The console video games business is all about cycles--product cycles, console cycles, consumer shopping cycles. Right now we are in the lollapalooza of video game cycles for TTWO - a new version of biggest hit coupled with next gen consoles during the critical Christmas shopping season. So how is it going so far for Take-Two?
By my estimates, spectacularly. Take-Two has already projected its highest revenue holiday quarter ever. This is not surprising given that Grand Theft Auto 5 (GTA V) continued to sell extremely well going into October. After leading the NPD sales charts in September and October, GTA V sales in November remained strong, ranking 5 in sales in its 3rd month, behind four new releases. It was also the only title on the top 10 available on only two platforms. NBA 2k14 is performing very well. It was the number 6th in overall sales and the top selling sports title on the next generation platforms.
In its earnings release in late October, revenue was projected to be $650million -700 million by TTWO, which has been low-balling estimates recently. Analysts are coming in at an average slightly above $700 mil (range: $668-$766 mil). I estimate revenue will be about $800 million, with about half coming from GTA V.
GTA V Should Bring in $400 Million
Obviously add GTA V into the mix, and you get a monster quarter. I estimate that by the end of September, TTWO had "sold in" 23.5 million copies at a $47.75 ASP into the channel for revenue of $1.12 billion (revenue source: TTWO press release). On October 29th, they released that they had sold in 29 million copies. By the end of the year, I estimate they will have sold in a total 32.5 mil - meaning a 9 million unit quarter (using estimates derived from VGChartz sales). Multiply 9 million times a $42 ASP (lowered for promo activities), and you get $378 million for GTA V game sales. Add in an estimated additional $25 million (lower than analyst projections) of in game purchases, and you get over $400 million in GTA V revenue in the current quarter.
GTA V is unique, how does the rest of TTWO stack up?
I believe that outside of GTA V we can expect a $400 million quarter - very close to last year's holiday quarter revenue of $415 million.
Big Titles are Performing Well vs. Last Year
According to TTWO IR, the biggest driver for last year's holiday quarter were: NBA 2k 13, continued sales of Borderlands 2, and XCOM: Enemy Unknown. Using data from VGChartz, NBA 2k14 is selling slightly better than NBA 2k13 - 2.40 vs 2.38 million across all platforms. Earlier this year, TTWO acquired the WWE franchise from bankrupt THQ. WWE is performing well, selling 840k in the first six weeks according to VGChartz. With a few weeks left to report and higher ASPs, WWE will come close to replacing the revenue brought in by Borderlands 2 last year. XCOM: Enemy Unknown was released in October 2012. There was not a new comparable title release this year, but BioShock Infinite (released March 30th, 2013) is a much bigger title that continues to sell well into this quarter. I would expect it to replace most of what XCOM brought in last year.
Digital Revenue is Growing Strongly
TTWO lags behinds its peers in digital revenue as a percentage of total revenue, but it has been catching up. We will see continued strong growth in digital sales (see promo activity on Amazon (AMZN), Steam, etc). Assuming non-GTA V digital sales growth slows dramatically, you still have about 20% of revenue coming from digital this quarter. Here is a chart of digital sales over time, including my estimate of this quarter digital sales: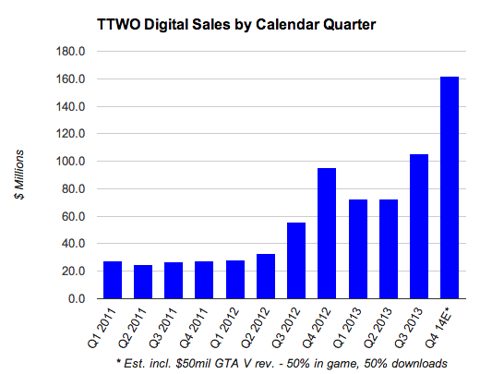 Promotional Activity is High for Catalog Titles
I can't compare this to last year, but promotional activity for TTWO's library appears to be phenomenal. This makes sense in conjunction with the launch of GTA V. TTWO has strong relationships with all the game retailers. With the launch of GTA V, Take-Two's market position is the best it has been in years. Given the leverage TTWO had with GTA V, it is easy to see why GameStop (GME), Best Buy (BBY), Walmart (WMT), Target (TGT) and Amazon would heavily promote TTWO's other quality products near the GTA V discs and on end caps. An obvious example, GTV 4 is selling better than it has in a while - sometimes charting in the top 100 games. For a taste of how one retailer is promoting TTWO's products, see this Amazon digital sales page from this week (it is almost all TTWO games):

Great Reviews are an Intangible X Factor
Obviously, GTA V has been getting a lot of love from critics, but Take-Two's other properties are getting rave reviews as well. BioShock Infinite was recently named game of the year by Entertainment Weekly, CNN, the Associated Press and Games Magazine among others. NBA 2k14 has been getting good reviews while Electronic Arts' (EA) competing title is getting slammed. These types of accolades aid ongoing and library sales of these titles.
Hit games have similar characteristics to hit movie series or TV series... overexposure can lead to declining sales or increasing sales depending on quality, audience reaction, word of mouth or just plain old smart distribution. Given the focus on quality, TTWO's titles seem to perform better over time, similar to high quality blockbusters like Time Warner's (TWX) Lord of the Rings, AMC's (AMCX) Walking Dead or Breaking Bad.
Revenue is Great, But What about Profits?
The analysts that cover TTWO still have not updated their financial models for the significantly reduced share count or the ongoing success of GTA V. EPS estimates for the current quarter have barely budged from 90 days ago (pre-earnings release and pre-buyback) according to Yahoo Finance (1.06 a share from 1.03 a share).
Going forward, there are still lingering concerns about TTWO's profit sustainability. A few recent developments give me confidence in this area. CEO Strauss Zelnick has said that the cost of developing for the new platforms is not materially different from the last generation. The same was not true for PS2/PS3 and XBox/XBox 360 transitions. As I described in my last post, there is now operating leverage from ongoing GTA V sales and expanding portfolio of franchises. Lastly, TTWO management is almost gleeful when it talks about no longer having the MLB deal dragging down profitability.
Summary
Take-Two should report another monster quarter in January. Revenues should be in the $800 million ballpark and earnings will meaningful beat the current $1.06 per share projected by analysts.
Disclosure: I am long TTWO. I am long TTWO calls as well. I wrote this article myself, and it expresses my own opinions. I am not receiving compensation for it (other than from Seeking Alpha). I have no business relationship with any company whose stock is mentioned in this article.