Currently master limited partnership and limited partnership (referred to as the MLP group) yields average close to 6%. As such, the MLP investment category has become the sexy play on the energy sector, especially among income investors. Investors who are looking to maintain or add a position in the master MLP sector have two main caveats to consider.
What Exactly Is An MLP?
MLPs own, operate and build energy infrastructure assets such as pipelines, storage facilities and processing plants. Basically the asset type is a play on the energy sector that provides high yield associated with corporate tax benefits. As part of the legal nature of the MLP group, they are exempt from paying corporate taxes.
MLPs are taxed in a complicated way however, as each partnership requires investors to complete an IRS form called the K-1. Through distributions, the unit-holder's cost-basis is reduced as a percentage of dividends are classified as a return-of-capital. Thus when the MLP shares are sold, deferred taxes must be paid.
The Best Funds To Buy Now For MLP Exposure
The reason to buy MLP funds rather than stocks themselves is to reduce the tax headache while maintaining diversification. After researching the entire MLP fund universe, which includes mutual funds, ETFs, ETNs and closed-end funds, I found the ALPS Algerian MLP ETF (NYSEARCA:AMLP) to be a great choice. It was one of the top two funds that I wrote about in 2 Ways To Gain MLP Exposure Without The Tax Headache, published October 26, 2013.
Currently AMLP is a $7.4 billion fund that is distributing quarterly dividends that amount to a TTM yield of 6.1%. As an ETF, the fund trades very close to NAV. AMLP also is an index fund, which currently holds 25 companies with an average value of $10.9 billion.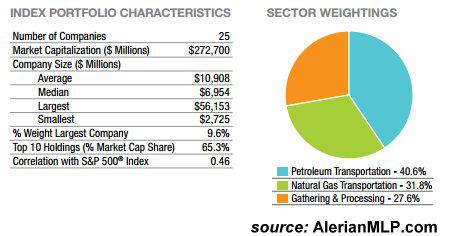 The downside to AMLP however is the lack of efficient tracking of the MLP index it follows. This has been a major point of investor discussion, as the large fund holds a significant amount of cash in the fund as a tax-hedge strategy in the event that shares are liquidated. As such, investors who buy into the fund today are buying a cash-hedge due to a relatively lower cost basis on holdings. At the end of Q3 2013, this amounted to nearly 9% of total assets.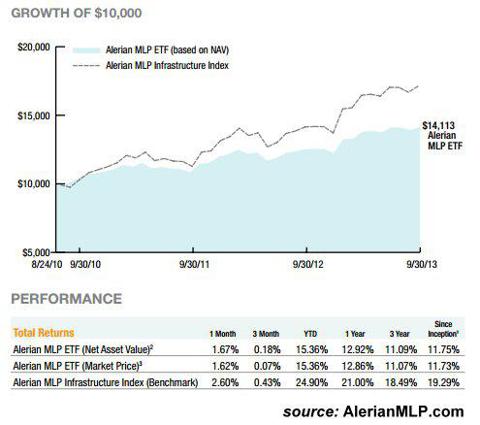 As noted in the Q3 2013 update from the AMLP fund, the tracking error due to the cash position is quite high.
The second fund I recommended was the Kayne Anderson MLP Investment Company (NYSE:KYN), a closed-end fund currently holding about $3.3 billion in common assets. The fund currently yields 5.9% on NAV, which is lower than competitor AMLP, however it does not require a large cash cushion to offset future taxes.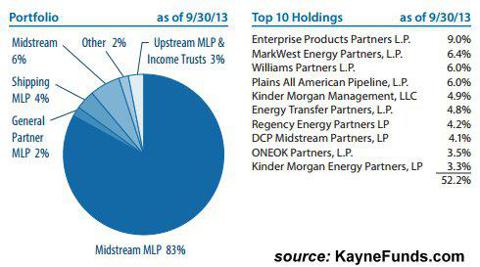 Without a required level of cash to offset tax liability, investors have a higher percentage of assets invested in the fund constituents. KYN also employs leverage to enhance results. The amount of leverage was near 27% as of Q3 2013.
The downside of KYN, which is a well-managed fund that has been operating since 2004, is that investor demand is higher than demand, thus resulting in a large premium. Currently the premium is at a three-year high of 16.35%, above the 52-week average premium of 8.55%.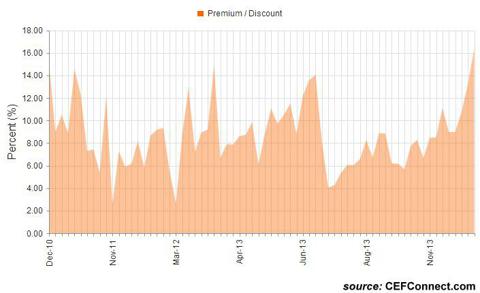 The historically high buy-in cost for the high-quality, leveraged KYN MLP closed-end fund caught the attention of asset manager Neuberger Berman this year. With $229 billion in assets under management and several managed funds, the firm decided the best strategy regarding MLPs would be the creation of a new MLP closed-end fund with leverage capabilities.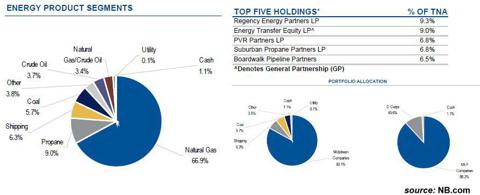 On March 26, 2013 the company launched the IPO of the Neuberger Berman MLP Income Fund (NYSEMKT:NML) at $20 per share, with a net asset value of $19. This presented a 5.26% premium.
Most recently, the shares were trading at a discount just over 8% below NAV. While the NAV is $19.29 as of December 19, 2013, which is a gain of 1.5%, the negative sentiment covering income-related investments pushed the fund price below NAV to $17.94 where it sits today.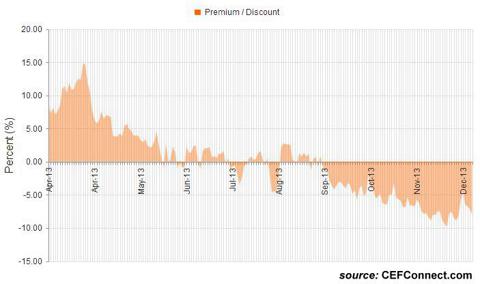 The fund managers at Neuberger Berman have decades of experience and manage nearly $1 billion in common assets. They have access to leverage, where they are able to employ cash borrowed at low rates to juice up the yield and long-term capital appreciation of the fund.
Currently the yield is 7% and there is one magical bonus that may push MLP income investors into the fund: monthly dividend distributions. Once this catches on, more income investors may demand ownership of the fund due to the increasing trend own preferring to own well-managed monthly dividend companies and funds when those options exist.
Conclusion
The MLP arena has become the new sexy for income investors looking to invest in the energy sector. High yields associated with growth in the domestic energy transportation and storage industries have investors chumming at MLP stocks and funds.
Several funds offer diversity while lowering the cost of paperwork associated with K-1's. While AMLP has the benefit of trading on par with NAV, it loses luster due to the tracking error associated with a high cash level. KYN, as a massive closed-end fund with leverage, is set up for higher returns and income however the premium associated with the fund is rather high at 16.35%.
The new kid on the block, the Neuberger Berman MLP Income Fund, has seen a declining share price that flipped the 2013 IPO premium of over 5% to a discount of 8%. This caused a market price decline of over 11% although the NAV has increased since inception.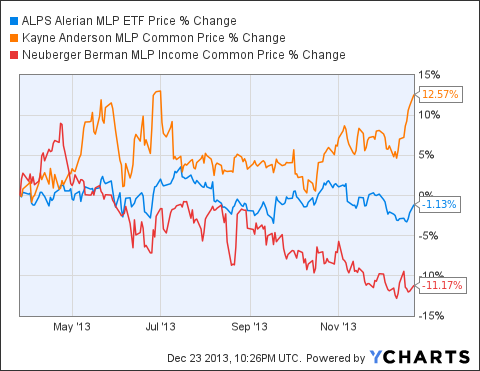 Since March 26, 2013 when NML first began trading, the stock price has traded lower while KYN has traded higher. This is mostly due to a change in the premium and discount ratios of the funds, as NAV both improved over the same time period. They KYN NAV improved 2.6% over the time period, which was higher than NML's 1.5% improvement. Some of this can be associated with the fact than NML did not attain leverage financing until July 2013.
KYN versus NML 3-25-13* to 12-20-13
Command
NML
KYN
MAR 25 NAV
$19.00
$32.08
MAR 25 Price
$20.00
$34.38
% PREM/DISC
5.3%
7.2%
DEC 20 NAV
$19.29
$32.90
DEC 20 Price
$17.74
$38.28
% PREM/DISC
-8.0%
16.4%
% Change in NAV
1.5%
2.6%
% Change in Price
-11.3%
11.3%
*NML IPO Price, trading began 3/26/13
As NML employs a very similar strategy to KYN, manages nearly a billion in common assets and trades with an 8% margin of safety, it appears the company may be a safer and more suitable long-term investment.
Potential Arbitrage Opportunity
As the newer and lesser-known NML fund offers a lower entry point, monthly dividends and a higher yield versus KYN, investors may see a market disconnect. As such, the pair may holster an arbitrage opportunity for investors who see an increase in demand for monthly distributions and/or believe that complimentary premium/discount ratios among these tow peers is warranted.
Disclosure: I have no positions in any stocks mentioned, and no plans to initiate any positions within the next 72 hours. I wrote this article myself, and it expresses my own opinions. I am not receiving compensation for it (other than from Seeking Alpha). I have no business relationship with any company whose stock is mentioned in this article.