Entering 2013, if there was one sector poised to lag the market it was education services. Enrollment erosion, analyst downgrades, accreditation issues, plus continued malaise from the mainstream media and the Obama administration had higher education companies ducking for cover.
Considerable short selling of education stocks had become conventional; going long was the contrarian view. But looking at the year-end scorecards, investors who took the long view are the apparent winners. Education bears would have had to pick Strayer Education (NASDAQ:STRA) and/or Corinthian Colleges (NASDAQ:COCO) to successfully play the short side through most of the year.
As of the December 20th market close, the Russell 2000 Index was up 35.0% YTD while the CVCR U.S. Education Index consisting of 14 mid, small and microcap higher education companies, rebounded and trailed only slightly at 32.5% YTD.
Here is how the 14 companies have collectively fared in key broad metrics since February 22, 2013, the inception date for the industry benchmark: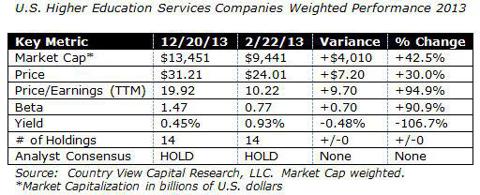 Join me in taking a holiday themed look at how U.S. higher education companies remarkably transformed during 2013 and what may be next in 2014.
Bears Were Roaming...
After two treacherous years in 2011 and 2012 due to the countercyclical end to the Great Recession's enrollment bonanza, and furthered by the Obama administration's subsequent regulatory assault, education companies entered 2013 on life support.
But as we approach year end, only six companies are trailing the benchmark, with Strayer, Corinthian and Lincoln Educational Services (NASDAQ:LINC) lagging considerably: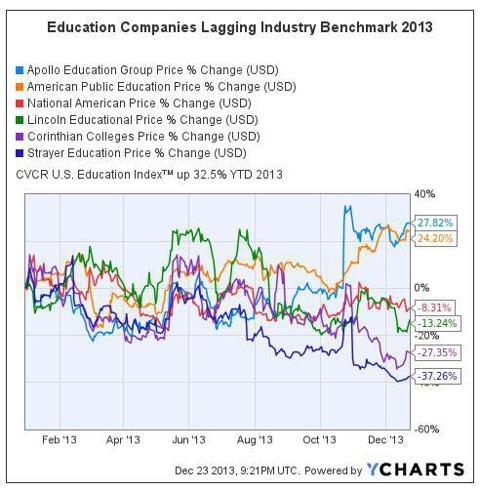 …And Black Swans Dancing
Several events throughout the year reminded investors and industry pundits that education services remain risky with limited margins of safety. Here are some microeconomic black swan events that originally challenged the industry's correlation to its rising U.S. small cap universe benchmark:
On January 9, Apollo Education Group (NASDAQ:APOL), the sector's largest operator, fell as much as 11% after issuing an earnings warning.
ITT Educational Services (NYSE:ESI) on February 25 disclosed an SEC investigation into the company's private student loan program, sending shares down as much as 13% that day.
Then on June 10, Corinthian Colleges revealed an SEC subpoena related to its recruitment and private student loans. And as reported in early November here on SA, both Corinthian and ITT Educational are being investigated by the Consumer Protection Financial Bureau (CFPB) over alleged practices related to marketing and private student loans.
To add insult to injury, the U.S. Department of Education had already announced in April its plans to rewrite and implement its controversial gainful employment regulations that target mostly for-profit college programs. A previous attempt at similar regulations by the Department was thrown out by a federal judge.
But Inflection Points Began Forming...
An education company CEO shared with me during the summer that he believed both his company and the industry in general were reaching inflection points that signaled a general turnaround. Positive events ensued, triggering a subsequent industry rebound in the second half of the year.
Bridgepoint Education (NYSE:BPI) rewarded deep value investors when it announced on July 10 that its Ashford University unit, at the time on probation status with another accreditor, was granted initial regional accreditation from the Western Association of Schools and Colleges (WASC).
Career Education (NASDAQ:CECO) was up a surprising 55% YTD as of December 23, as it continues building a turnaround under new CEO Scott Steffey, led by his recent decision to sell its international unit to a private equity group. This sale is freeing up more cash amid declining enrollments in what the company believes are more promising U.S. operations. Steffey also bought 25,000 shares of the company common on his own account in November despite possessing an options grant of nearly one million shares. He was named CEO of Career Education in April.
Also in November, the United States Department of Justice refused to intervene and decided to close its investigation of Universal Technical Institute (NYSE:UTI) regarding a previously disclosed False Claims Act. The suit stemmed from allegations the company's compensation of admissions representatives violated Title IV regulations. The decision essentially vindicated the company in the eyes of the feds, and ultimately the market.
And both Capella Education (NASDAQ:CPLA) and Bridgepoint Education announced significant share repurchase programs, pleasing investors who want to see better use of education companies' cash generated during the most recent boom years.
...And Bulls are Now Running
At year end, it appears eight companies will beat both the broad and industry benchmarks with Education Management (NASDAQ:EDMC) and Capella Education each more than doubling their stock price in 2013.
Note the chart's reflection of a late year surge in education stock prices generated from both positive company and industry inflection points, supported by overall market momentum: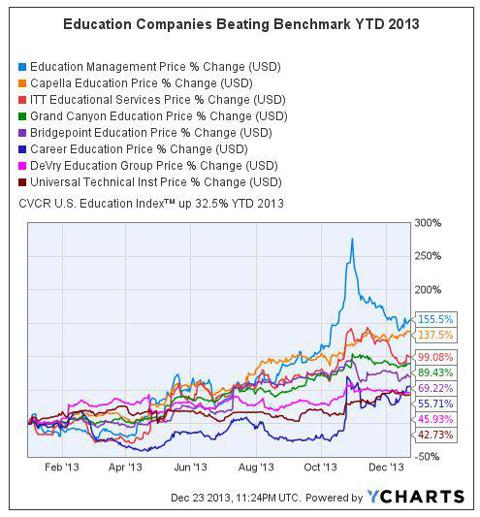 Into the Year of the Horse
In Chinese culture, 2014 is symbolized as the Year of the Horse. Does the late 2013 momentum of the education industry have the legs of a thoroughbred as it turns the first corner into 2014? Leaving the prediction business to fortune tellers and market sages, I will conclude with what I think the education companies could and should be doing in 2014 as opposed to what I think they will do (mostly a fool's game).
Apollo Education Group and Bridgepoint Education both sport healthy balance sheets, including lots of free cash flow, and each should consider following Capella Education's recent announcement in distributing some of that cash to shareholders in a quarterly dividend. Ahead of Capella, DeVry Education Group (NYSE:DV), Universal Technical Institute, Lincoln Educational Services and National American University Holdings (NASDAQ:NAUH) paid dividends throughout 2013. Their respective boards would be well advised to continue these quarterly investor payouts throughout 2014.
Grand Canyon Education (NASDAQ:LOPE) and Capella, arguably two of the best run education companies, had impressive stock performances in 2013, but have become richly valued as a result. Both companies exceed industry sector and small-cap universe ratios in price and enterprise value to earnings, as well as price to sales, growth, and tangible book. Can their respective stock price momentum continue or will value oriented investors begin to back off?
American Public Education (NASDAQ:APEI) had a relatively successful year, up 24% through December 23, but lagged the industry benchmark. This may be a result of a well-run company that focuses on recruiting military and other government employees for its educational program offerings. With all the sequester headlines and recent government shutdown, investors apparently have pulled off a little from the stock. But the company, with relatively low valuations, might be in a position to pop if the federal government continues its bipartisan budget agreements.
In the vein of "this year's losers are often next year's winners," contrarian investors may begin seeing Strayer Education, (down 37% YTD 12/23) as the U.S. higher education services company most likely to turn around its 2013 performance. A high price to book (although it has been falling) and no dividend payout aside, the company's valuations and investor returns as of December 23 are compelling: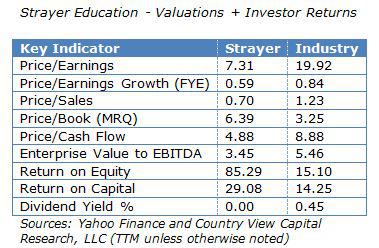 Strayer has cut its workforce and closed campuses to offset falling enrollment, but these changes were implemented to produce a leaner, more efficient operation. This could give the company an opportunity to return to its once stellar performance under former CEO, and now executive chairman, Robert Silberman.
Thanks to all my readers on SA in 2013. Your page views, comments and feedback on my coverage of the education services industry are greatly appreciated. Cheers for a happy and successful 2014.
Disclosure: I have no positions in any stocks mentioned, and no plans to initiate any positions within the next 72 hours. I wrote this article myself, and it expresses my own opinions. I am not receiving compensation for it. I have no business relationship with any company whose stock is mentioned in this article.
Additional disclosure: Charts and narrative are for illustrative purposes only and not meant as investment advice nor as a recommendation to buy/hold/sell/short or avoid these or any other securities. Readers should always engage in further research and/or consider consulting a certified financial planner, licensed broker/dealer, or registered investment advisor before making any investment decisions.