The Dogs of the Dow strategy, first popularized by O'Higgins in 1991, seeks to out-perform markets by buying the ten highest yielding stocks listed on the Dow Jones Industrial Average [DOW]. I refer to this as the "Big Dogs" strategy. The "Small Dogs" strategy is the same, except that we select only the five highest yielding stocks listed on Dow.
The strategy has been back-tested going back to 1921. It has now been forward tested for over two decades. While neither the Big nor Small Dog strategies have out-performed each year, over the long-term, both have a good track record. As expected, with a higher focus on value, the Small Dog provided the better long-term return. As expected, with lower levels of diversification, the Small Dog under-performed during periods of exuberance (1998-99) and stress (2007-09).
The Dow is a wonderful selection of stocks. The Dow includes global leaders in their respective fields, it includes great innovators, very powerful brands, it includes large liquid stocks, it includes well researched stocks and it includes stocks with the very best price discovery. The Dogs of Dow strategies have a focus on value. Large blue-chips vary in price through the economic cycle. But dividends don't. Thus, a high dividend yield indicates that price has fallen below value and will carry appeal to a value investor. Because there is so much more to stock valuations than dividend yield, I like the Dogs strategies as a screener, not as a strategy.
As the New Year will be upon us before long, this is a good time to have a look at the Dogs of the Dow. You will find them set out below.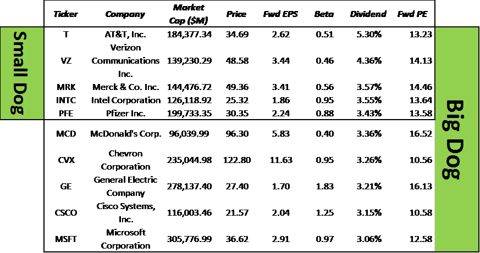 And then, with it being the year of the NSA, I'd set out the Spy Dogs as well. The Spy Dogs are the top twenty yielding stocks on the S&P 500.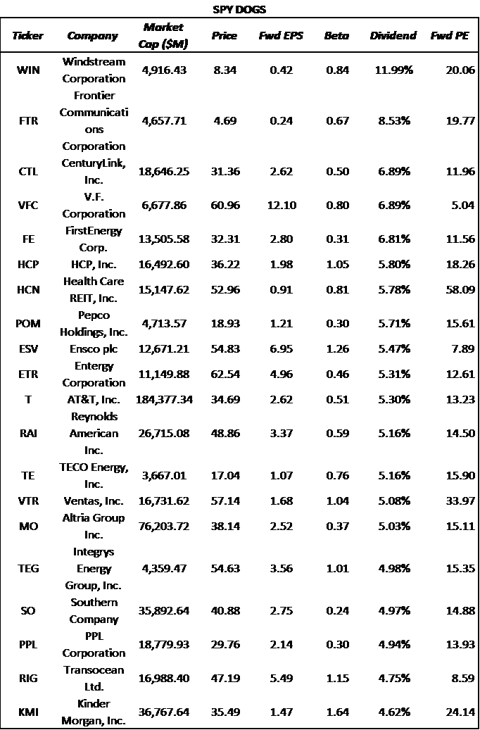 From among the Big Dogs, Small Dogs and Spy Dogs, I am long Merck (NYSE:MRK), Intel (NASDAQ:INTC), Pfizer (NYSE:PFE), General Electric (NYSE:GE), Cisco (NASDAQ:CSCO), Microsoft (NASDAQ:MSFT) and Transocean (NYSE:RIG). Other mega-cap non-U.S. companies listed in U.S. which offer dividend yields of over 3.06% (the lowest yielding Big Dog), which I own include BHP Billiton (NYSE:BBL), Rio Tinto (NYSE:RIO), BP (NYSE:BP), Shell (NYSE:RDS.B) and Unilever (NYSE:UL). None of these are hugely exciting names, but they do represent decent value picks for the patient long-term investor.
Keep in mind that the Big Dogs, Small Dogs and Spy Dogs are screens based solely on a dividend strategy. Be sure to look for value beyond a simple dividend strategy to make sure that the Bad Dog does not bite!
Disclosure: I am long BBL, BP, RDS.B, CSCO, GE, INTC, MRK, MSFT, PFE, RIG, RIO, UL. I wrote this article myself, and it expresses my own opinions. I am not receiving compensation for it (other than from Seeking Alpha). I have no business relationship with any company whose stock is mentioned in this article.